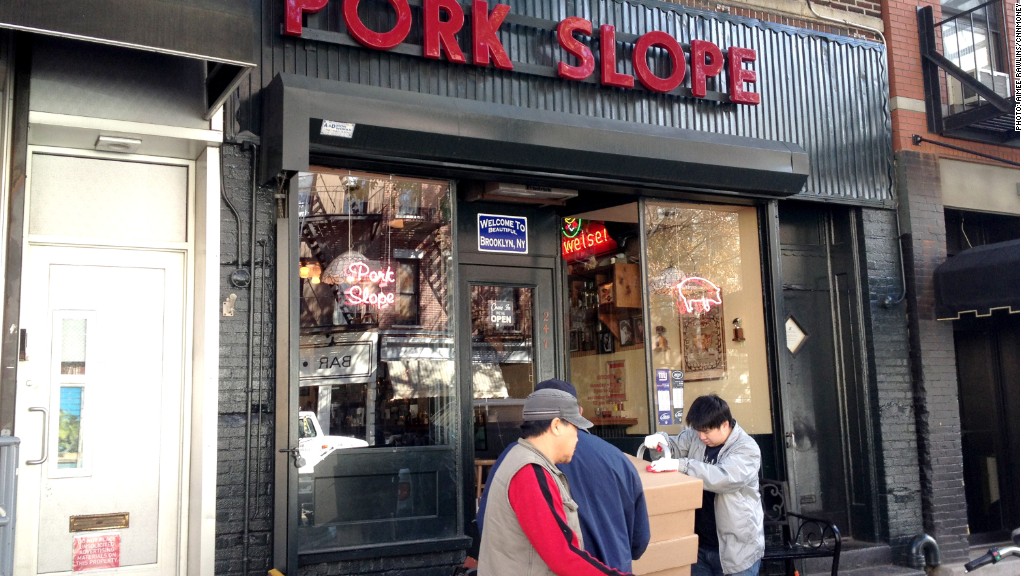 It was one of The Gate's busiest Tuesdays since the Brooklyn bar opened 15 years ago.
It happened the day after New York was slammed by Superstorm Sandy, the devastating storm that flooded the subway system and knocked off power for millions.
And yet as much of New York went dark and transportation ground to a halt, neighborhoods hummed to life at places where people could meet others and share stories: Bars, restaurants, coffee shops.
"It was like 9/11 in many ways," said Bobby Gagnon, who owns The Gate, a bar in New York's Park Slope neighborhood. "People who went through it really needed a place to go -- bars, churches ... they become community centers."
Related: Sandy's small business victims: We don't want loans!
Regulars mixed with new faces, sales soared, and food and drinks started running out.
"Usually, we recognize about 60% of the people who come in here," said Gemma Redwood, who owns coffee shop Sit & Wonder along with her husband Lucien. "But this week it's been incredible how many new faces there have been."
Pork Slope, a roadhouse-inspired bar and restaurant in Park Slope, "became a weird safe haven for people," said Dale Talde, a co-owner. It opened four hours early for much of the week, which meant by the end of the night, food and drink options were limited.
"By 9 p.m. Wednesday, we were out of all our food except wings and grilled cheese," said Talde. "And by the end of the night, we'd even sold out of those."
"Whiskey, too!" said John Bush, another co-owner of Pork Slope. "The top shelf went first, and then down from there."
Many gas stations were closed and suppliers were reeling from the storm, which meant delivery trucks were delayed -- or unable to make it in at all. Pork Slope received about half their deliveries on Thursday, but were out of brisket -- a staple at the comfort-food joint -- until Friday.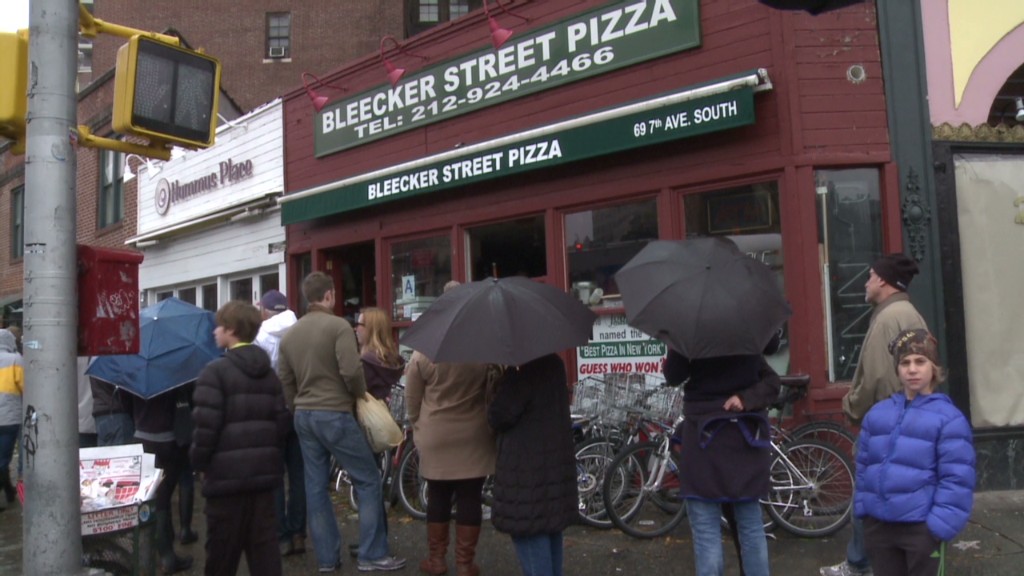 Sit & Wonder's coffee is supplied by Portland, Ore.-coffee company Stumptown, which saw its East Coast roaster -- located in Red Hook, Brooklyn -- completely destroyed by flooding.
Many of the business owners live near their establishments, and some in apartments upstairs. This gave them an unusual advantage of being able to be agile in the midst of the storm's uncertainty.
Gagnon opened The Gate at 1 p.m. instead of 3 each day after the storm.
"People really didn't want to be at home," he said. "It was during the early part of the day that we could really feel the difference."
Brooklyn bar Crown Inn stayed open throughout the storm -- even Monday night as the hurricane raged.
"It was packed," said co-owner Zhenya Kampanets. "There was such camaraderie between people there. Everyone wanted to stick together and talk about it."
Related: 19 bags of rotting food, and a business at risk
Business spiked at the Brooklyn locales. Crown Inn was filled "wall to wall"; Sit & Wonder saw sales increase roughly 30% during the week.
It did leave some owners with a sense of "survivor's guilt" for doing well at a time when so many other businesses -- and lives -- were destroyed.
"It's a range of emotions," said Talde. "We were blessed to be in a portion unfazed by the storm, but then so many other restaurants were ruined. It's heartbreaking."
Gagnon is donating some of the profits from next week's events at The Gate to hurricane relief; the Redwoods partnered with Shambala Yoga -- another local business -- to bring donations to parts of Brooklyn that suffered significant damage.