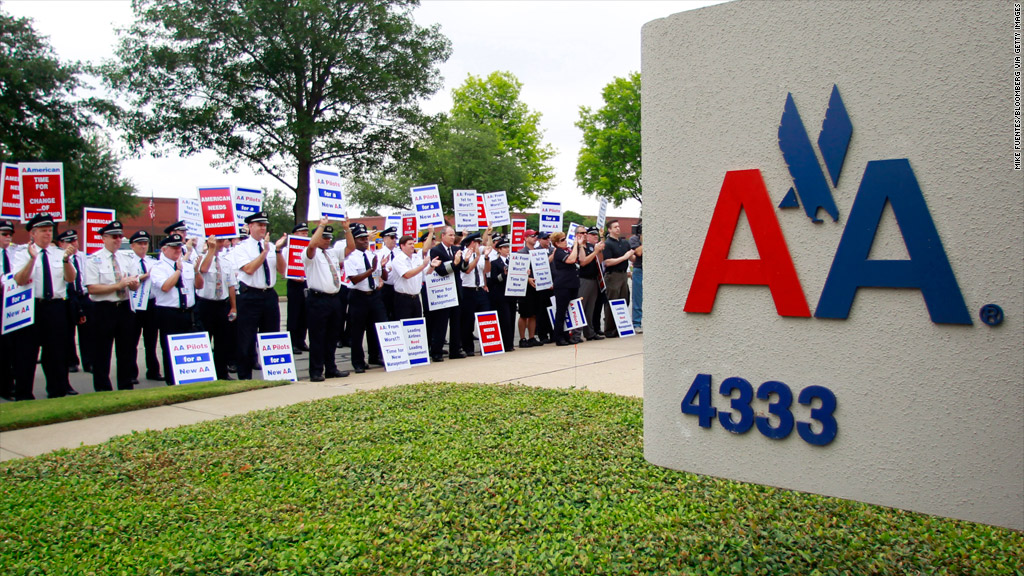 The union representing pilots at American Airlines said Monday it is getting closer to hatching a deal that would help the carrier emerge from bankruptcy protection.
The Allied Pilots Association said that its goal was to reach an agreement to present to its board of directors some time this week
Remaining sticking points for a deal include pay parity with other carriers, furlough protection and rules regarding regional carriers that feed American, according to the union.
A spokesman for American Airlines declined to comment.
Management and the union returned to the bargaining table in September as part of a simmering dispute in the wake of parent company AMR (AAMRQ)'s bankruptcy filing in November 2011. The bargaining has consisted of a back and forth regarding working conditions for 8,000 pilots, after airline management imposed new work conditions on the pilots.
AMR said the work conditions are needed to make the carrier more competitive. Rivals Delta Air Lines (DAL), United Continental (UAL) and US Airways (LCC) have all reduced costs after bankruptcy proceedings.
During the process, American has struggled with delayed flights and cancellations, as pilots have demonstrated anger over their contract situation. Airline management has accused the pilots of fouling things up by filing frivolous reports about aircraft problems and by calling in sick. The pilots have denied these accusations.
Related: American Airlines posts bankruptcy-related loss
As part of the contentious bargaining process, the airline stopped contributing to the pension fund and has propose to terminate it altogether.
--CNNMoney's Chris Isidore contributed to this story.