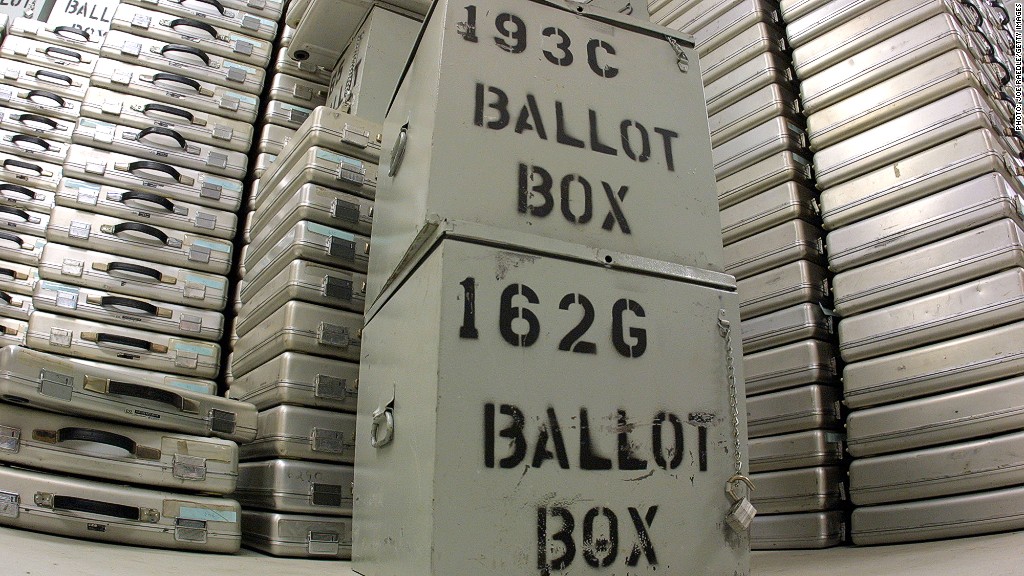 No matter their politics, investors have a clear worst-case election scenario: No victor on Tuesday night.
If the close race between President Barack Obama and challenger Mitt Romney turns into a prolonged recount, expect stocks -- and possibly the economy -- to take a tumble.
"In a race this tight, with absentee ballots and provisional ballots and legal teams lined up on both sides of the aisle, it could take time to sort out," said Art Hogan, chief market analyst at Lazard Capital Markets. "That uncertainty is the last thing this market wants, especially with the fiscal cliff looming."
Related: Next president's first big problem will be fiscal cliff
The so-called fiscal cliff is the sharp rise in taxes and deep cuts in federal spending set to take effect in January unless Congress acts. Economists, including several members of the Federal Reserve, agree the economy is likely to fall into a new recession if this happens. The Congressional Budget Office estimates that the $500 billion in spending cuts and higher taxes on almost 90% of households will send unemployment up to 9%.
"The consensus in corporate America and the investor class is there will be some kind of compromise on the fiscal cliff -- call it a fiscal bridge -- to avoid it from happening," said Hogan. "That consensus gets thrown out the window in an unresolved election."
The day after the 2000 election, as the outcome hung on a recount in Florida, the S&P 500 fell 1.6%. It declined another 3.5% between then and Dec. 13, when Al Gore conceded the race.
Related: Why Wall Street hates Obama
But some experts believe there's even more at stake this time around due to the looming fiscal cliff.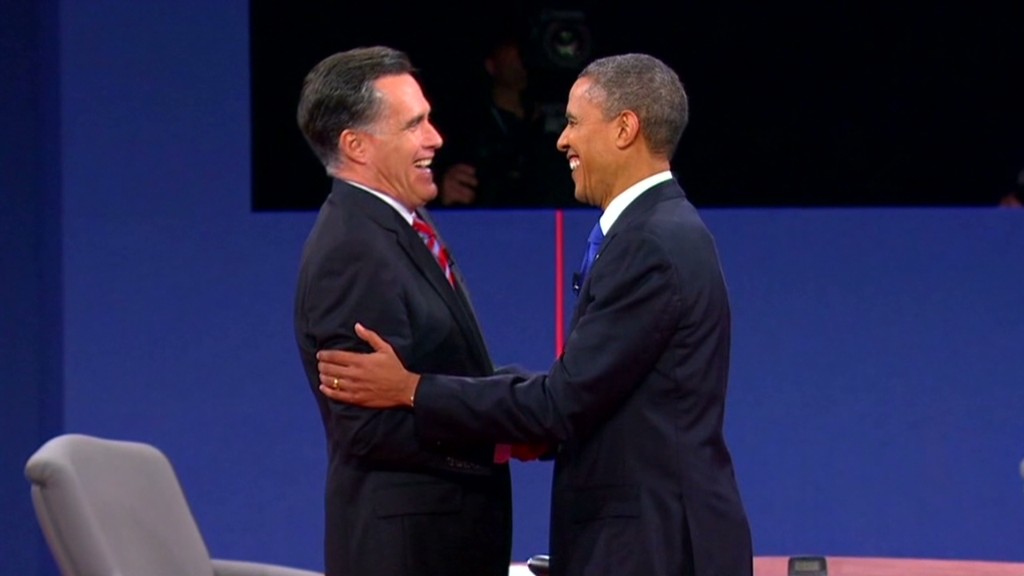 "Companies don't want to put cash somewhere that's going to get penalized. So they're sitting on a trillion dollars or so," said Sam Stovall, chief equity strategist for S&P Capital IQ. "If we fall off of the cliff, there could be a sharp reaction by the stock market."
Mark Zandi, chief economist for Moody's Analytics, doesn't think that a week or two of uncertainty will dramatically affect the markets or the economy. But the longer it drags on, the more it could cause investors and businesses to pull back.
"In the current economy, the collective psyche is much weaker, and the fiscal issues we face are much more serious than in 2000," Zandi said. "If they're fighting over every ballot, and it goes beyond Thanksgiving and you can't address the fiscal cliff at all, then it becomes an issue."
Related: How election will affect the economy
A prolonged recount battle could be more possible than you might think.
Ohio, with its 18 electoral votes, is seen as the key battleground of this election. It is quite possible that neither candidate will have the 270 electoral votes needed to win without Ohio. And if the voting there is close, it could easily take weeks, if not months, to count all the ballots.
If there are questions over a voter's eligibility at the polling place, he or she casts a provisional ballot, which election officials don't start counting until Nov. 17.
In 2008, there were an estimated 200,000 provisional ballots cast in Ohio. Obama won the state by 262,000 votes, so they didn't affect the outcome. But most people predict a much closer vote this time around.