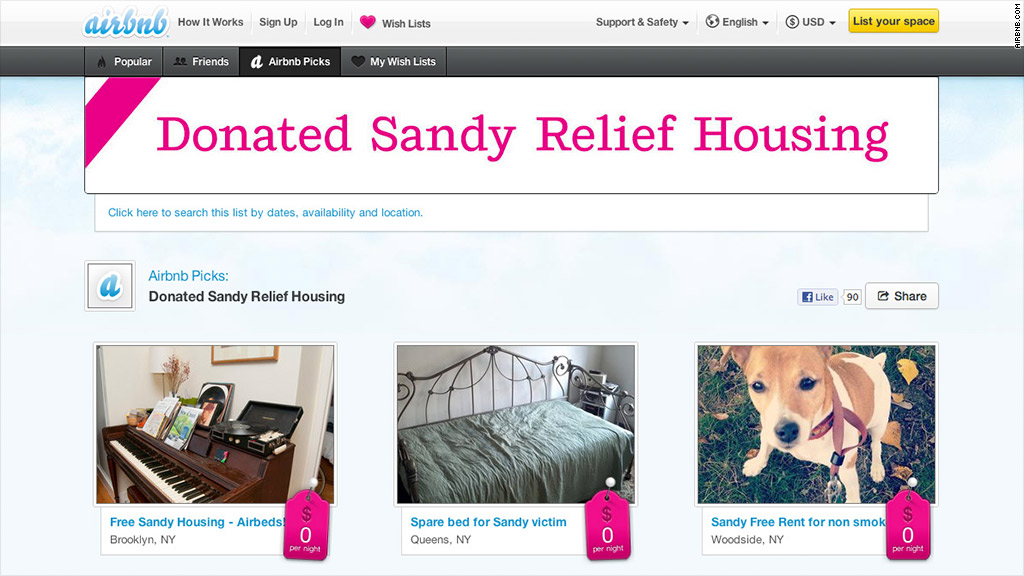 Hurricane Sandy's floodwaters waters have receded, but some victims are still left homeless. Those displaced in New York City can now use the rental site Airbnb to find free temporary housing.
Airbnb is fast-growing site that allows users to rent out part or all of their homes. Renters usually pay for the rooms, but in the Donated Sandy Housing program that launched Wednesday, hosts are offering up their homes at no cost.
About 140 Airbnb users had opened their homes to New York City area Sandy victims as of 4:45 p.m. ET, shortly after the program launched. Offers ranged from spare beds in New Jersey to entire two-bedroom apartments in Manhattan to luxe Brooklyn lofts.
Users interested in renting or booking can go to airbnb.com/sandy, where Airbnb is listing the free housing options, adorned with bright pink $0 price tags.
"It's time to help each other," the page reads in large print. Airbnb is skipping its usual booking fee for these free listings.
Airbnb had already waived its fees for both hosts and renters in areas affected by Hurricane Sandy. The company said Wednesday that nearly 2,500 last-minute bookings have been made in affected areas since the storm. About 900 of those bookings were in New York City, and about 300 were made by city residents reserving space elsewhere in the city.
Airbnb partnered on the program with the office of New York City Mayor Michael Bloomberg, who discussed it during a press conference on Wednesday. In a press release, he called the Airbnb program a "great way to match New Yorkers in need with those who have something to give."
Several users expressed concern about the program, though, in comments on Airbnb's blog post about the news.
One asked: "How will we know if our place is being offered to merely visitors to NYC, versus NYC residents who are temporarily homeless due to the hurricane?"
The program "will work just like Airbnb usually does," said Airbnb rep Emily Fields Joffrion -- meaning that hosts and potential renters are encouraged to communicate extensively and ask questions before coming to an agreement.
Airbnb's standard customer service and insurance coverage policies are in effect. She could not confirm how long the free program will run, but said Airbnb "is actively working on" a timeline.
"What's going on in New York, it it's really hard for people outside to grasp what it feels and looks like," Joffrion said. "After disasters, there can be a moment when you feel like the world isn't listening anymore. The severity of the situation hasn't gone away, and it's really important for everyone to have a place to go."