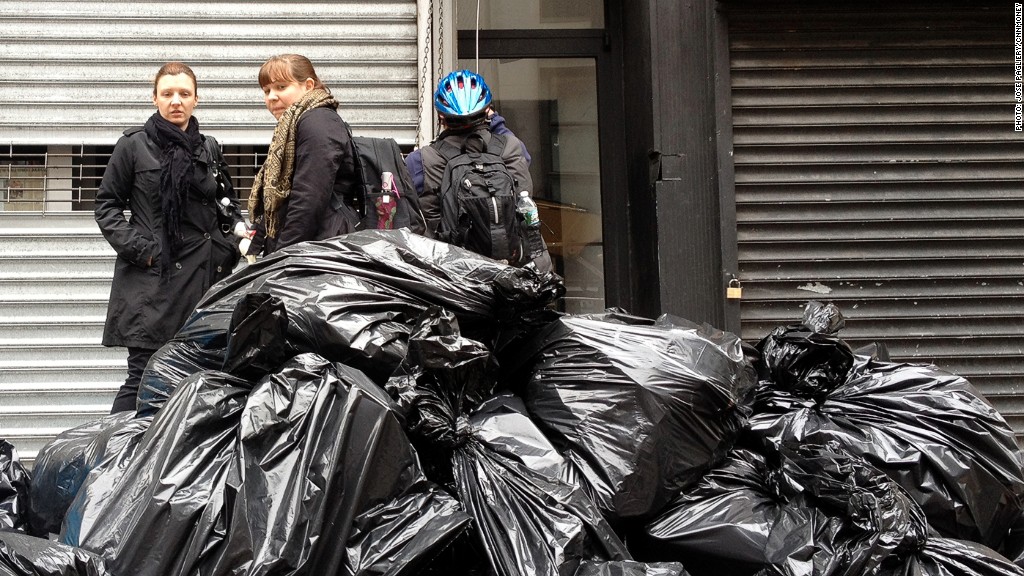 Few small business owners were insured for a storm like Sandy, but even those that were might be in for some nasty surprises.
Business interruption insurance is one example. It helps companies if they're temporarily shut down. But most small companies don't have it.
And those that do might not see any benefit: It usually kicks in only if there's physical damage -- no help to a business that was spared flood damage but had to remain closed because floods kept customers away.
Issues like that will cause lots of squabbling between business owners and their insurers, and they'll take a lot of time to resolve.
"It'll probably take two years or more before we're whole again," said Loretta Worters, vice president of the Insurance Information Institute, which is paid for by insurance companies.
What can businesses expect?
Documentation is the first step, and it's what employees at Jerry's Café in Lower Manhattan were doing last week. They took photographs of every item they had to chuck outside: Swiss cheese, eggs, milk and more. Food spoilage insurance covers whatever rotted in the fridge.
Recording losses -- by jotting down serial numbers or taking photos -- is key to any claim, and it will prove a tough task for most small businesses, which rarely keep thorough paperwork on inventory and equipment.
Related: 19 bags of rotting food, and a business at risk
Damage assessment from claims adjusters comes next, and businesses might have to wait weeks for their turn.
For their part, insurance companies are trying to make it easier. Before the storm, Travelers Insurance had already dedicated 5,000 employees to assess damage and answer questions. Immediately after the storm, it sent five RVs to serve as "mobile claims offices" in hard-hit areas of New Jersey and New York.
Another major insurer, Liberty Mutual, has 60 adjusters in the area physically inspecting 1,500 claims. Chief commercial claims officer George Neale said all businesses will be visited in the next two weeks.
"We work hard to try to get our people back in business as soon as possible... and deliver on our promise," said Neale.
Businesses that think the wait will be too long -- or that the insurer's adjuster won't give a fair estimate -- could choose to hire their own adjusters to get repair estimates.
But that can be risky, said Ervin Gonzalez, a South Florida attorney who fought against builders and insurers for shoddy practices after 1992's Hurricane Andrew. Gonzalez said that there aren't enough adjusters in the New York area, so thousands of them will travel from across the country looking for work.
Some will overcharge, taking 20% or more of what an insurer will eventually pay -- much higher than the 10% cap for residential properties in states like Florida.
Gonzalez also warned that independent adjusters who land contract work for insurers have incentive to offer business owners less than what their loss is worth, because these contractors want the insurer to hire them again.
"We saw that with Hurricane Katrina in New Orleans and after Hurricane Andrew in Miami," Gonzalez said.
Related: What to expect when filing Sandy insurance claims
The last step, settling the claim, could be the most precarious -- and disappointing. Small business owners in Florida know that well, especially after Hurricane Andrew, which sparked a wave of lawsuits from those who felt their claims got low-balled, if they received money at all.
The old age of buildings in New Jersey and New York are likely to play a factor. Insurers could blame some of the damage on age instead of the storm, as was the case for Miami attorney Philippe Lieberman. He went through great pains to prove his client's two dozen Florida strip malls were damaged by 2005's Hurricane Wilma -- and not because they were old.
"I don't envy New Yorkers," Lieberman said. "They should expect a difficult and exhausting process."