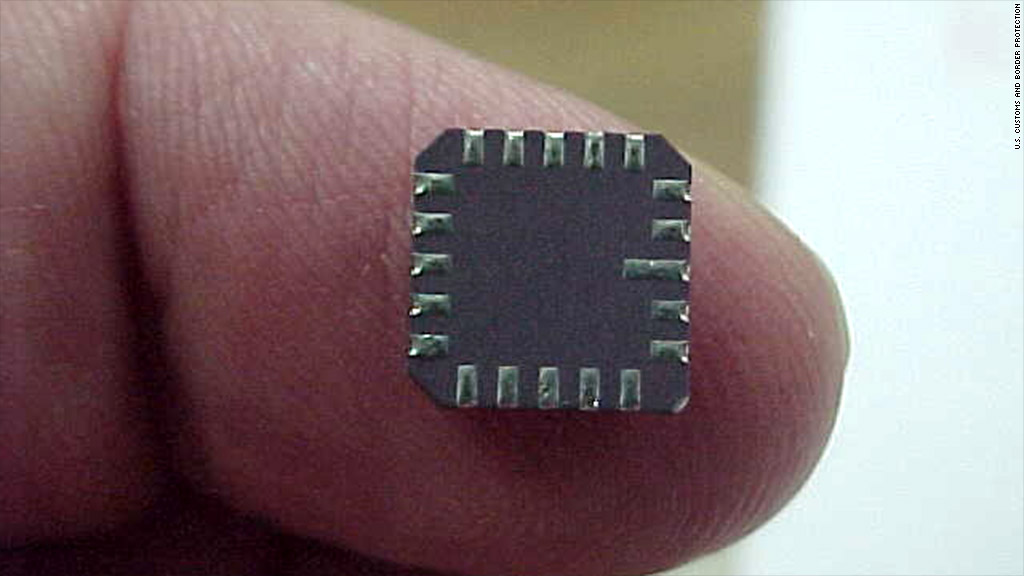 A record number of tech products used by the U.S. military and dozens of other federal agencies are fake. That opens up a myriad of national security risks, from dud missiles to short-circuiting airplane parts to cyberespionage.
Despite laws designed to crack down on counterfeiters, suppliers labeled by the U.S. government as "high risk" are increasing their sales to federal agencies. Their presence in government's supply chain soared 63% over the past decade, according to a new study released by IHS, a supply chain management consultancy.
Suppliers with the high-risk branding are known to engage in counterfeiting, wire fraud, product tampering and a laundry list of other illicit and illegal behaviors.
Last year, 9,539 banned businesses were found to have sold technology the government. Roughly 10% of those incidents involved counterfeit parts or equipment.
"What keeps us up at night is the dynamic nature of this threat, because by the time we've figured out how to test for these counterfeits, they've figured out how to get around it," said Vivek Kamath, formerly the head of Raytheon's (RTN) supply chain operations. "It's literally on almost a daily basis they change. The sophistication of the counterfeiting is amazing to us."
The number of fake tech products floating around in the market quadrupled from 2009 to 2011, according to IHS -- and they're sneaking into some high-profile places.
In September 2010, the Missile Defense Agency found that the memory in a high-altitude missile's mission computer was counterfeit. Fixing the problem cost $2.7 million. Had the bomb launched, it most likely would have failed, the agency said.
Two years earlier, the FBI seized $76 million of counterfeit Cisco (CSCO) routers that the Bureau said could have provided Chinese hackers a backdoor into U.S. government networks. A number of government agencies bought the routers from an authorized Cisco vendor, but that legitimate vendor purchased the routers from a high-risk Chinese supplier.
China continues to be the largest source for counterfeit and pirated goods found in the United States, accounting for 62% of the $178 million in products (with an estimated retail value of $1.1 billion) that the U.S. Customs and Border Protection agency seized last year.
Some in Congress have pushed for a crackdown.
"Counterfeit parts pose an increasing risk to our national security, to the reliability of our weapons systems and to the safety of our men and women in uniform," Sen. John McCain, a Republican from Arizona, said last year in support of anti-counterfeiting regulations.
Related story: Counterfeit goods becoming more dangerous
There are already rules and systems in place to protect the government's supply chain. The U.S. General Services Administration, for instance, has a database of about 90,000 risky suppliers that government agencies are required to check against when ordering parts.
The trick is getting people to use those resources.
"Policies and procedures just aren't being followed," said Rory King, supply chain director at IHS, which provides supply chain management tools for the government and other clients. "It's actually pretty simple to do -- it's a matter of needing better education, awareness and training."
The good news is that some government agencies are fighting back.
NASA is widely viewed as having taken a lead in anti-counterfeiting by completely vetting its suppliers, giving each a score to help its procurement officials pick the lowest-risk vendors. The agency also requires suppliers to show proof that they have various government and vendor certifications, and it resurveys its suppliers every three years.
Even after that, all of NASA's incoming parts are inspected.
Counterfeit parts aren't just a government problem. Consumer electronics topped the Homeland Security Department's pirated goods list last year -- the first time since 2004 that shoes weren't No. 1.
They're popping up in every segment of the market, including wireless devices, PCs and even automobiles. Common problems include short-circuits, failures in unusually hot or cold temperatures, and systems that don't boot up.
That's bad news whether it's in a missile defense system or a medical respirator.
"There's an enormous amount of risk associated with counterfeit parts, not just to the men and women of our armed services, but for consumers as well," King said. "Military and aerospace get the majority of attention, but if a counterfeit part were to escape into minivan's braking system, you've got a huge issue on your hands."