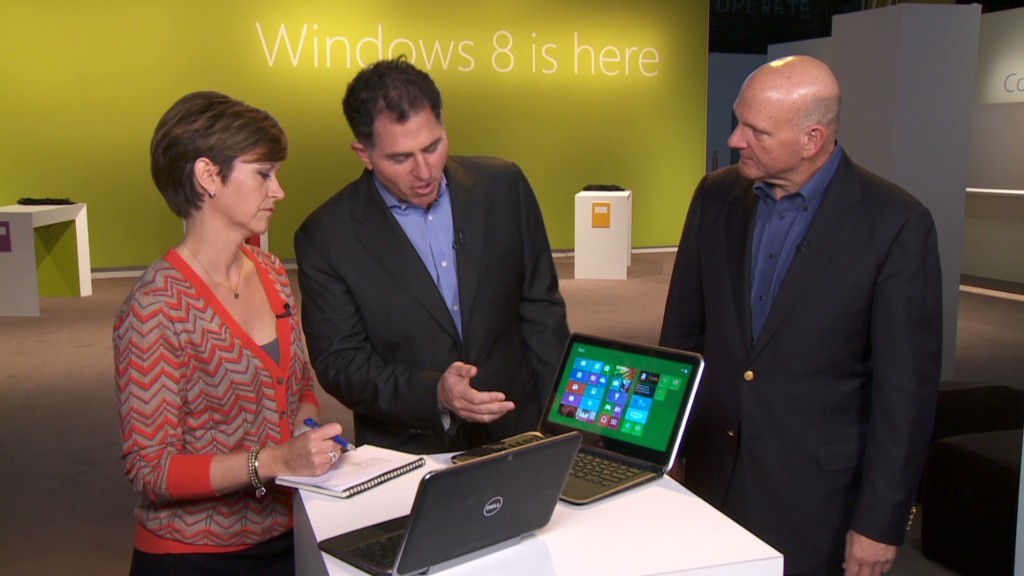 Microsoft's latest effort to elbow its way into the U.S. smartphone market begins on Friday, when the first Windows Phone 8 devices go on sale.
Since the launch of Windows Phone 7 two years ago, the software giant has thrown hundreds of millions of dollars into developing and marketing its mobile operating system -- with little success.
In some respects, it's heading in the wrong direction. Microsoft's smartphone sales are slowly ticking up, but the rest of the market is growing much faster. Microsoft's smartphone market share fell to just 3.6% in September -- roughly a third of the share Microsoft (MSFT) commanded a month before Windows Phone launched.
The irony is that the product is actually pretty great. Most reviewers praised its innovative interface, and the relatively small number of people who actually use Windows Phone love it.
Windows Phone 8 is even better, offering a host of improvements over the previous iteration. The new software got some much-needed tweaks and snazzy new features that rival those on the iPhone or most popular Android devices.
Still, few phone shoppers are willing to stray from the iPhone-and-Android duopoly.
Microsoft says it's willing to be very, very patient. In its Redmond, Wash., headquarters, the Windows Phone story sounds awfully similar to that of Xbox -- a perennial money loser that spent the better part of a decade mired in third place behind Nintendo and Sony. Xbox debuted in 2001 but didn't turn a profit until 2008.
After establishing several successful video game franchises and launching its Xbox Live service, Xbox was able to overtake its rivals late last year. It's currently a close second in global sales behind Sony's PlayStation 3, according to industry tracker VGChartz.
With Windows Phone, Microsoft is hoping for another Xbox moment.
The analysts think it's possible. IDC forecasts that Windows Phone will overtake Apple's (AAPL) iPhone by 2016, gaining 19.2% of the market.
How can Microsoft's tortoise catch up to the industry's hares? With strong hardware partnerships, relentless marketing and tight ties to Microsoft's more successful brands, including Skype and Microsoft Office.
But as always with Microsoft, execution is the big question mark.
Microsoft's partnership with Nokia (NOK) got off to a rocky start. Critics like Nokia's phones, which won a Best in Show award at this year's Consumer Electronics Show, but customers have stayed away.
Nokia's next shot, the Lumia 920 smartphone, has gotten very positive reviews -- just like the first Lumia did.
The high-end device goes on sale Friday for a low-end price -- just $100, with a two-year contract -- which should help pique consumers' interest. An entry-level version, the Lumia 820, will carry a bargain-basement price tag of $50. Both are being offered exclusively on AT&T's (T) network.
In another win for Microsoft, Windows Phone devices will also be available on Verizon's (VZ) network for the first time. The nation's largest wireless carrier is accepting pre-orders on Friday for HTC's Windows Phone 8X devices and the Nokia Lumia 822.
The biggest boost for Windows Phone might not be Verizon, Nokia, or low prices, though -- it could be Microsoft's flagship product, Windows 8. With hundreds of millions of users expected to migrate to Windows 8 over the next several years, the new Microsoft ecosystem could make the very similar Windows Phone 8 a more attractive item.
Just as Apple's myriad devices all seamlessly share content and Google's (GOOG) services tend to work best on Android devices, Microsoft too is building an ecosystem of gadgets that play nicely with one another: Windows 8, Windows Phone 8 and Xbox all they function in much the same way and run the same apps, content and services.
"It's evolving, literally, into being a single platform," Bill Gates said of Windows Phone and Windows in a recent video blog.
That could be the biggest selling point of all.
"Once Windows 8 is on laptops, PCs, and tablets, consumers are significantly more likely to adopt Windows Phone 8," said Brent Iadarola, analyst at Frost & Sullivan.
Meanwhile, Microsoft will play the waiting game. It's got the cash and patience to keep plowing billions into Windows Phone until that magical Xbox moment arrives.