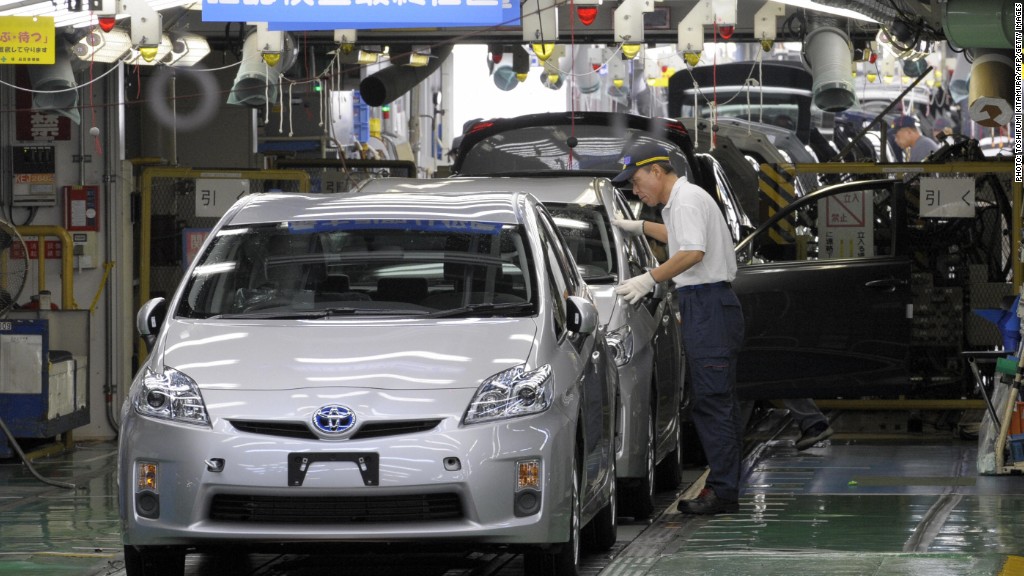 Japan's economy contracted at an annual rate of 3.5% in the latest quarter, sparking concerns of a sustained regional slowdown.
The GDP figures, reported Monday by Japan's Cabinet Office, were worse than economists had expected, and indicated the most dramatic contraction since the country was hit by the earthquake and tsunami of March 2011.
The negative 3.5% rate for July to September is also far worse than the revised 0.3% annual growth rate for the previous quarter. Japan's Nikkei closed down almost 1% in trading in Tokyo.
The world's third-largest economy, Japan risks slipping into recession if the economy remains in contraction during the current quarter. Some economists have warned that scenario looks increasingly likely.
"Japan's economy may already be in recession," said David Rea of Capital Economics. "The sharp fall in third quarter GDP was the first contraction this year but increasingly looks like it will not be the last."
The country's economy -- especially exports -- were battered by the twin 2011 disasters, but then mounted a quick recovery thanks to reconstruction efforts. But a diplomatic spat with China over a set of disputed islands has made Chinese consumers reluctant to purchase Japan-made products.
Simon Constantinides, regional head of trade and receivables finance for HSBC, said that the islands controversy is having an outsized impact on trade between the two countries, a trend especially evident in reduced sales of Japan-made automobiles in China.
China is Japan's largest trading partner. Nearly 20% of Japanese exports last year were sold to mainland China, compared to 15.3% exported to the U.S., according to figures from the Japan External Trade Organization.
Related: Japan owns almost as much U.S. debt as China
The Bank of Japan is making an effort to boost growth. The central bank said in late October it would ramp up its bond buying program from 80 trillion yen to about 91 trillion yen, a difference of $138 billion.
The purchases -- which include T-bills and government bonds -- will be completed by the end of 2013. However, the bank left key interest rates unchanged.