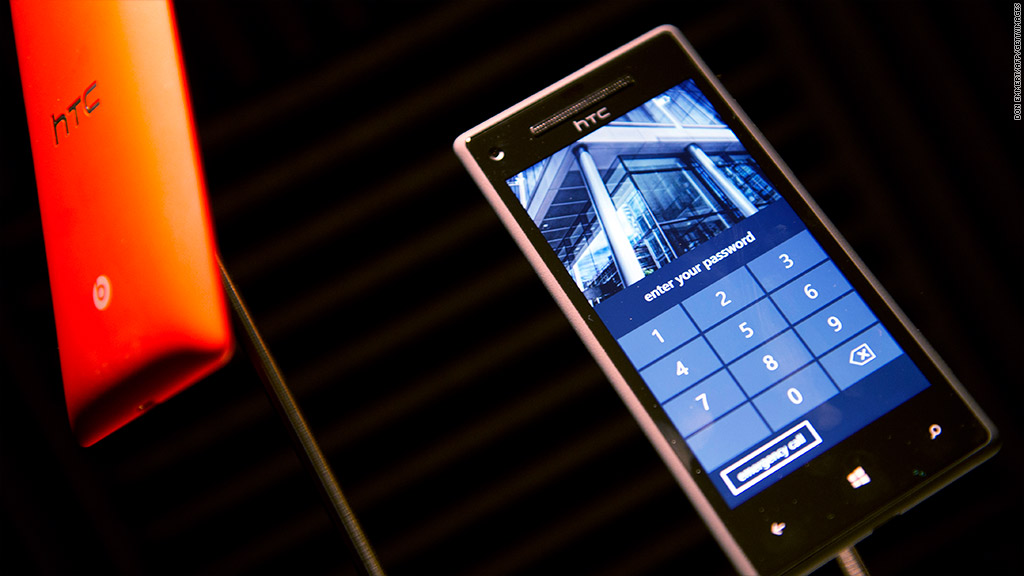 Regulators in Taiwan are looking into trade in HTC after the smartphone manufacturer's shares surged Friday, the day before it settled a long-running patent dispute with Apple.
HTC shares rose 7% -- the maximum permitted for an individual stock on the Taiwan exchange. The stock closed 18% above its lows during last week. Shares rose another 7% on Monday but gave up 7% on Tuesday. The stock is now slightly lower than where it closed on Friday.
Michael Lin, senior executive vice president of the Taiwan Stock Exchange, said the checks into the move were standard practice at this stage.
"If we find anything unusual or kind of special we will look into it," he said.
Apple (AAPL) and HTC issued a joint statement Saturday, announcing an end to all outstanding lawsuits and a 10-year license agreement covering existing and future patents held by both companies.
They did not disclose terms but HTC said it did not expect the deal to have "an adverse material impact on its financials".
Related: What were the terms of the Apple-HTC settlement
In a statement Tuesday, the Android smartphone and tablet maker repeated that the agreement was subject to strict confidentiality.
"The company conducts regular compliance training on insider trading stipulations, and frequently reminds employees to abide by these regulations," it said.
Apple was not immediately available for comment.
In December 2011, Apple won a narrow victory over HTC when the International Trade Commission found that some earlier HTC phones had violated an Apple patent provision covering the way smartphones make sense of unstructured data, such as emails.
Related: Customs halts US sales of HTC phones
HTC was the first maker of smartphones using Google's (GOOG) Android operating system that Apple took to court. in March 2010, Apple alleged that HTC had infringed 20 patents related to the iPhone's user interface, architecture and hardware.
The settlement with Apple will end years of costly and distracting litigation and comes as HTC struggles to halt a slide in its share of the global mobile devices market and reverse months of falling revenues.
Some analysts believe the HTC deal could be a blueprint for a settlement between Apple and Samsung, the Android market leader. Samsung has so far resisted Apple's overtures and instead has chosen to fight it in court with mixed results.
A California jury earlier this year found Samsung had infringed on the majority of the patents in question, awarding more than $1 billion in damages to Apple.
But Apple lost a suit filed in the UK alleging Samsung had copied the iPad's design, and a judge last month lifted a block on Samsung selling its Galaxy Tab 10.1 tablet computer in the US.
CNN International's Pamela Boykoff contributed to this article