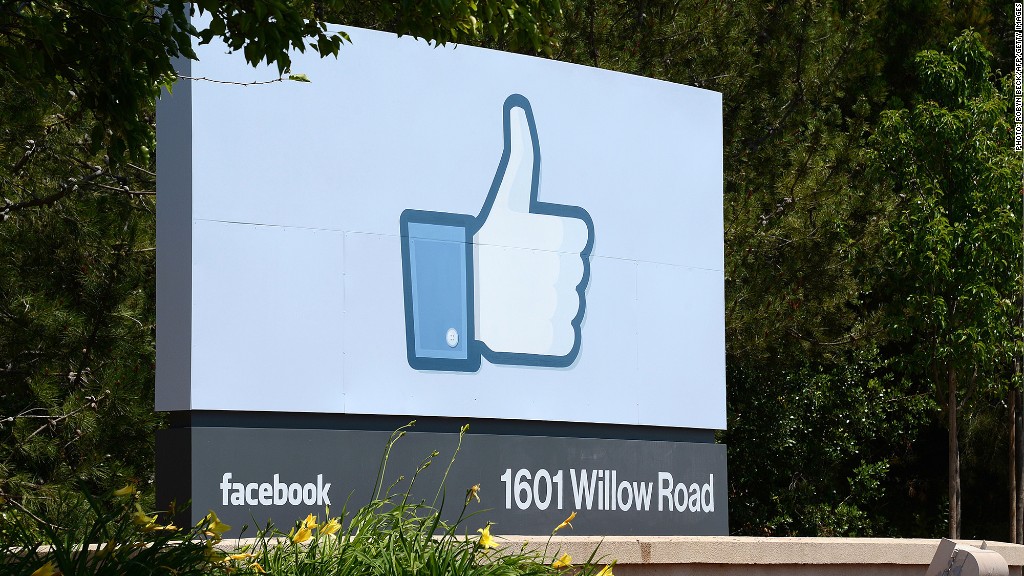 About 800 million Facebook shares were newly available to trade on Wednesday, a phenomenon that typically sends a company's stock lower. But Facebook bucked the trend with a 12% gain.
Wednesday marked the first day that early employees and investors were able to sell about 773 million shares. Another 31 million restricted stock units owned by employees who joined the company prior to 2011 were also newly eligible to trade.
The prospect of so many shares potentially flooding the market tends to send a company's stock lower. But Facebook (FB) shares surged on heavy volume: 170 million shares had changed hands by mid-afternoon.
Like many initial public offerings, Facebook's May 18 debut included a "lockup" agreement that restricts some shareholders from selling for a certain period.
Lockups are designed to prevent the market from being swamped with too many of a company's shares immediately after an IPO. Keeping the amount of shares scarce can help boost a stock's price. But before Wednesday's runup, Facebook shares had lost nearly half their value since they debuted at $38.
But one analyst said Facebook may finally be a good buy.
"I've had numerous clients who are looking to go long Facebook, and the price is a good entry point," said Topeka Capital Markets analyst Victor Anthony. "And now this negative [the lockup expiration] is out of the way."
Anthony said it seems that investors are also less concerned about Facebook's ability to make money off of mobile users. The company reported strong mobile advertising revenue growth in its third-quarter earnings release last month.
"Amidst all the hyperbole, you do have whats a very healthy business," Anthony said.
Separately, Facebook announced a new social jobs search app Wednesday, a move that could put Facebook in more direct competition with LinkedIn (LNKD) and Monster Worldwide (MWW) -- and potentially give Facebook another lucrative source of revenue.
Sterne Agee analyst Arvind Bhatia echoed the idea that stronger fundamentals contributed to Facebook's rise.
"Previously parts of the business were less clear, so insiders sold the stock," Bhatia said. "Now you have the company putting up a good quarter. And you have some saying, it looks like this is turning around."
Bhatia also noted that when everyone expects the stock to go one way -- in Facebook's case, down on an expiration day -- "sometimes, the exact opposite happens."
Facebook shares did fall on its previous, smaller lockup expirations. The company employs a somewhat unusual staggered system, with a total of five lockups. Wednesday is the third expiration in the series, and marks the biggest potential stock dump by far.
The first came in August, when early investors were able to sell more than 270 million shares. The stock promptly fell 6%. It was later revealed that some of those sellers were Peter Thiel, the company's first big investor, and co-founder Dustin Moskovitz.
Related: How four companies took over the Internet
The second expiration was just two weeks ago, when many of Facebook's rank-and-file employees got their first chance to make their paper wealth liquid. Most of what was sold were Facebook's restricted stock units, which become trade-able shares only after a liquidity event like an IPO. A total of 234 million RSUs were converted to stock and then available to trade on October 31, and then stock fell .
Two more lockups remain, but they're much smaller: On December 14, about 156 million shares will be set free, and on May 18 (the one-year anniversary of the IPO) another 47 million shares will hit the market as the final lockup expires.