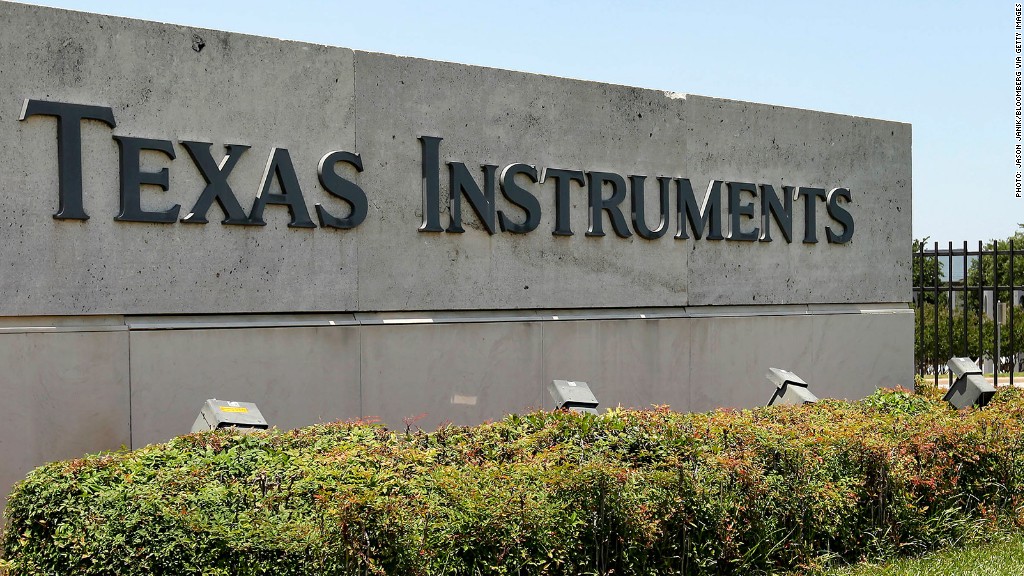 Chipmaker Texas Instruments said Wednesday that it will lay off 1,700 workers in an effort to shift focus away from its struggling mobile business.
The job cuts represent about 5% of TI's staff, and they are part of a previously announced restructuring initiative aimed at cutting costs and increasing its presence in the burgeoning embedded device market. Shares of Texas Instruments (TXN) rose about 1% in afterhours trading.
The Dallas-based company had made some headway in the smartphone market a few years ago. But recently the biggest mobile phone makers, including Samsung and Apple (AAPL) have opted to design their own chips for their respective Galaxy smartphones and iPhones.
Other mobile processor competitors, including Samsung, Qualcomm (QCOM) and Nvidia (NVDA) have also had better success in the smartphone business. Even Intel (INTC) has made strides, signing recent deal with Motorola (MSI) to put its new mobile chips in future Motorola smartphones.
TI says it's time to reconsider its strategy, opting instead to embrace what many industry experts believe is the future of the mobile sector: embedded connectivity in everyday items, including appliances, cars and even clothing.
"We have a great opportunity to reshape our [mobile] processor and wireless connectivity product lines to concentrate on embedded markets," said Greg Delagi, head of TI's embedded processing division, in a statement. "These job reductions are something we do with a heavy heart because they impact people we care deeply about."
TI said it expects to be able to save $450 million by the end of 2013 by making the cuts. The company said the layoffs will cost $325 million, most of which will be realized in the current quarter.