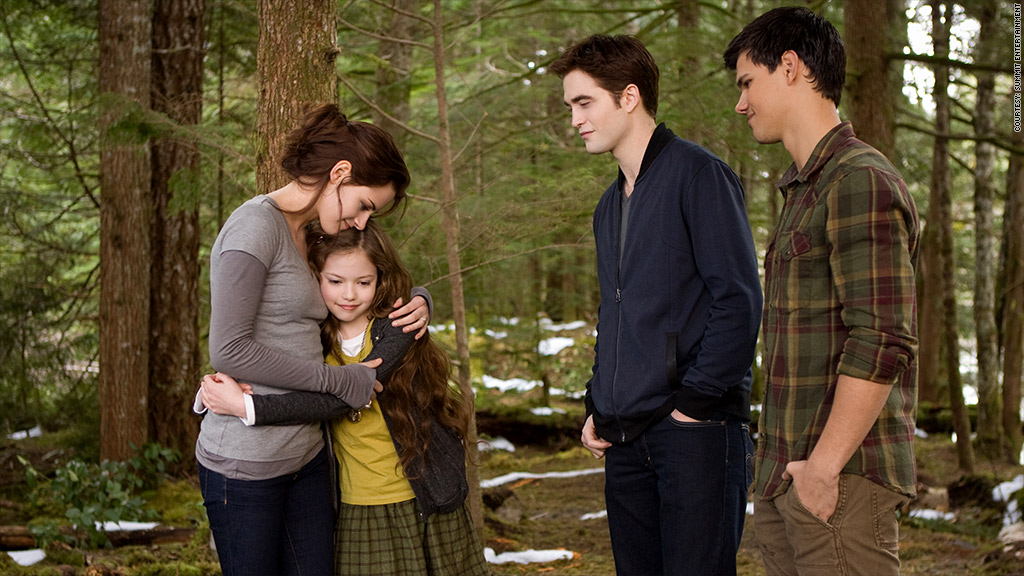 It's a no-brainer that teens are the biggest fans of the Twilight series' final chapter that hit the box office this weekend.
But another group of fans love the fangs and fur just as much: theater owners, investors and Hollywood.
That's because the film is poised to close out a blockbuster year for the box office, which has sent the stock prices of movie theater operators and studios soaring.
Total ticket sales are rising at a time when the industry has been struggling with increased competition from the Internet and an American public distracted with a surfeit of gadgets like iPads and online digital video streams.
"Twilight: Breaking Dawn, Part 2" enjoyed an opening weekend domestic box office of $141.3 million. It is the fourth film this year to break the $140 million mark -- joining "The Avengers" "Dark Knight Rising" and "The Hunger Games."
It is a remarkable achievement since only four other films had openings as big before this year.
A key reason behind big opening weekends lately is the same digital technology that's the industry's biggest competition. Digital projectors have allowed multiplex theater owners to quickly add additional screenings of hot movies when there's strong ticket demand. In the past, they would have needed an extra film print to add a screen.
This year, a majority of theaters around the world adopted digital projectors over traditional film projectors. The ticket sales have jacked up stock prices of movie theater operators. Regal Entertainment Group (RGC) is up 28%, Cinemark Holdings (CNK) has soared nearly 40%, while Carmike Cinemas (CKEC) has more than doubled this year. Large screen theater operator IMAX (IMAX) is the relative laggard of the group with only a 20% rise.
Related: 'Avengers' rescues Disney, and Hollywood
Things are even better at the studios. Lions Gate Entertainment (LGF), the independent studio behind both "Twilight" and "The Hunger Games," has seen its stock climb nearly 90% since the start of the year.
"One of issues from consumer perspective is convenience," said Rob Friedman, co-chairman of Lionsgate Motion Picture Group, the movie unit of Lions Gate. "To be able offer enough show times to make it convenient is a major factor."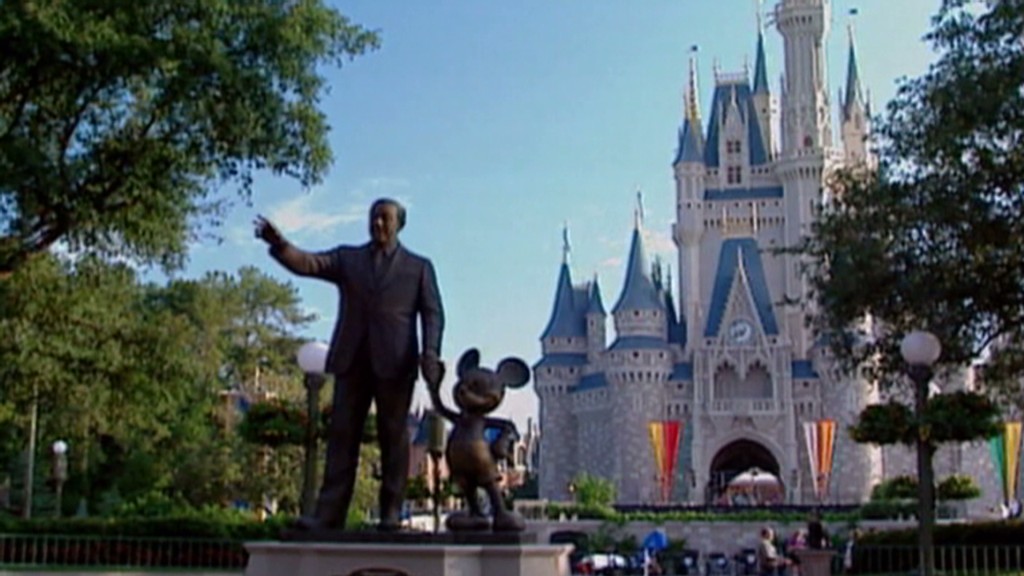 The strong box office, ticket sales and opening weekends this year shows there is still an attraction to watching movies in theaters.
"There is very little to match the mystique of the opening of the film," said Keith Simanton, managing editor of IMDB. "The glamor has not gone away, even in this society."
And all of it is good news for the studios, which now have new ways to sell movies to customers.
"I think what we're seeing across every platform is consumption increasing," said Friedman.
That's why Lions Gate is not alone in posting strong stock gains this year.
Shares at other major media companies that own film studios, including Walt Disney (DIS), News Corp. (NWS), Comcast (CMCSA), and CNNMoney owner Time Warner (TWC), are all up between 20% to 50% so far this year.
Related: Movie ticket sales fell to 16-year low in '11
Some analysts are forecasting total domestic box office sales could reach $11 billion this year. Almost everyone expects it to top the $10.6 billion record set in 2009.
Part of that is also due to an increase in average ticket prices, helped by movies that are shown in higher-priced 3D or IMAX.
But no matter what, experts are thrilled.
"More butts in the seats -- that's what Hollywood needs," said Paul Dergarabedian, box office analyst for Hollywood.com.