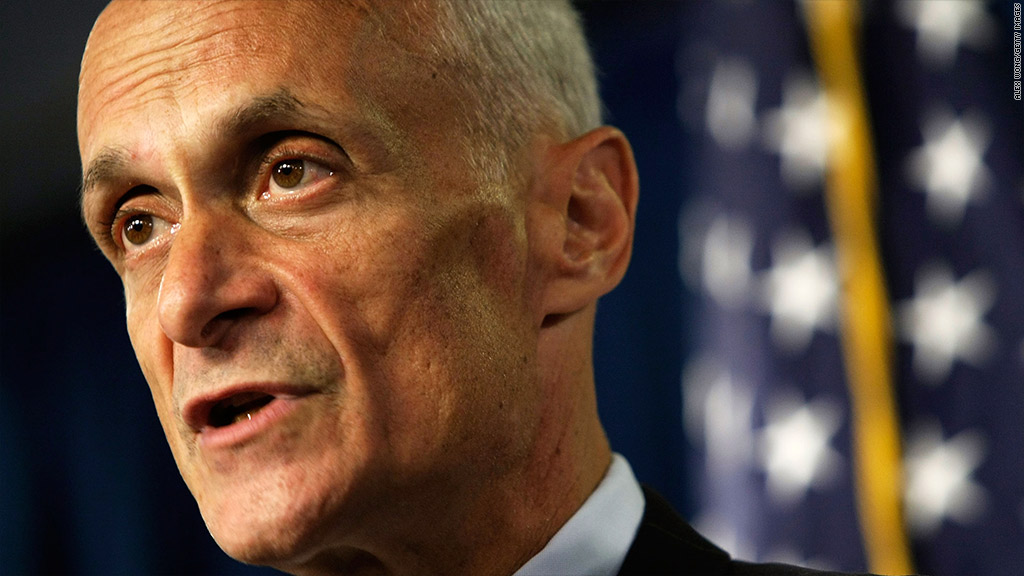 The New York Stock Exchange hired former homeland security chief Michael Chertoff to investigate a potential security breach by the Securities and Exchange Commission, according to an NYSE spokesperson.
For nearly two years, the SEC has been investigating actions within one of its units that monitors stock exchanges after an anonymous whistleblower tipped them off, according to an August 31, 2012, report by the SEC's Office of the Inspector General obtained by CNNMoney.
The SEC's Division of Trading and Markets oversees stock exchanges, including the NYSE (NYX), Nasdaq (NDAQ) and BATS.
These exchanges are forced by law to regularly submit reviews of their internal procedures for identifying security threats and potential vulnerabilities within their trading systems to the SEC.
Related: After Sandy, a flurry of stock market micro flash crashes
Four members of the SEC's staff dedicated to overseeing these reviews performed inspections on unencrypted computers, according to the Inspector General's report.
The SEC said that although its internal investigation found no evidence that the exchange's data had been compromised, it fixed the problem, said SEC spokesman John Nester, who added that two staffers responsible for maintaining and configuring that equipment are no longer with the agency. Nester declined to discuss any further steps the SEC may take.
The SEC notified the exchanges of potential security breaches last month.
Chertoff was head of the U.S. Department of Homeland Security from 2005-2009, before launching a consulting firm that advises private clients on security and intelligence issues.
Representatives for the NYSE, Nasdaq and the Chertoff Group declined to comment.