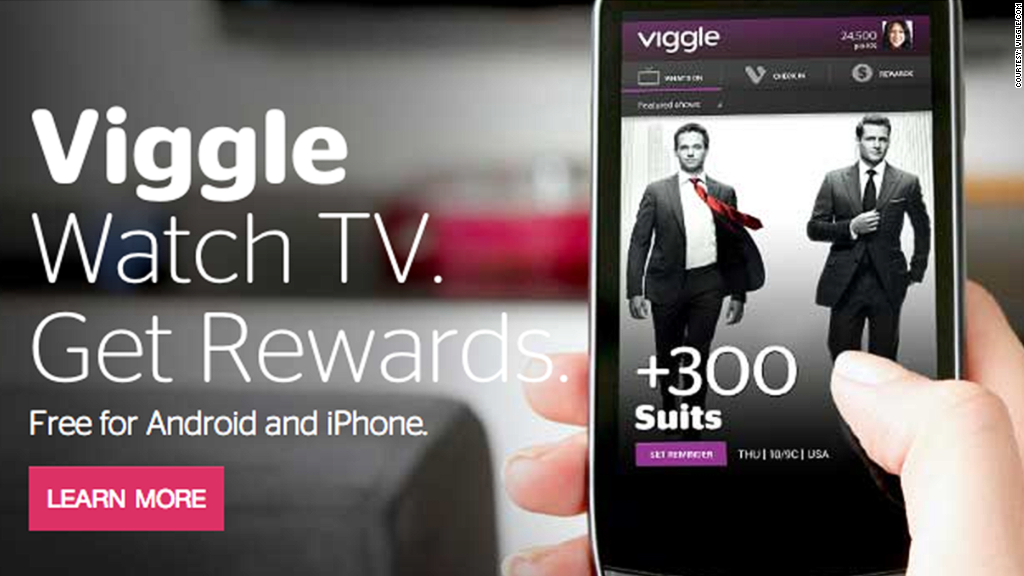 The social TV space has been percolating for the past year or two, and its first big merger is here: startup GetGlue has been acquired by lesser-known Viggle.
Viggle (VGGL) will buy GetGlue for $25 million in cash and about 48.3 million shares of the company's publicly traded stock, worth around $53 million at Friday's closing price. Viggle will run both brands and continue to employ GetGlue's 34 employees. GetGlue founder and CEO Alex Iskold will take a senior executive position and a board seat at Viggle. (Time Warner, CNNMoney's parent company, is a GetGlue investor.)
Social TV software -- also known as "second screen" apps or even the clunky phrase "simultaneous viewing" tools -- taps into TV viewers' use of mobile devices while they watch their favorite shows. More than a dozen startups have popped up to take advantage of the trend, with each platform taking a slightly different approach.
Viggle, which bills itself "the first ever loyalty program for television," awards users points for "checking in" through an app when they watch TV shows. The app uses audio fingerprinting tech to identify automatically which show a user is watching.
Then, Viggle users can cash in points for gift cards from partners including Barnes & Noble (BKS), Best Buy (BBY), Chili's, Apple's (AAPL) iTunes and more.
GetGlue offers a similar check-in system, though its platform particularly highlights social interactions and a personalized TV guide. GetGlue, which launched in 2007, says its user base is now at 3.2 million.
Viggle's platform currently has 1.2 million users. Its parent company was founded in June 2010, but the TV check-in service didn't launch until January 2012.
Combining forces could prove a good move for Viggle and GetGlue, as the social TV space has already killed off some of its would-be contenders. BeeTV, a "hub" for social TV viewing, folded one year ago, a few months after check-in site Philo sold itself to social ad company LocalResponse.
Even for the startups that survive, it can be tough to carve out a workable and profitable niche. The buzzy company Miso, which launched in 2010, has switched its approach several times over the past two years. Last December Miso unveiled SideShows, a feature that let networks or fans to create their own second-screen content.
But Miso's users didn't take to SideShows, and this month the company pivoted yet again. Its new Quips app lets users save their favorite TV show moments and share them with friends on social networks.
Still, both big companies and new startups continue to invest in the space. Yahoo (YHOO) purchased check-in service IntoNow in April 2011 for an undisclosed sum. British startup Zeebox landed on U.S. shores in September with partnerships including Comcast (CMCSA), NBC Universal, and HBO, which is owned by CNNMoney parent Time Warner (TWC).