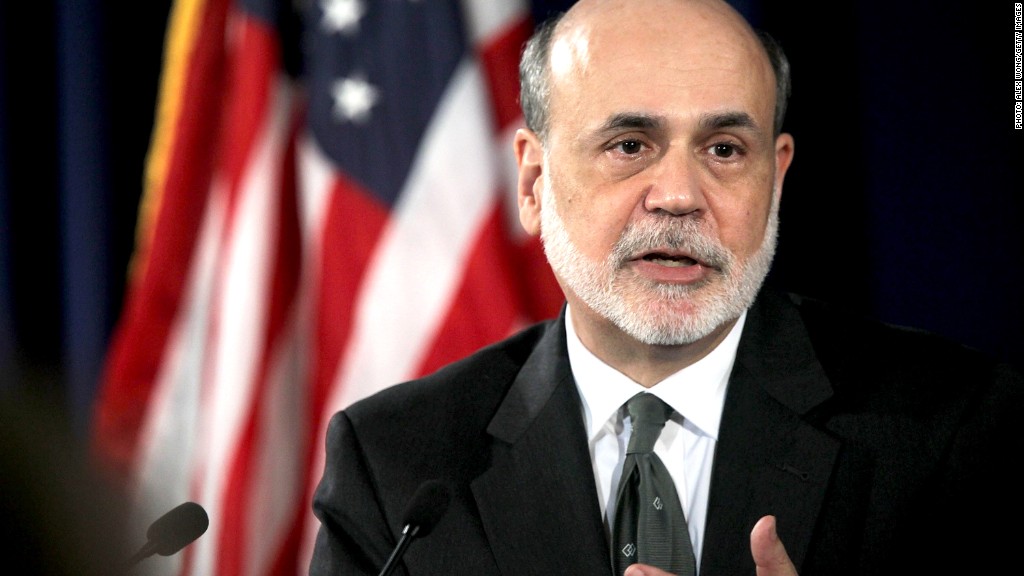 Federal Reserve Chairman Ben Bernanke on Tuesday urged lawmakers to act as soon as possible to avoid the fiscal cliff.
"Coming together to find fiscal solutions will not be easy, but the stakes are high," Bernanke said, speaking before the Economic Club of New York.
The Fed chief cited projections from the Congressional Budget Office that predict the $7 trillion combination of spending cuts and tax increases could send the U.S. economy toppling back into recession.
He also cited Europe's debt crisis as an obstacle to U.S. economic growth.
"Currently, uncertainties about the situation in Europe and especially about the prospects for federal fiscal policy seem to be weighing on the spending decisions of households and businesses as well as on financial conditions," Bernanke said.
"Such uncertainties will only be increased by discord and delay," he added.
Bernanke said U.S. economic growth has been "disappointingly slow" and although the unemployment rate has been declining, it is still well above its pre-recession level.
Check the unemployment rate in your state
But Bernanke pointed to the housing sector as an encouraging sign in the recovery. Home sales, new construction and home prices have all started rising recently. Bernanke said he hopes that will turn into a "virtuous circle" where higher home prices lead to a rise in mortgage lending, which in turn, could lead to even higher home prices.
"These developments are encouraging, and it seems likely that, on net, residential investment will be a source of economic growth and new jobs over the next couple of years," Bernanke said.
Mortgage rates have fallen to record lows amid the Fed's recent policy of buying mortgage-backed securities. Last week, the average rate on a 30-year fixed mortgage fell to 3.34%, according to Freddie Mac.
Related: The fiscal cliff: What's in it
At its September meeting, the Federal Reserve launched a third round of quantitative easing, which entails buying $40 billion in mortgage-backed securities each month. QE3 was combined with an existing policy, known as Operation Twist, which swaps short-term Treasuries for longer-term bonds .
Between the two programs, the Fed is currently buying a combined $85 billion in long-term bonds every month.
The Fed has been trying to stimulate the economy for over three years now, and has exhausted its usual tool by keeping interest rates near zero since late 2008. Buying massive amounts of bonds is an unconventional way of trying to lower rates further.
The Fed has said it plans to keep interest rates at "exceptionally low levels" until the outlook for the job market improves "substantially." Bernanke added little clarity to that vague statement in his speech Tuesday.
"In other words, we will want to be sure that the recovery is established before we begin to normalize policy," he said.
The Federal Reserve's next policy meeting is scheduled for December 11 and 12. At that point, the Fed will have to decide what to do about Operation Twist, which is scheduled to wind down at the end of the year.