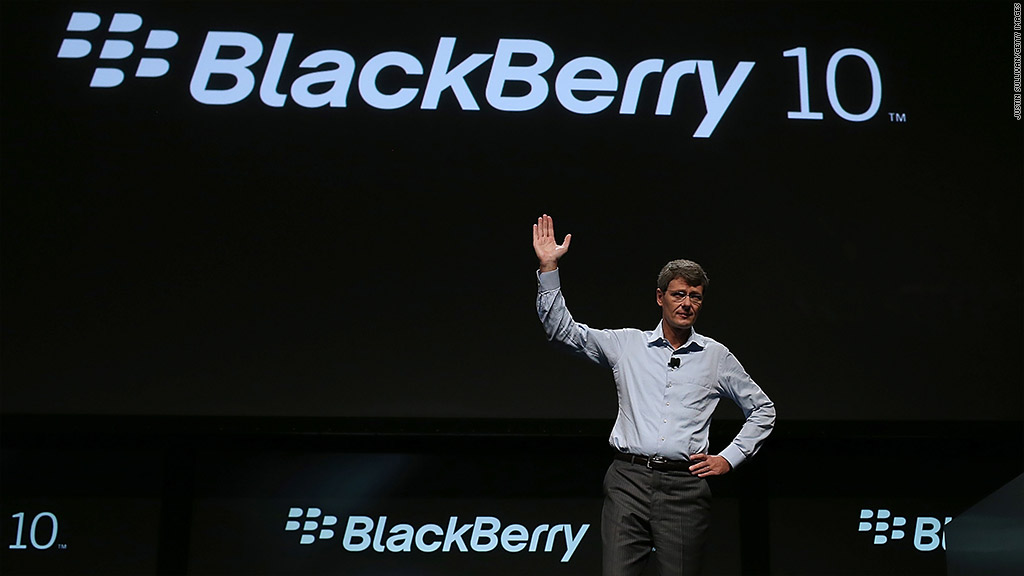 Hating BlackBerry has become something of a bloodsport, but Research in Motion shares have been on an incredible tear for the past two months -- and the RIM rally continued Friday after a bullish analyst report.
National Bank Financial analyst Kris Thompson upped his price target on the stock and his predictions for product shipments in 2014. RIM (RIMM) shares closed 14% higher Friday as a result.
Last week, RIM announced that its long-delayed BlackBerry 10 operating system will finally debut on January 30, a year after the company's next-generation smartphones and software were slated to go on sale.
RIM initially said its new BlackBerry 10 software and devices would be available at the beginning of 2012. The company first delayed that to the end of 2012, and then again to the beginning of 2013.
The new operating system is meant to be the crown jewel of the company's turnaround, so the delays were incredibly troublesome. Some critics wondered if RIM would even survive long enough to launch BlackBerry 10.
Related story: RIM's fate hangs on BlackBerry 10
RIM CEO Thorsten Heins has spent the past few months assuring naysayers that the software will launch in early 2013, and that it will be worth the wait.
Investors appear to be growing more optimistic as well. RIM shares have gained an astounding 59% over the past two months.
That jump is even more remarkable when compared with the slump Apple (AAPL) suffered in the same two-month period. The smartphone king hit bear-market status this month, falling to an intra-day low of about $506 last Friday -- down nearly $200 from the all-time high it hit on September 21.
The Apple sell-off comes after an incredible runup over the past few years -- and during a tumultuous time in the broader stock market on concerns about the fiscal cliff and Europe's continued debt crisis.