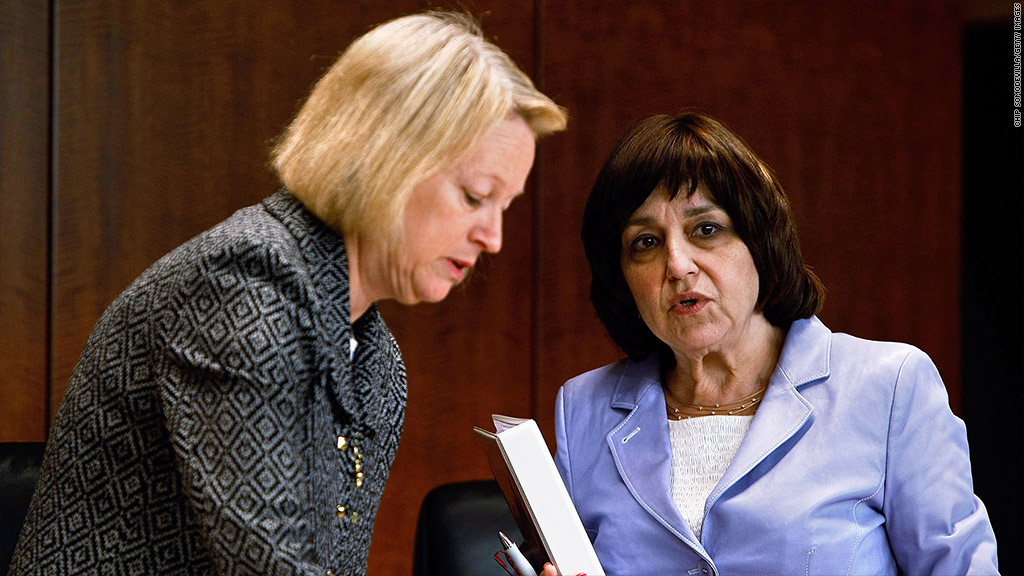 Mary Schapiro, who took over as head of the U.S. Securities and Exchange after the financial crisis, said Monday she is stepping down from her post Dec. 14.
Schapiro oversaw regulation of the financial securities industry regulator during a tumultuous time. She was named the SEC chairman in January 2009 when the agency was reeling from criticism that it didn't do enough to spot and prevent events that led to the financial crisis.
President Obama announced Monday that he has tapped Elisse Walter, a commissioner at the SEC to replace Schapiro.
A Democrat, Walter was first appointed to the commission by President George W. Bush in 2008. She briefly served as acting chair. Walter won't need confirmation from the Senate until December 2013, since she's already on the commission, according to the SEC.
Walter also worked as a top lobbyist for the Financial Industry Regulatory Authority, while Schapiro was CEO of that self-regulatory group.
The SEC has been roundly criticized for missing the multi-billion dollar Bernard Madoff ponzi scheme, even after it was warned about the scam from a whistleblower. The agency was also under fire for its lax supervision of financial firms like Lehman Brothers, which filed for bankruptcy during the height of the financial crisis in 2008.
In recent years, however, the agency under Schapiro has beefed up its enforcements against financial firms that have broken rules.
Under her watch, the agency won a $550 million penalty against Goldman Sachs (GS), the largest in SEC history, to settle charges the bank defrauded investors in selling securities tied to subprime mortgages.
The agency also settled with Bank of America (BAC) for $150 million over charges that the bank didn't tell shareholders about bonuses paid to Merrill Lynch bankers or losses that led to a second government bailout. The penalty was negotiated up from an original settlement of $33 million after U.S. District Court Judge Jed Rakoff threw out the case.
Schapiro's departure has been expected in financial circles. Schapiro made $163,000 in the post, far less than her $2.75 million salary running FINRA.
Big bank SEC settlements: Toothless face-savers?
An independent, Chairman Schapiro served as a SEC commissioner from 1988 to 1994, appointed by Republican Presidents Ronald Reagan and George H.W. Bush. President Clinton appointed her as chairman of the Commodity Futures Trading Commission, where she served until 1996.
Several Democratic lawmakers including Sen. Charles Schumer of New York and and Rep. Barney Frank of Massachusetts praised Schapiro's work during a difficult time for the agency. But Republican Sen. Charles Grassley of Iowa released a critical statement about her departure saying the SEC has gone too easy on financial firms.
"The SEC has to crack down harder, especially on repeat offenders," Grassley said.