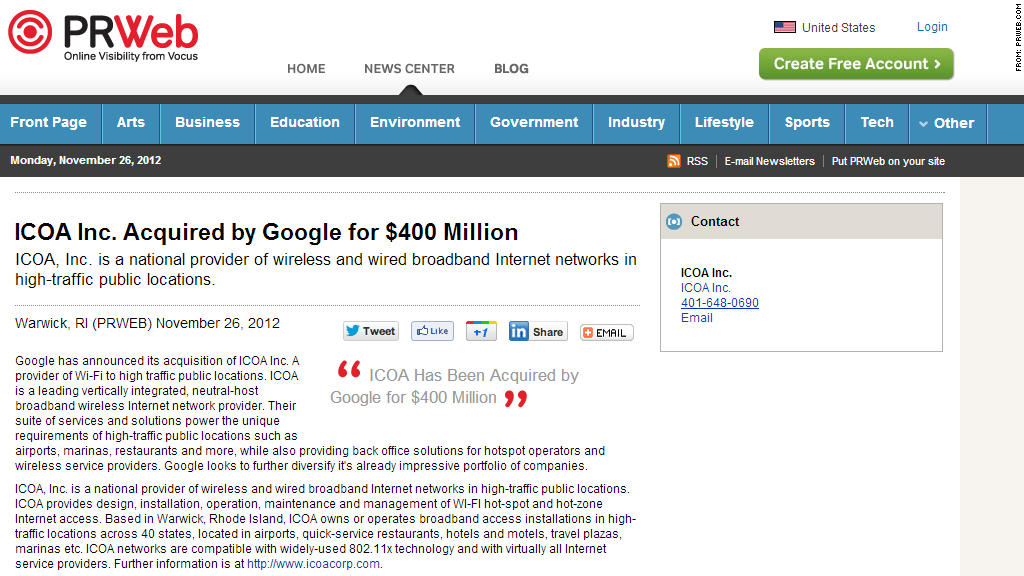 A spate of press reports on Monday heralded Google's latest takeover deal: An apparent $400 million purchase of ICOA, a Warwick, R.I., company that makes Wi-Fi hotspots for public areas like parks and airports.
Not so fast, ICOA executives said soon after. Turns out the press release announcing the deal was a hoax.
The official-looking notice appeared on PRWeb, a distributor of press releases and other corporate announcements. The story was then reported by several news organizations, including the Associated Press, as well as tech blogs, such as TechCrunch.
Then the retractions began pouring in, as ICOA and people familiar with Google's operations began to deny the report. The press release has since been taken down by PRWeb. A representative from the company did not respond to a request for comment. Google (GOOG) also declined to comment.
"This was a hoax," George Strouthopoulos, CEO of ICOA, told CNNMoney in an e-mail. "This is NOT TRUE!! Never had any discussions with any potential acquirers!! This is absolutely false!"
Strouthopoulos said the company is investigating the source of the fake release, and it plans to report the results to law enforcement.
"Someone, I guess a stock promoter with a dubious interest, is disseminating wrong, false and misleading info in the PR circles," he said.
A quick probe into ICOA's financials would have revealed the fake deal's fishy side. ICOA's total market cap is less than $850,000, and its shares trade for under a penny.
The troubled company once traded on the Nasdaq exchange, but Nasdaq kicked it off after it failed to report its finances on time in three out of eight quarters. ICOA now trades on the so-called "pink sheets," a loosely regulated, over-the-counter marketplace that does not require regular financial reporting or registration with the Securities and Exchange Commission.
Someone moved piles of ICOA's stock on Monday: Nearly 330 million shares changed hands, according to OTCMarkets.com, compared with the stock's usual daily volume of around 2.6 million shares.
ICOA's finances weren't the only suspicious sign. The press release is riddled with grammar and punctuation mistakes, including the clunky, tin-eared line, "Google looks to further diversify it's already impressive portfolio of companies."
On the surface, though, the announcement didn't raise too many eyebrows, because it sounds like the kind of deal Google would make.
The search giant has been heavily investing in Wi-Fi and broadband access. It offers free Wi-Fi service throughout Mountain View, Calif., where the company is based, and has occasionally provided free service in airports or other public locations. It's also in the process of building out a super high-speed broadband Internet and TV network in Kansas City, Kan., as a pilot program.