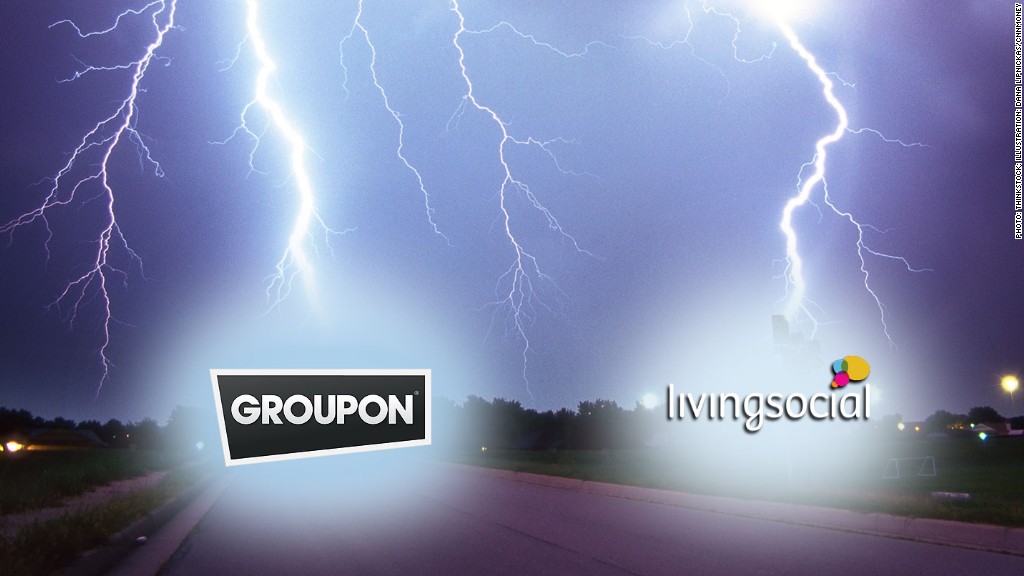 It's been a winter of discontent in the daily deals space, with serious issues afoot at kingpins Groupon and LivingSocial.
Financial analysts have long criticized the daily deals field for its low barrier to entry and unproven long-term viability. A recent string of bad news for the top two companies in the space has only given them more fodder.
"The field is going through some growing pains," says Unaiz Kabani, data product manager at Yipit, a research firm that tracks the daily deals space.
The season's unhappy tidings began in late October, when Amazon (AMZN) reported a worse-than-expected loss due in part to its investment in LivingSocial. Amazon lost a whopping $169 million on its $175 million buy-in.
Bad news hit LivingSocial more directly on Thursday, when the company announced layoffs of 400 employees, or 10% of its global workforce. The majority of the layoffs were in the sales, editorial and customer service departments.
Meanwhile, daily deals leader Groupon suffered through its own terrible earnings report. Groupon (GRPN) shares lost nearly a third of their value earlier this month, after the company reported that its third-quarter revenue growth slowed sharply. It was a plunge Groupon's stock could ill afford, bringing it well under $3 -- a shocking 89% below its IPO price just one year prior.
The stock slump led to rumors this week that Groupon's board is itching to oust company founder and CEO Andrew Mason, who did little to dispel the reports.
"Our stock is down 80% [year-to-date] ... it would be weird for the board not to be asking that question," Mason said at a conference on Wednesday.
It remains to be seen whether Mason can turn it all around and keep his job, but the success of Groupon and LivingSocial are critical to the deals field. Groupon currently holds 50% to 55% of the industry's market share, followed by LivingSocial with 20% to 25%, according to Yipit data.
Yipit used to track the dozens of monthly entries and exits into the daily deals field, but the company stopped that practice last year when the space began to thin out.
"In the long tail there might be sites going in and out, but not the levels from before," says Kabani, the data manager. "A lot of it is people realizing how expensive it is to enter and to do well. It's easy to make a website, but not so easy to get people to visit it."
Related story: LivingSocial: Things are going to get worse
After Groupon and LivingSocial, market share drops off precipitously. The list of who follows them fluctuates a bit, but Travelzoo, Google (GOOG) Offers and AmazonLocal (AMZN) usually round out the top five, according to Yipit. They usually hold only 5% to 10% of the market each at any given time.
Still, Yipit thinks there's room for more than one daily deals leader.
"Groupon has headed more into selling actual goods, while LivingSocial has been focusing more on local, like live events and concerts," Kabani says. "They'll all continue to overlap, but you'll see some specialization, too."