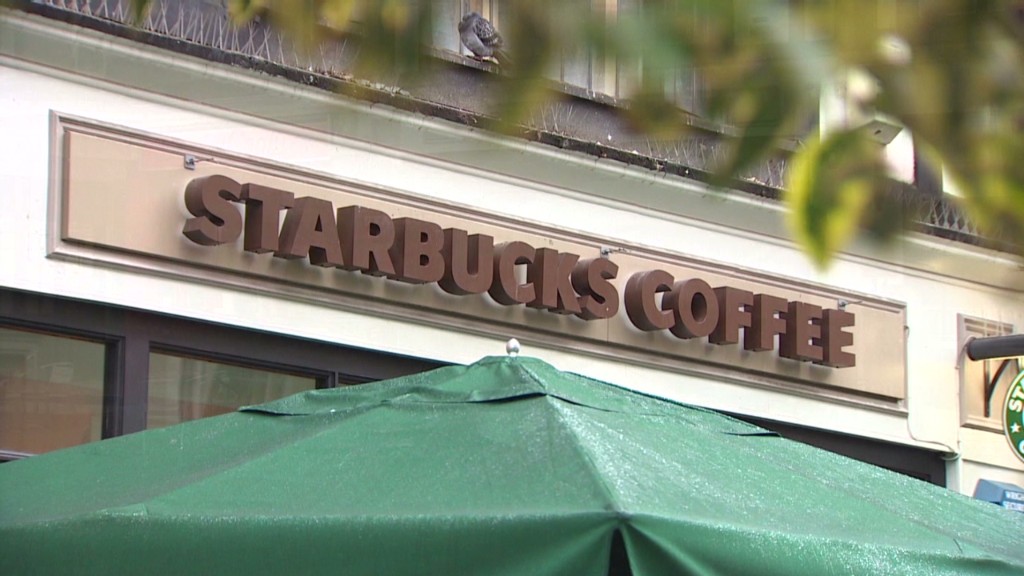 Coffee retailer Starbucks says it will pay additional taxes in the U.K. in response to public pressure there to collect more taxes from multinational companies.
In a speech to the London Chamber of Commerce, Kris Engskov, managing director of Starbucks' U.K. unit, announced the move, saying that it would make the additional payments in 2013 and 2014, despite the fact that it is not yet profitable. He said the unit would no longer claim tax deductions for royalties and other inter-company payments, including interest on inter-company loans, even though it is allowed to do so under UK tax law.
Engskov said the change in policy will increase its tax payments by about £10 million, or $16 million. That's more than the income of its unit that includes the U.K., the Middle East and Africa.
Starbucks does not break out the financial results of its U.K. operations, which includes about 40% of the stores it owns or licenses in that regional unit. But overall, that division saw profits fall 75% in the just-completed fiscal year to $10 million. It closed seven company-owned stores in the U.K. during the year, leaving it with a total of 593.
There has been an outcry in Great Britain recently over charges that multinationals are not paying enough U.K. taxes. Starbucks (SBUX) is one of the companies specifically cited, along with Google (GOOG) and Amazon (AMZN).
Related: Starbucks CEO - Fiscal cliff is 'seismic'
"Global companies with huge operations in the U.K. generating significant amounts of income are getting away with paying little or no corporation tax here," said U.K. lawmaker Margaret Hodge, who chairs a Parliament committee on public accounts, in a statement earlier this week. "This is outrageous and an insult to British businesses and individuals who pay their fare share."
Starbucks CEO Howard Schultz told CNN Wednesday that the company has only been profitable in the U.K. in one year out of the 14 it has operated there.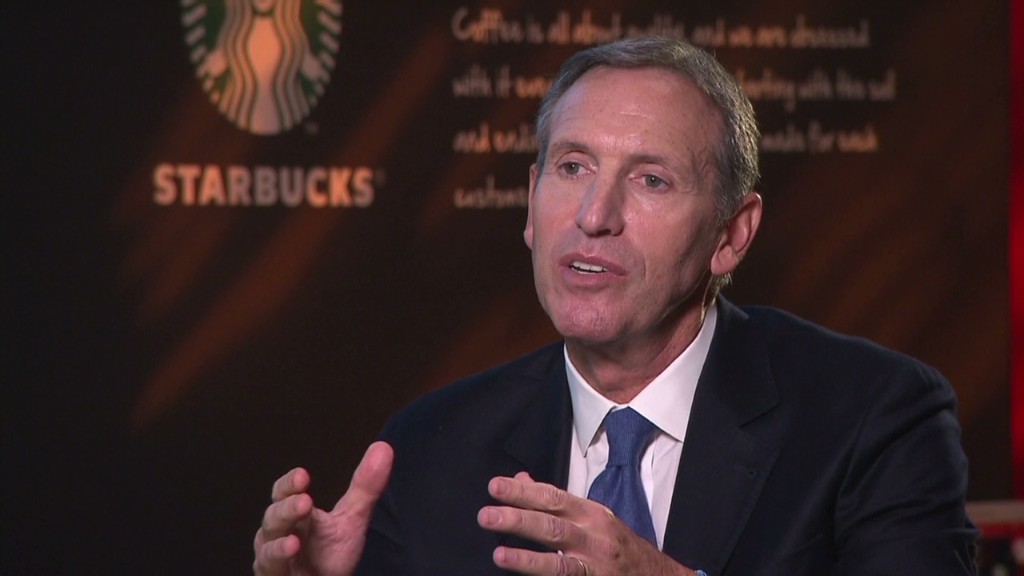 "As a result of that, we haven't paid the income tax associated with making a profit," he said. "We've paid a lot of other taxes. In view of the concern and high degree of sensitivity around the austerity issues in Europe and the U.K., we've taken a step back and even though we have not made a profit, it's perhaps time to for us to make a contribution to the U.K. society, whether or not we made a profit....But it's not because we've done anything wrong. We're just trying to do the right thing and make a contribution."
Schultz said he is confident that Starbucks will be profitable in the UK and Europe in the future and that the company is committed to the market.
Engkov also defended the payments that Starbucks has made in the past, saying that Starbucks has "always organized our tax affairs according to the letter of the law - always." He said whether or not it starts to turn a profit, it will start paying taxes.
Related: Starbucks to add 3,000 stores
"With the backdrop of these difficult times, in the area of tax, our customers clearly expect us to do more," he said. "It's why I am standing before you today - not justifying the status quo, but to tell you that we are going to take action and do something about it."