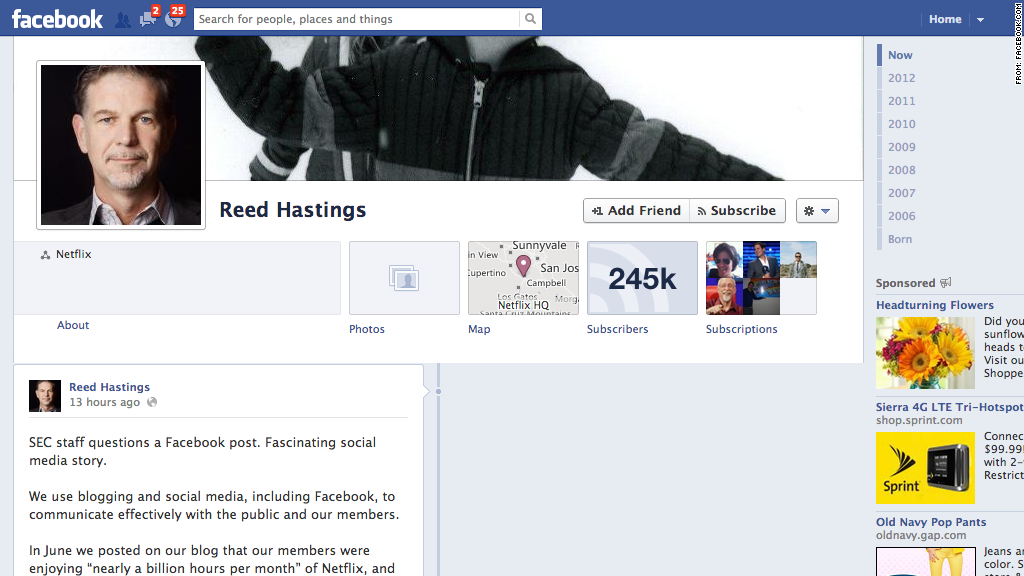 Netflix CEO Reed Hastings is under investigation by the Securities and Exchange Commission for posting information about the company on his Facebook page.
In a Facebook posting on July 5, Hastings said that Netflix customers were viewing more than 1 billion hours of video content a month. Information that the company was approaching 1 billion hours had appeared on the company's blog the month before. But in neither case did the company issue a formal press release or make a separate filing with the SEC disclosing the billion hour statistic.
The posting was widely reported and Netflix stock rose 13% the day of the posting.
On Thursday, Netflix disclosed in a new posting, an SEC filing and a news release that Hastings and the company received a Wells Notice from the SEC. The notice says the agency staff will recommend regulators institute a cease-and-desist proceeding and/or bring a civil injunctive action for violations of the agency's fair disclosure rules.
Related: Tech CEOs on the hotseat
Hastings said he's hopeful that the matter can be cleared up quickly through the SEC's review process.
"We think posting to over 200,000 people is very public, especially because many of my subscribers are reporters and bloggers," he said. Hastings currently has 245,000 Facebook subscribers on his account.
Companies are required to make public information that is considered "material" to shareholders. Typically, companies will do that by filing that information to the SEC, but businesses are also allowed to bypass the SEC by posting information on their websites or by issuing a press release.
Though social networks could be considered public, there is no hard and fast rule about Facebook posts. That could soon change with this notice.
"The SEC might be using this as a way to determine how it will handle social media in the future," said Steven Thel, professor of securities law at Fordham University and former SEC attorney. "When the SEC wrote its financial disclosures rules, it wasn't thinking about Facebook or Twitter."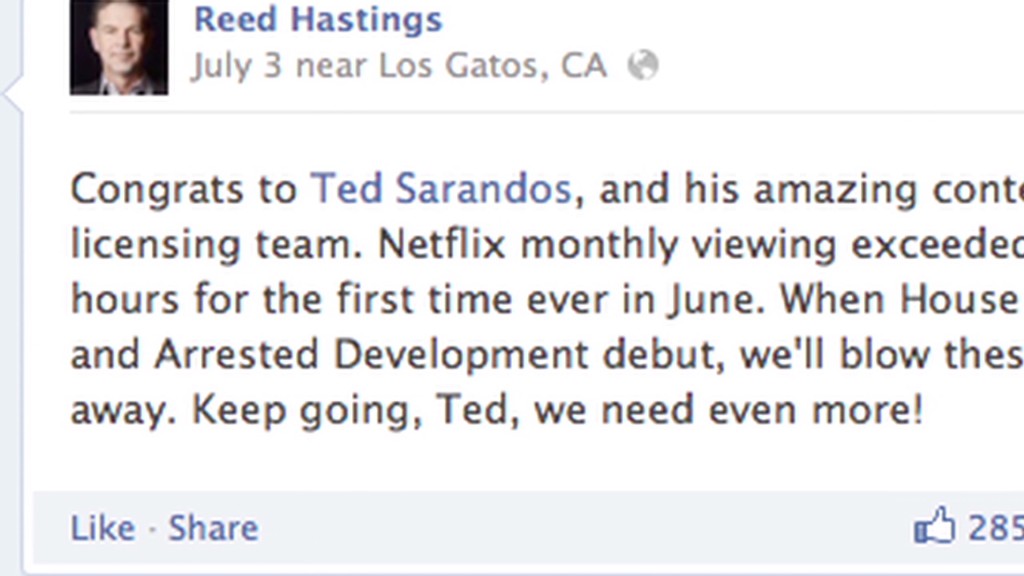 There are an increasing number of CEOs, including Hastings, Tesla (TSLA)'s Elon Musk and many others, who are rampant social network updaters. Thel said the question the SEC and Netflix will likely try to hash out is whether investors look to Facebook or Twitter for trading information. If the answer is yes, Thel said companies should disseminate any remotely material information from those posts in a press release or an SEC filing.
But Hastings said his Facebook page isn't a place for investor information.
"While we think my public Facebook post is public, we don't currently use Facebook and other social media to get material information to investors; we usually get that information out in our extensive investor letters, press releases and SEC filings," Hastings added. "We think the fact of 1 billion hours of viewing in June was not 'material' to investors."
Whether or not the announcement was material information to shareholders is up for debate. The fact that the stock moved may serve as an indicator, but that's with a gift of hindsight that regulators might be wary of referencing.
"You face a terrible hindsight bias when judging materiality," said Thel. "The SEC has to be very careful to make stock movement the test."
Netflix also argued that the stock rose the day of Hastings' Facebook (FB) post before the post was made. Hastings said he believed the rise was driven by a positive Citigroup research report the evening before.
Shares of Netflix (NFLX) rose 1% Friday.