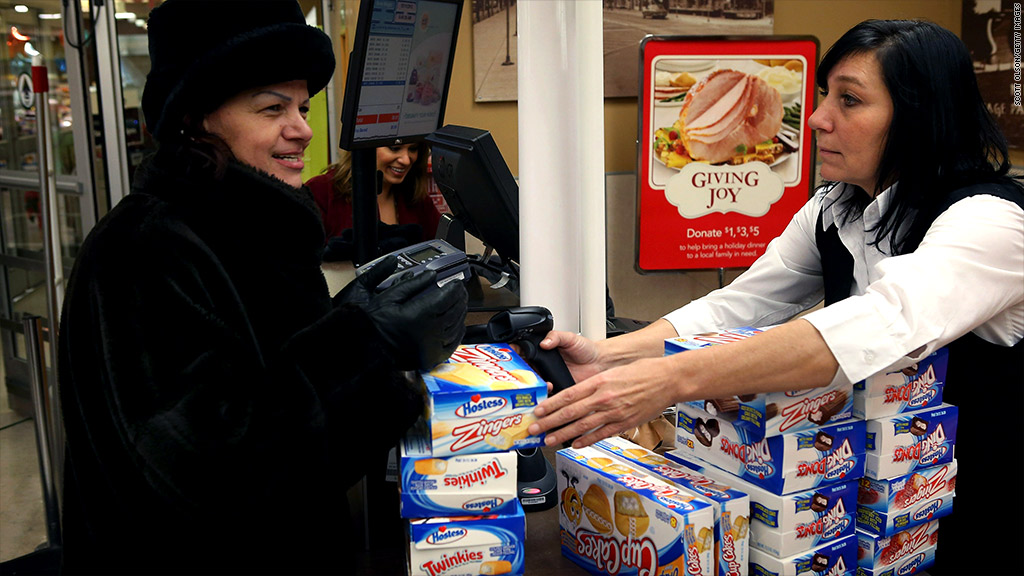 The very last shipment of Hostess Twinkies hit stores in Chicago this week, and quickly began flying off the shelves.
"We have sold out of just about everything," said Mike Siemienas, spokesman for Supervalu, the grocery store chain that bought the last batch of 20,000 Twinkies from a Hostess factory in Georgia.
Siemienas said that the shipment went on sale at Supervalu's 150 Chicago-area Jewel-Osco stores Monday, and that sales peaked on the day that he dubbed "Twinkie Tuesday." By Wednesday, only a few cakes were left.
"I can tell you first hand that our customers are very excited to see everything," he said.
By "everything," Siemienas was referring to not only the Twinkies, but to the 4,000 Vanilla Zingers, 3,500 Ding Dongs, 2,500 Orange Cup Cakes, 1,300 Chocolate Fingers and 300 Raspberry Fingers that were also included in the last batch from the bankrupt bakery.
Related: Judge OKs bonuses for execs in Hostess liquidation
Siemienas said that Hostess had recently contacted his company to ask if they wanted to buy the last batch. Supervalu (SVU) readily agreed and had it shipped it to Chicago, where consumers have demonstrated a particular zeal for the iconic snacks. In anticipation of the precious cargo's arrival, the company got the word out with a press release and also a Facebook (FB) post.
Customers began lining up at the stores before they opened to stock up on the possibly soon-to-be-extinct snacks. Some shoppers even had requests to fill from relatives around the country.
Hostess Brands spokesman Erik Halvorson confirmed that his company had, in fact, baked its last batch of the cream-filled cakes which were then shipped them to Chicago.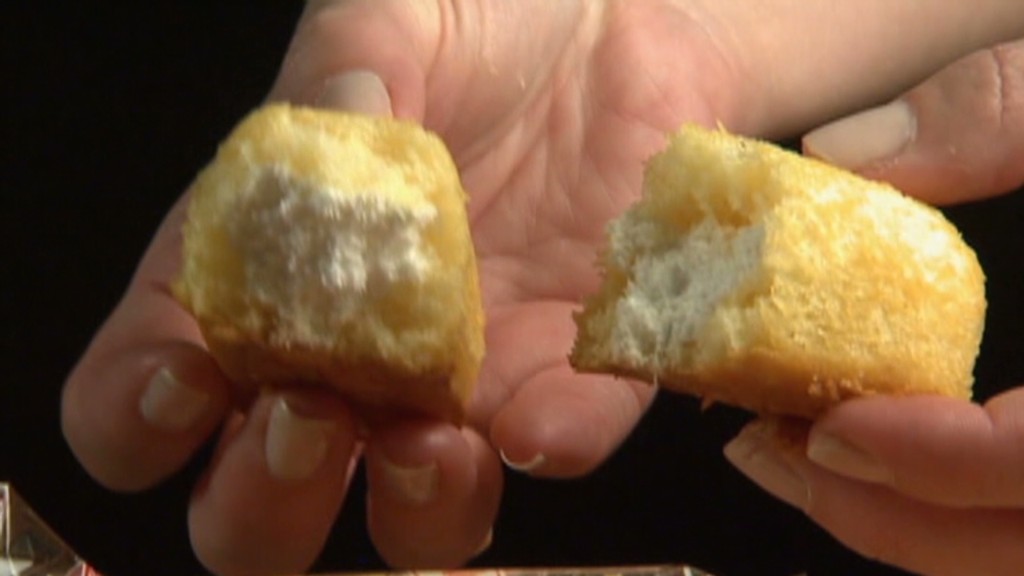 The Hostess liquidation began last month, when a bankruptcy court judge ruled that the 82-year-old company could sell off its assets. This was after a last-ditch attempt between the company and its Bakery Workers union failed to mediate a pay-and-benefits dispute.
Since then, hoarders have been peddling Twinkies, and other disappearing Hostess products, for inflated prices on Ebay (EBAY).
Related: Ebay bidders go crazy for Twinkies merch
The specter of the world's last Twinkie has been looming for quite some time. It was the punchline in this year's Super Bowl ad from General Motors (GM), which implied that only Twinkies and Chevrolet trucks would survive the apocalypse that the Mayans forecast for 2012.
The Twinkie's final frontier was also referenced in the 2009 film "Zombieland," when Woody Harrelson's zombie-slaying character risked his life to salvage a post-apocalyptic Twinkie.
"There is a box of Twinkies in that grocery store, not just any box of Twinkies, but the last box of Twinkies that anyone will enjoy in the whole universe," the character said as he brandished a baseball bat and garden shears. "Believe it or not, Twinkies have an expiration date. Someday very soon, life's little Twinkie gauge is going to go empty."