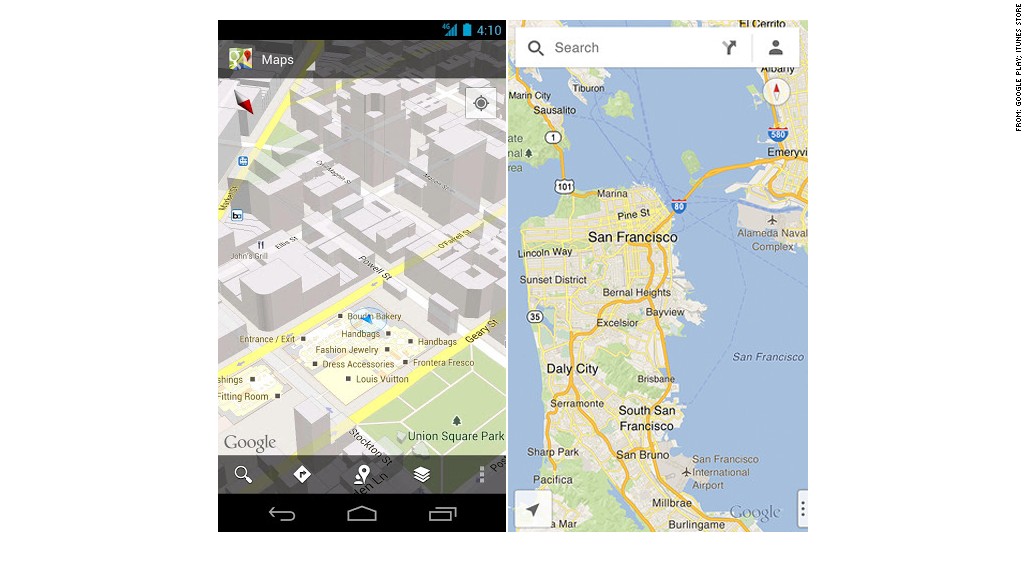 Google Maps is good, much better than Apple Maps. We all know that. But in his write-up of the new app, New York Times reviewer David Pogue said that even Google thought its new design was superior to the same app on Android.
Maybe that unnamed Google employee was just playing a sales-and-marketing role, talking the app up to generate interest, but it's still a shocking statement.
Product ecosystems are one of the most fiercely competitive areas of tech right now. Companies like Amazon, Google and Microsoft generally keep the best features of their products for themselves and deliver merely adequate iterations for other platforms.
So is the Google Maps app for Apple's iOS really better than Google's baked-in, native version for Android?
It depends on what it's used for. Those who expected the Apple app to be a lesser version of Android's software are wrong -- but those expecting a carbon copy of the Android experience are also sorely mistaken.
The basic, core experience is essentially identical. Maps are the same, as are search results.. Both provide walking directions, public transit routes and voice-guided, turn-by-turn navigation. Street view and 3-D maps are included. There's no critical flaw in either app that makes one significantly better or worse than the other.
But make no mistake: these are different apps.
The Apple (AAPL) iOS version quickly and cleanly delivers the needed navigation data. From the very first screen, the experience is simply more intuitive. Instead of a search button in the bottom corner of the screen, the iOS app has a search bar along the top, instantly guiding people to the most frequently used feature of a maps app.
Next to that is a button taking users to a menu where they can choose among preset locations for home, work and other saved locations. That saves you from repeatedly entering the same addresses. The Android version has this feature, but it's buried in a layer under the app's home screen, obscuring it from the sight of less savvy smartphone users.
And then's the info cards. When a user searches for a point of interest and taps on a pin, the information pops up in a bar at the bottom, instead of as an overlayed box on the map. Tap that box and it moves up, occupying 2/3 of the screen (leaving the last 1/3 for the existing map). You can swipe left and right to move between different search results, and can dig into business info, Zagat ratings and navigation options. When you're finished, you simply swipe down and you're back at the home screen.
It's far cleaner and more intuitive than what the Android version offers.
But that's not to say that the Android app doesn't have its own advantages. Android is all about raw functionality. Offline maps are an exclusive perk, along with the less-essential but still intriguing indoor maps, terrain maps and bicycle-route overlays. And, by virtue of Apple's fickleness, it enjoys the benefits of optimizations that come from being built straight into the operating system: smoother panning and zooming, enhanced functionality while running in the background, and default maps-app status.
There's deep integration with other Google (GOOG) services, which can't be found in the iOS version. Access to local recommendations, offers, Wikipedia overlays and recently checked-in locales can all be accessed through the Android software.
The distinctions make sense. That Google chose to make any aspect of its product superior on another platform seems nuts until you look at the context in which the two different platforms are used.
Apple's iOS is manically focused on delivering an intuitive user experience, so it got a better user interface (which will probably work its way into the Android version someday). Android prioritized customization and power-user functionality since day one. Anyone who immerses themselves in Google's services -- and therefore wants deep integration with them -- probably has an Android phone.
Releasing an equally high-quality product on a competitor's platform is a smart, insightful move. It's great for consumers, and in the long run, that's great for Google.