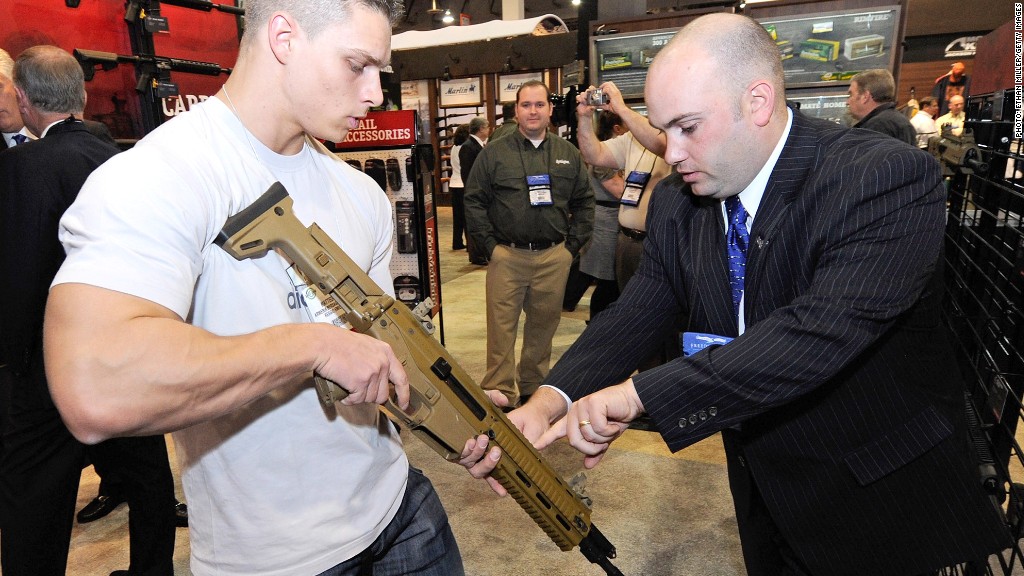 Gun sales have thrived throughout the weak economy and gun company stock prices have soared.
But after the massacre at Sandy Hook in Connecticut, the outlook for the firearms industry is less certain, with momentum building for restrictions on semiautomatic rifles and high capacity magazines.
"It would remove one of the hottest-selling products from the market place," said Rommel Dionisio, an analyst for Wedbush Securities who covers Smith & Wesson.
Dionisio estimates the U.S. gun industry has as much as $3.5 billion in annual sales.
Gunmaker share prices have slumped in recent days. Smith & Wesson (SWHC), which more than doubled during the past year, fell 6% on Monday.
Shares of Sturm, Ruger & Co. (RGR) and Cabela's (CAB), a firearms retailer, were also down.
Related: Cerberus to sell gunmaker after massacre
Gun shop owners say that sales have been booming since President Obama's reelection, driven by concerns that he could impose further restrictions on firearms.
The recent tragedy could have a similar effect.
John Kielbasa, owner of Fernwood Firearms in Hankins, NY, acknowledged that "there was a small [gun sales] spike after the shooting," which he attributes to customers who are "worried about gun control."
They're also fueled by a desire to protect themselves, he said, noting that some of his customers are women. And while Kielbasa specializes in military-style tactical rifles, he said that all types of guns are selling.
The Connecticut State Police have identified the primary weapon in the attack that killed 20 children and six educators at a Newtown school on Friday as a Bushmaster AR-15 semiautomatic rifle with high capacity magazines. Police said that the shooter also used two semiautomatic pistols -- a Glock and a Sig Sauer -- before committing suicide.
A prior assault weapon ban, which expired in 2004, didn't eliminate the weapons entirely, but restricted their features, limiting magazine capacity to 10 rounds and regulating pistol grips, bayonet attachments and flash suppressors.
"There's been a significant shift to these types of rifles ever since the 2004 ban was lifted," Dionisio said.
Related: Obama's reelection drives gun sales
Obama has indicated that he will try to bring back restrictions on military-style rifles. In the second presidential debate in the fall, Obama said he was going to see "if we can get an assault weapons ban reintroduced."
On Sunday, Obama, signaled the possibility of more action. "In the coming weeks, I will use whatever power this office holds to engage my fellow citizens ... in an effort aimed at preventing more tragedies like this," said Obama, in a speech at Newtown.
Democratic lawmakers also said they would introduce tougher legislation.
Total recoil: Gun stocks plunge
The National Shooting Sports Foundation, a gun industry group based in Newtown, and the National Rifle Association of Fairfax, Va., did not answer requests for comment.
Kielbasa, a Brooklyn native, said that imposing restrictions on guns won't necessarily prevent tragedies.
"Look at New York City," he said. "With one of the strongest gun laws in the country, people are still getting shot down there."