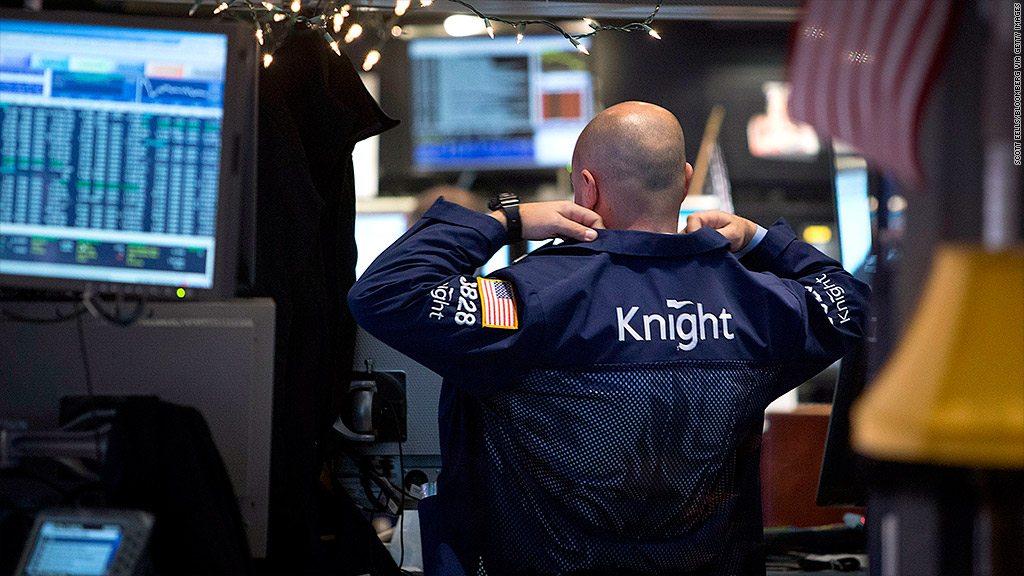 After a major technical glitch earlier this year, Knight Capital Group has agreed to merge with rival trading firm Getco in a deal valued at $1.4 billion.
Knight Capital (KCG)acts as a middleman in the markets, completing investors' orders to buy and sell stocks. In August, the company lost $440 million after a trading software snafu sent numerous erroneous orders in NYSE-listed securities into the market.
The trading blunder left Knight in a precarious financial position. The firm has lost out on trading orders and seen an exodus of several high-level executives.
"The transaction provides near-term certainty in the form of cash, while also allowing shareholders to benefit from participation in the future success of the firm," said Thomas Joyce, Knight's chief executive, in a statement Wednesday.
Getco is a high speed electronics trading firm that was part of a consortium that rescued Knight after the August debacle.
The group, which also included TD Ameritrade (AMTD), Blackstone Group (BX), Stifel Nicolaus (SF), Jefferies Grou (JEF)p and Stephens Inc., paid $400 million to acquire a majority stake in Knight.
Under the terms of the Getco deal, Knight shareholders will receive $3.75 per share in cash, or one share of common stock of the new holding company. The cash portion will be limited for certain large shareholders, including Jefferies, the biggest holder of Knight stock.
All told, the $1.4 billion purchase price represents a nearly 13% premium to Knight's closing share price on Tuesday. Shares of Knight were up 7.5% in premarket trading.
"The combination of Knight and GETCO will create a powerful, dynamic firm with an unmatched ability to deliver results for clients," said Daniel Coleman, GETCO's chief executive, in a statement.
CNNMoney's Maureen Farrell contributed to this report.