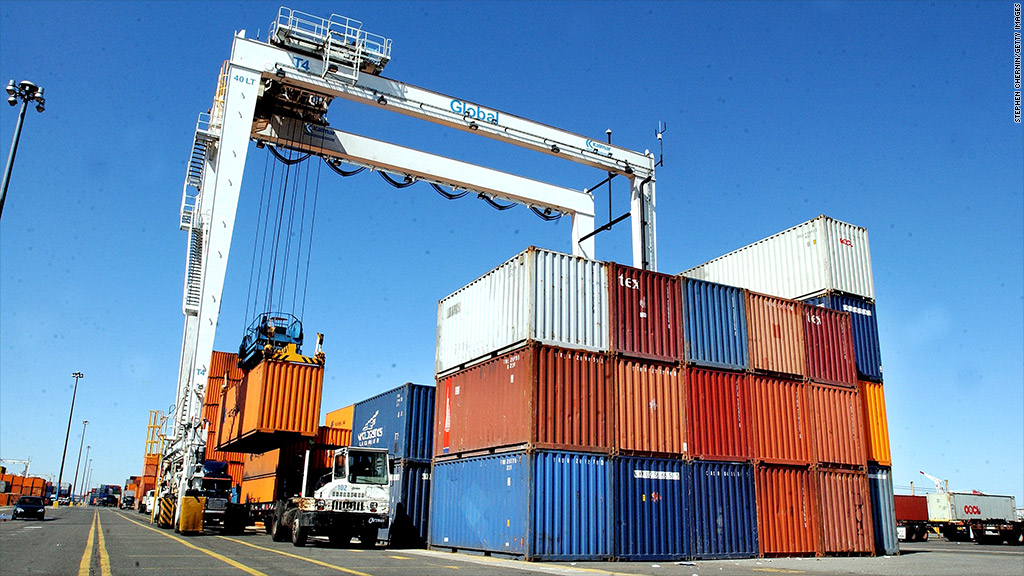 A strike at container ports from Boston to Houston appears more likely after talks broke down Tuesday, leaving businesses worried about a crippling shutdown set to start in less than two weeks.
The strike involves 14,500 dock workers at all major ports along the East and Gulf Coasts and could cost the economy at least $1 billion a day, as it stops the flow of goods from clothing and toys to televisions and furniture. The ports also accept many materials crucial to keeping U.S. factories running, such as auto parts and heavy machinery.
Over half of the ocean cargo containers coming to and from the United States go through the East or Gulf Coast ports, according to the Journal of Commerce.
The dock workers are represented by the International Longshoremen's Association and are negotiating with the United States Maritime Alliance, which represents management at the ports, terminals and shipping lines. The dock workers union, which has not gone on strike since 1977, has vowed to walk out at 12:01 a.m. on Dec. 30.
A strike would also lead to temporary unemployment for tens of thousands of other workers who handle the freight, such as truckers, railroad and warehouse workers.
The management group said it had accepted a federal mediator's proposal for a contract extension. It said it offered pay raises to the dock workers that would increase the average hourly rate to over $55, or more than $110,000 a year.
The International Longshoremen's Association said management's statement inflates wages paid to its members. It said it was willing to grant an extension, but only if the key issue in the talks -- payments that its members get for each container they handle -- is taken off the table. Management wants to cap or roll back those per-container payments, known as royalties, while the union wants to keep the current formula in place.
Related: Behind the strikes at Wal-Mart, McDonald's and the ports
The National Retail Federation wrote to President Obama late Tuesday asking that he use his powers under the Taft-Hartley Act to essentially keep the dock workers on the job and keep the two sides talking.
"The U.S. economy cannot afford to wait for a strike to occur before we see administration action," said Mathew Shay, president and CEO of the retail trade group. "Allowing a strike to occur for even one day could have a negative impact."
The Retail Industry Leaders Association, another trade group, has also expressed concern about a possible strike and urged presidential action. Its members include retailers such as Wal-Mart Stores (WMT), Target (TGT), Home Depot (HD) and Whole Foods (WFM), and manufacturers like Energizer (ENR) and VF (VFC), which makes North Face and Wrangler clothing.
Unions generally oppose the use of Taft-Hartley to end strikes and the Obama administration did not intervene during an eight-day strike earlier this month that shut down the ports of Los Angeles and Long Beach, which handle more than a third of the nation's containerized cargo between them.