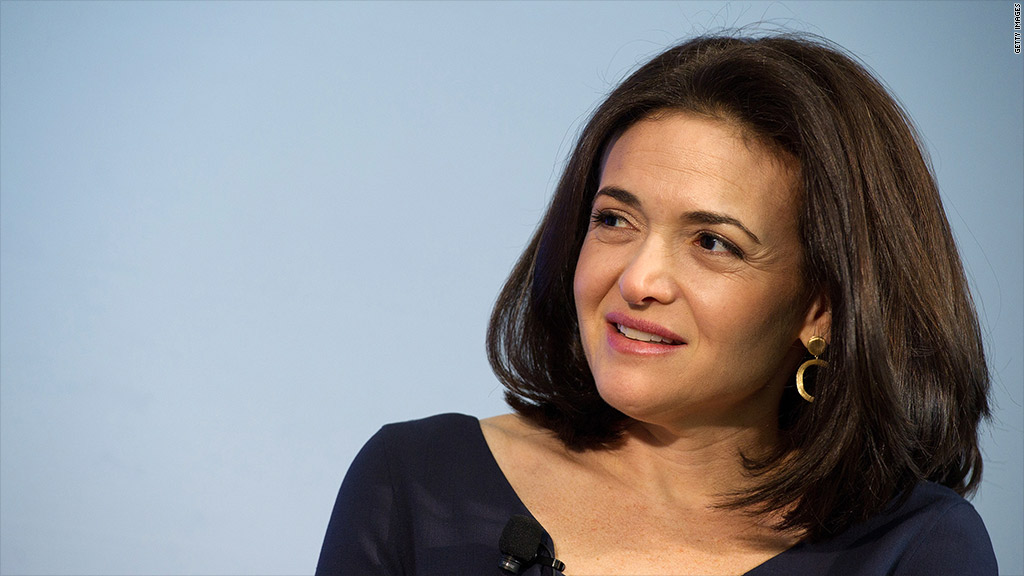 Facebook founder Mark Zuckerberg pledged to hold on to all of his Facebook shares for at least a year, but other top executives are quietly selling off a chunk of their holdings.
Zuckerberg's No. 2, chief operating officer Sheryl Sandberg, has cashed out around $50 million since Facebook (FB) went public in May. Her latest sales came this week, when she sold nearly 310,000 shares for $8.4 million.
Sandberg has plenty more left in her coffers. On the day of Facebook's IPO, she reported holding 46.6 million shares and stock options (including a chunk of not-yet-vested restricted units) -- a stake worth almost $1.8 billion at the time, based on Facebook's $38 per share IPO price. She has sold off just 2 million of those shares so far.
Sandberg is using a pre-arranged trading plan, which means she has no control over the specific timing of her sales. Such plans are a common way for top executives and company executives to cash in on a portion of their holdings while avoiding accusations of insider trading.
Facebook representatives did not respond to a request for comment.
Like Zuckerberg -- who recently donated stock worth a whopping $500 million to the Silicon Valley Community Foundation -- Sandberg appears to be using some of her shares to spread the philanthropic wealth. In November she donated 429,184 shares valued at around $10 million to an unidentified recipient.
For Sandberg, Zuckerberg, and their charities, those shares aren't worth as much a they once were; Facebook's shares are down more than 27% from their IPO price. Still, the stock has improved over the last two months, with Wall Street responding favorably to Facebook's growing ad sales and efforts to monetize its growing pool of mobile users.
Zuckerberg says he doesn't plan to sell Facebook shares until at least September 2013. Other early employees and investors have taken advantage of their chance to sell -- including Peter Thiel, the company's first big investor, and company co-founder Dustin Moskovitz.