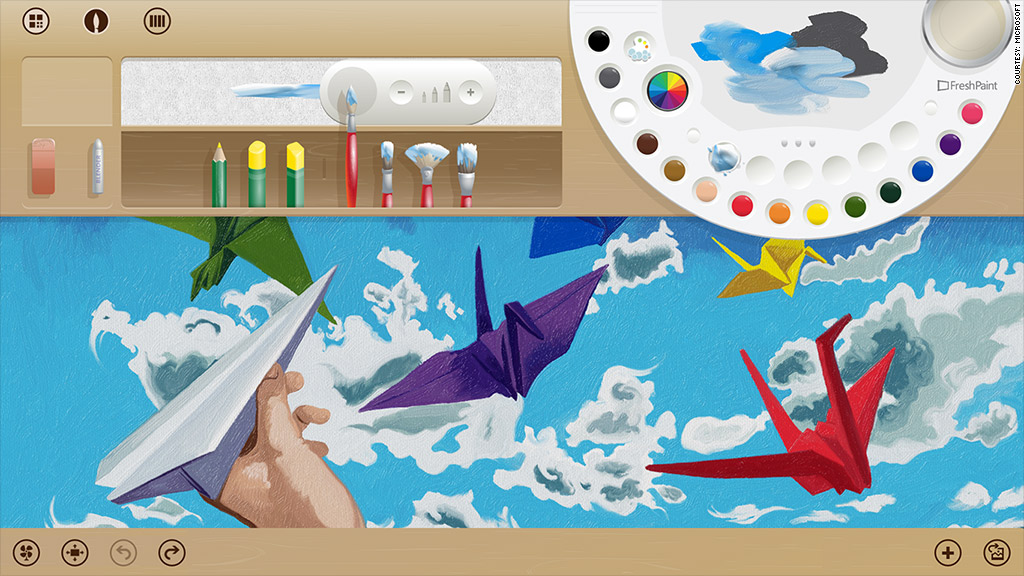 Windows 8 brings a lot of snazzy new features to the PC, but there still aren't many apps -- never mind good apps -- that take advantage of everything Microsoft's new operating system has to offer.
A handful of small gems, though, have emerged from Microsoft's Windows Store store, includuding one particular standout: Fresh Paint.
On the surface, Fresh Paint is a straightforward finger-painting app that lets users "draw" on the screen with four different brushes and a color palette. Once you start to play around, though, it becomes clear that this is much more than an updated MSPaint. Fresh Paint actually makes your "brushstrokes" appear as though you're painting with oil on a textured canvas.
That level of detail took some serious feats of science and engineering.
Fresh Paint's origins are in Microsoft Research, where five computer scientists worked several years ago on giving PCs the ability to simulate complex brushstrokes. Painting involves a significant amount of physics: just imagine how thousands of bristles, liquid paint and a rough-surfaced canvas interact. The team needed to create complex algorithms to match each touch and gesture on the screen to real-life paint.
The results were stunning, but the research, dubbed "Project Gustav," was one of the many Microsoft Research ventures that sounds cool but has no clear real-world use case. By 2010, the project had run its course. The engineers filed it away in a virtual cabinet and moved onto the next project.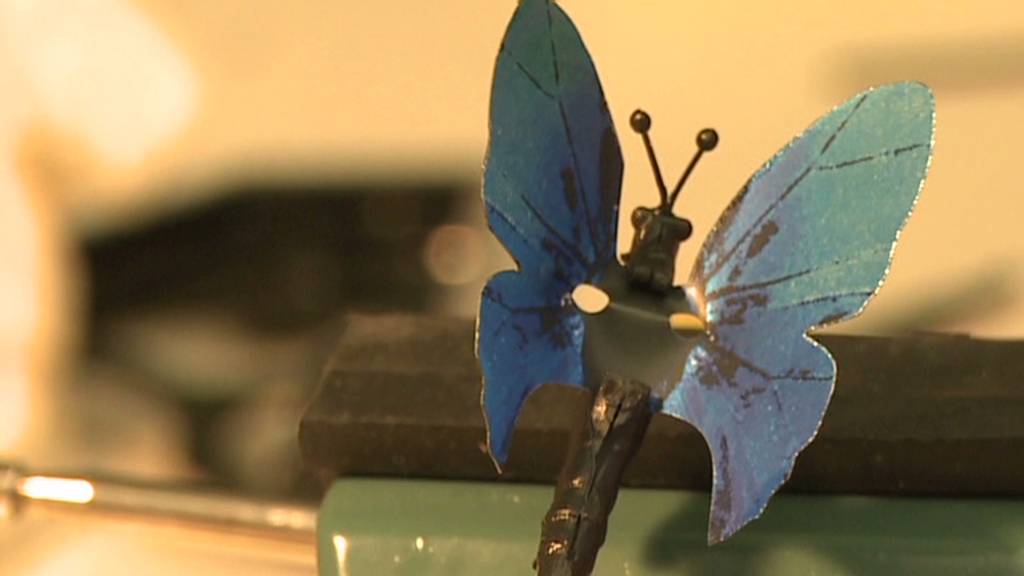 A year later, Microsoft (MSFT) unleashed Windows 8 -- a touch-based PC operating system.
Ira Snyder was sitting in the Anaheim, Calif., auditorium in September 2011 when then-Windows chief Steven Sinofsky publicly unveiled Windows 8 last September. The 23-year veteran of Microsoft's startup business team -- a group of software developers given free reign to throw around crazy ideas and see what sticks -- immediately realized that Windows 8 needed a showcase app for touch.
Snyder went rummaging around Microsoft Research to see what they had in the works, and stumbled upon Project Gustav.
"A lot of us at Microsoft were wondering if we could reimagine the touch app," Snyder says. "When I was thinking of tablet apps, I saw the Gustav project and said, 'Now, that's cool.'"
Snyder and his team spent about nine months porting the Gustav research into a user-friendly Windows 8 touch-app. A prototype, called Microsoft Digital Art, was tested more than 60,000 times by visitors at the Museum of Modern Art in New York, from whom the team got critical feedback. They created a "dry" button that allows users to virtually "paint over" dry paint, instead of mixing wet paints on the canvas, and they cut the number of brushes from seven to four. More recent updates let people color in stencils or cartoons, paint on photographs, and even bring in photos as "wet paint" -- a fun feature you have to play with to appreciate.
Feedback on the Windows 8 app store has been overwhelmingly positive, with the app drawing a four-star (out of five) rating. Most critiques focus on the fact that Fresh Paint isn't a professional-grade app that can replace Adobe (ADBE) Photoshop. Snyder says that was never the point, noting that MSPaint continues to ship with Windows 8 for people who need to do basic cropping, resizing and photo editing.
"We were looking to create something that was simple, magic and fun," Snyder says. "We're not competing with Photoshop."
He calls Fresh Paint "the coolest thing I've worked on at in Microsoft." In an app store that desperately needs "cool," Fresh Paint glistens.