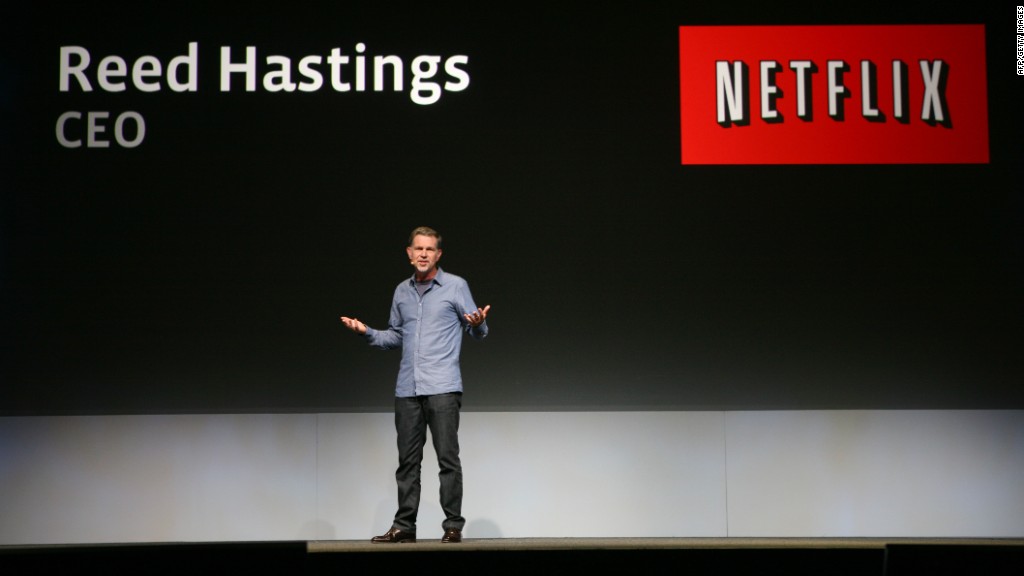 Netflix is doubling CEO Reed Hastings' pay in 2013 to $4 million.
The video rental company will give Hastings a salary of $2 million and stock options worth $2 million, according to a regulatory filing.
For 2012, Hastings took home a salary of $500,000, plus $1.5 million in stock options.
Hastings' stock options were cut in half this year following a disastrous year for Netflix in 2011. That included a botched attempt to charge separate prices for people who sought to rent DVDs by mail, versus those that wanted to stream videos via the Net, along with a failed rebranding attempt. Netflix shares tumbled over 40% in 2011.
This year, Netflix (NFLX) shares have recovered, gaining 29%.
But the company hasn't been able to escape bad news in 2012, either. Last week, millions of Netflix customers couldn't stream videos due to an outage that lasted nearly half a day. The company said the problem stemmed from technical issues in servers run by Amazon.com (AMZN).
Earlier this fall, Netflix warned of a disappointing outlook after releasing its third-quarter earnings report. In the first three quarters of 2012, Netflix added 3.4 million new video streaming subscribers in the U.S., falling short of its previously announced goal of 7 million.
Netflix's costs are also rising, because studios are demanding a lot more cash for the streaming content they're providing. At the same time, subscriptions to the company's DVD service are falling.
In October, corporate raider Carl Icahn said Netflix is a prime takeover target for technology giants as he bought a nearly 10% stake in the company.
Hastings himself got into a bit of hot water, when the Securities and Exchange Commission delivered him a Wells Notice for posting information about the company on his Facebook page.