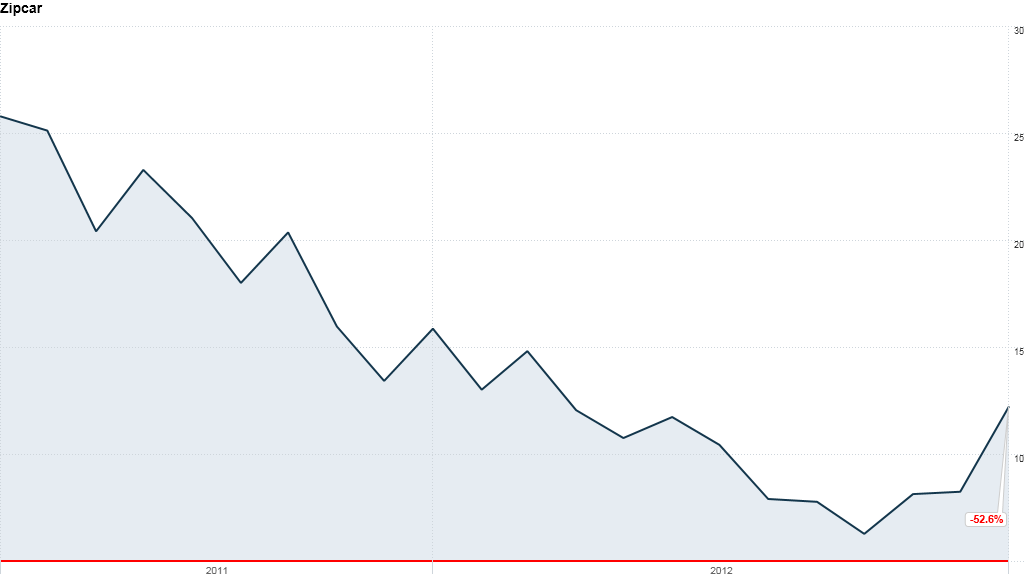 It might be easier to get a Zipcar rental on weekends now that the popular urban car-sharing service is being acquired by traditional car rental company Avis Budget Group.
The companies said Wednesday that Avis (CAR) has agreed to buy Zipcar (ZIP) for about $500 million, or $12.25 per share in cash, which is nearly 50% above Monday's closing price.
Zipcar's stock surged Wednesday to match Avis' valuation. But the stock is still about 50% below about its initial public offering price of $18.
The company made its market debut on April 14, 2011, and surged 70% that first day to a market cap of $1 billion. But then the stock price peaked and made a precipitous slide of more than 50% until Wednesday's rally.
Related: Zipcar IPO hits $1 billion
Avis said it plans to use its fleet of rental cars to beef up Zipcar for its weekend demand, "which is currently constrained by fleet availability."
As a "car sharing" company, Zipcar operates under a slightly different model, appealing to customers who would rather rent a car by the hour, instead of by the day, though it offers services for both. Most rental car companies, including Avis, offer rentals on a daily or weekly basis.
Related: VCs to score big on Zipcar sale
The deal positions Avis to better compete with rental companies that offer car-sharing memberships, such as Hertz (HTZ), which has Hertz On Demand, and Enterprise Rent-A-Car, which has WeCar.
Venture capitalists who were early Zipcar investors could profit quite nicely. Revolution, a fund led by AOL (AOL) co-founder Steve Case, could make more than $80 million from the merger.
The deal requires final approval from Zipcar shareholders. Avis and Zipcar expect the deal to be completed in the spring.
Citigroup (C) is the financial adviser for Avis. Morgan Stanley (MS) is the financial adviser to Zipcar.