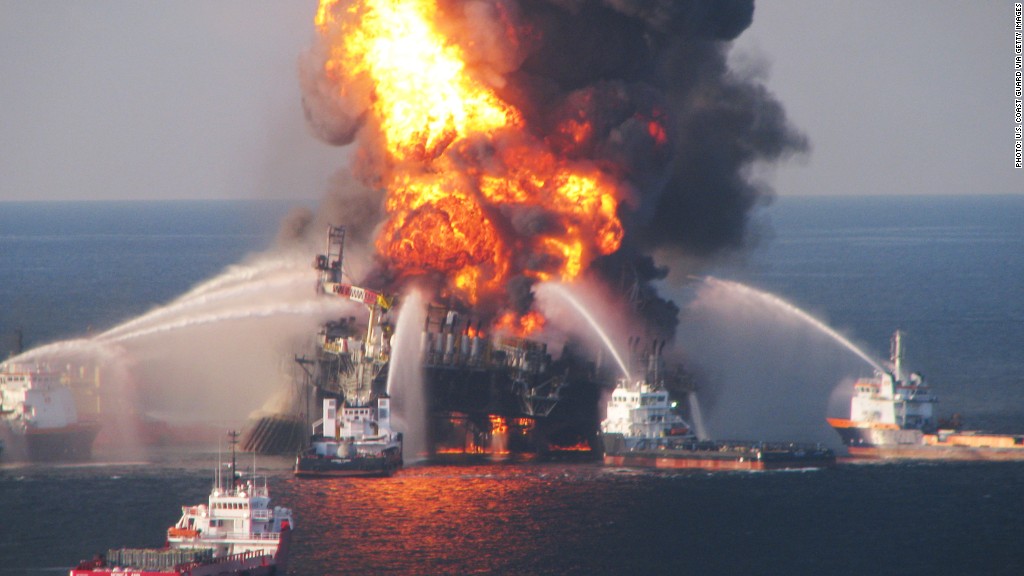 Offshore drilling firm Transocean will pay $1.4 billion in fines and penalties in connection with the 2010 oil spill in the Gulf of Mexico, the Justice Department announced Thursday.
Transocean owned and provided a crew for the Deepwater Horizon rig, where an explosion in 2010 killed 11 men and triggered the worst martime oil spill in U.S. history. The well was capped three months later, but not before millions of barrels of oil spilled into the Gulf.
Transocean was contracted by BP (BP), which leased the rig and directed staff onboard. BP agreed in November to plead guilty to criminal charges in connection with the incident and pay $4.5 billion in government penalties.
As part of the settlement, Transocean subsidiary Transocean Deepwater Inc. agreed to plead guilty to violating the Clean Water Act.
"These important agreements, which the company believes to be in the best interest of its shareholders and employees, remove much of the uncertainty associated with the accident," Transocean said in a statement. "This is a positive step forward, but it is also a time to reflect on the 11 men who lost their lives aboard the Deepwater Horizon."
The Justice Department previously accused Transocean (RIG) of gross negligence over its role in the spill.
"BP did not act alone, by any means, and its gross negligence and willful misconduct are inextricably joined with the acts and omissions of Transocean," the government said in a court filing last year.