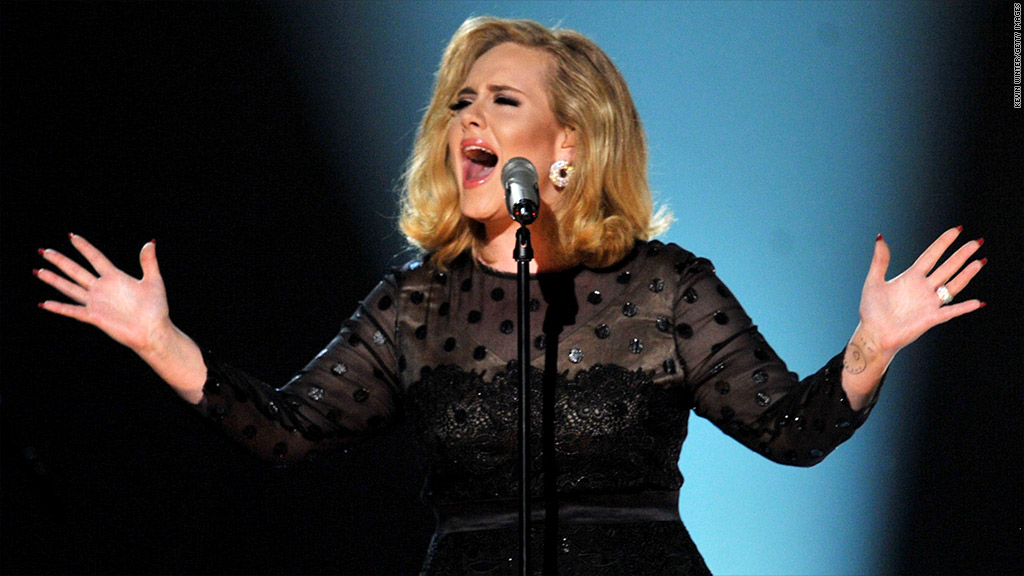 Adele is on repeat at the top of the charts.
The singer's blockbuster 21 was the top-selling album in the U.S. for both 2012 and 2011, according to Nielsen SoundScan, becoming the first album to pull off the repeat since Nielsen started tracking music sales in 1991. It clocked 4.41 million sales in 2012, including both digital and physical sales, after hitting 5.82 million in 2011.
Nielsen's latest sales tracking year began on January 2, 2012, and concluded on December 30. The news was reported earlier by Billboard.
2012's runner-up was Taylor Swift, whose Red sold 3.11 million units despite only being released on October 22. In third place was the boy band One Direction, whose debut Up All Night did 1.62 million in sales.
Including consumers who purchased all tracks on the album individually, Adele's 21 sold 5.26 million copies, while Swift's album came in at 3.89 million.
Related: Napster enemy Metallica signs with Spotify
Total U.S. album sales -- including CDs, LPs, cassettes and digital albums -- slipped 4.4% in 2012, falling to 316 million from 331 million in the year prior. CD sales fell 13.5%, from 224 million to 193 million, while digital album sales rose 14%, climbing from 103 million in 2011 to 118 million this past year.
Digital sales of individual tracks, meanwhile, hit a new record, totaling 1.34 billion in a 5% increase. Digital sales comprised 56% of the business overall, topping physical sales for the second year in a row.