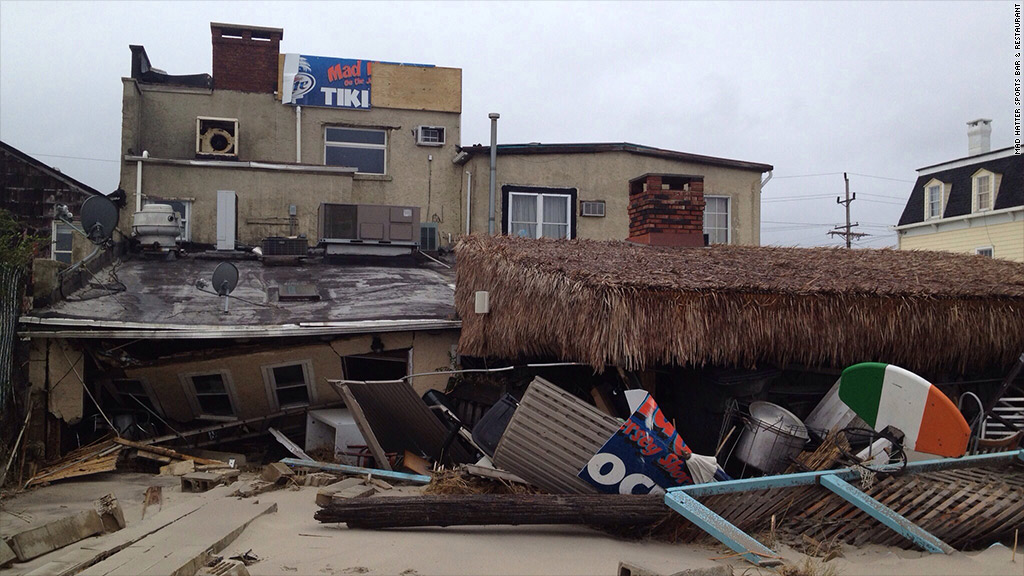 Congress passed only a fraction of the Sandy relief bill Friday, which means that most businesses devastated by the storm are still waiting for help.
Both chambers of Congress approved $9 billion in funds to cover flood insurance needs. But the bulk of the relief -- another $51 billion that includes help for small businesses -- won't be addressed until Jan. 15.
"What about small businesses the job creators in our community? They are getting nothing," said Rep. Nydia Velazquez, a New York Democrat, during the House vote.
An estimated 19,000 small businesses in New Jersey sustained damages of $250,000 or more, according to Gov. Chris Christie. In New York, businesses across the state will suffer up to $25 billion in economic damages alone.
"People are suffering right now. Small businesses are going under," Rep. Michael Grimm, a New York Republican, told CNN on Wednesday.
Related: Business hiring hit by Sandy
The second piece of the $60 billion proposal includes $800 million for the Small Business Administration, which is handling all government aid to private companies. Most of that is in the form of low-interest, 30-year SBA disaster loans of up to $2 million.
The SBA has some funds now -- but nowhere near enough to meet the expected demand.
More than 200,000 businesses were impacted by the storm, and already 4,212 have applied for SBA disaster loans, according to agency figures. Of those, only 246 applications have been approved, amounting to $27 million for businesses. The SBA declined to say how much of that has been disbursed.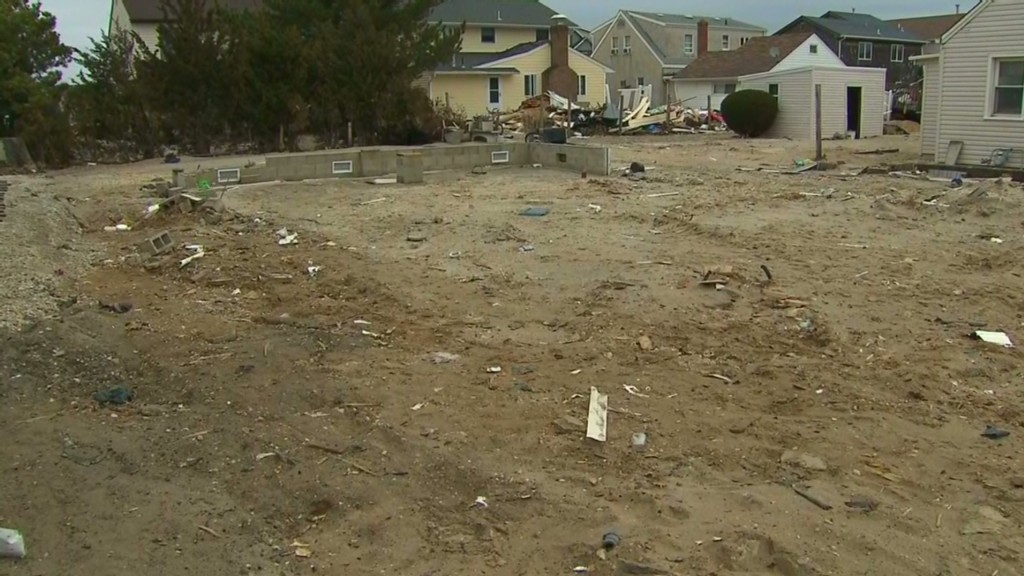 Among those still waiting for any sort of help are Scott and Amy Kelly, whose oceanfront restaurant in Sea Bright, N.J., was destroyed by the storm.
Sandy's fierce winds tore apart the concrete wall between the beach and the Mad Hatter sports bar, sending concrete flying into the restaurant. When the couple surveyed the wreckage the next day, they found sand inside piled four feet high, an outdoor grill in the restroom and patio furniture strewn across the bar.
Like many others in their position, the Kellys have faced an uphill battle with their insurers. The Mad Hatter was insured for more than $2 million, but they haven't seen a dime. The wind insurance company is blaming the ocean water that poured in. The flood insurance company is blaming the high winds that collapsed the roof.
To hold him over, Scott Kelly said he applied for two SBA disaster loans in mid-November. One was denied, and he's still waiting on the other.
Although dealing with insurers has been arduous, Kelly said the fight for government help has been equally frustrating. He said it took him 10 days to fill out the 22-page SBA loan application, because it required documents he didn't have on hand. They were at the restaurant, deep inside an area the military had deemed off-limits to keep away looters and protect people from spewing gas lines.
"Every day that goes by is just another day of frustration," Kelly said.
Those who applied for SBA help immediately after the storm are closing on those loans now, according to Joseph Molineaux, director of an SBA Small Business Development Center in New Jersey.
"There's due diligence that needs to take place," Molineaux said.
That wait typically includes 14 to 18 days for application approval and another five business days before money is disbursed, according to the SBA.
Related: Businesses face 'exhausting process' with insurers
Molineaux's center is among many in the affected area providing Sandy business victims with advice, such as how to move a company temporarily or connect with customers who assume a business is closed. He said he has seen the highest demand for his group's services in a dozen years.
Congressional approval of the Sandy relief package would also provide all small business development centers a total of $20 million, money that Molineaux said his centers like his desperately need.
"Without that funding, it would be extremely difficult to continue at the pace we're at and meet the needs of those hit by Superstorm Sandy," he said.
Delays on federal help are also forcing businesses to make tough decisions, such as choosing to close shop entirely -- or move elsewhere -- instead of wait for help. It's a point that isn't lost on New Jersey Gov. Christie, who berated Congress this week for the delay.
"Indecision is crippling to businesses," the governor said. "If we can't act decisively, they can't act decisively."