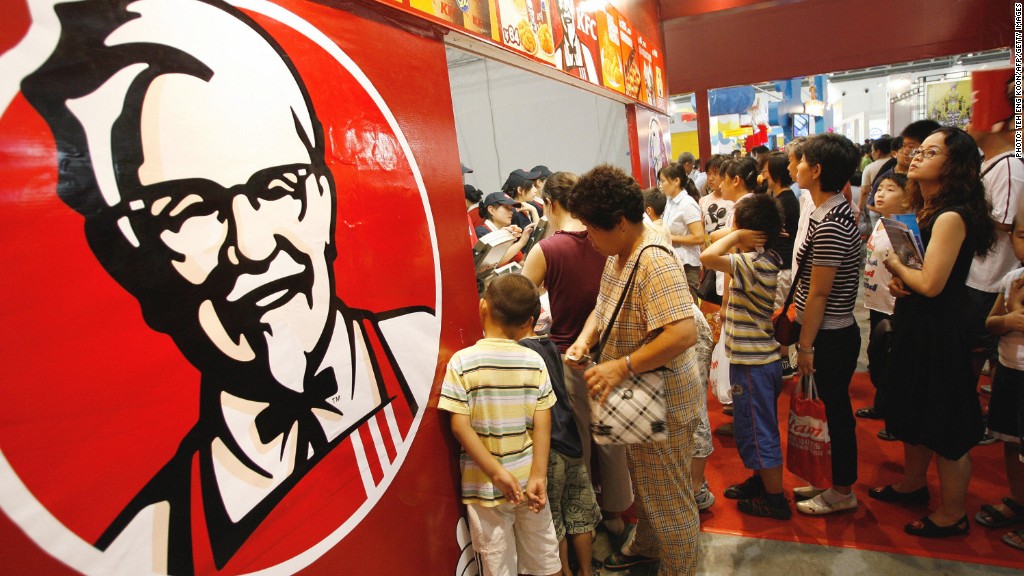 Shares of Yum Brands fell after the market close Monday as the company warned of slower sales in China following a controversy over food safety standards.
Sales at existing locations in China are expected to drop by 6% in the fourth quarter, the Kentucky-based company said in a brief filing with the Securities and Exchange Commission.
Yum had warned last year of slower same-store sales in China during the quarter, but said Monday the decline would be more severe than previously thought. Shares were down more than 5% after the market close in New York.
The sharp drop in sales is due to "adverse publicity associated with a government review of China poultry supply -- and the corresponding significant impact on KFC China sales during the last two weeks of December," the filing said.
Chinese food regulators have said they are investigating claims of excess antibiotics in some chicken products sold at KFC restaurants, a revelation which sparked an outcry on popular micro-blogging platforms in China.
Yum has said it is cooperating with authorities, and will continue to monitor the quality of food purchased from its suppliers.
Related: McDonald's, KFC, Burger King workers protest in NYC
China is an increasingly important market for the parent company of Taco Bell, KFC and Pizza Hut, which has placed big bets on future growth in the world's second largest economy. The company operates more than 4,000 KFC restaurants in China, and around 750 Pizza Huts. It plans to open hundreds more.
Last year, Yum (YUM) sales in China grew by 21% -- a difficult performance to replicate.
Some of the slowdown might also be attributable to macro conditions in China, where the government reported gross domestic product growth of 7.4% in the most recent quarter -- a number that disappointed analysts.
Since then, early data points to stronger expansion in coming months -- but too late for Yum's fourth quarter figures.
-- CNN's Alexandra Hoegberg contributed to this report.