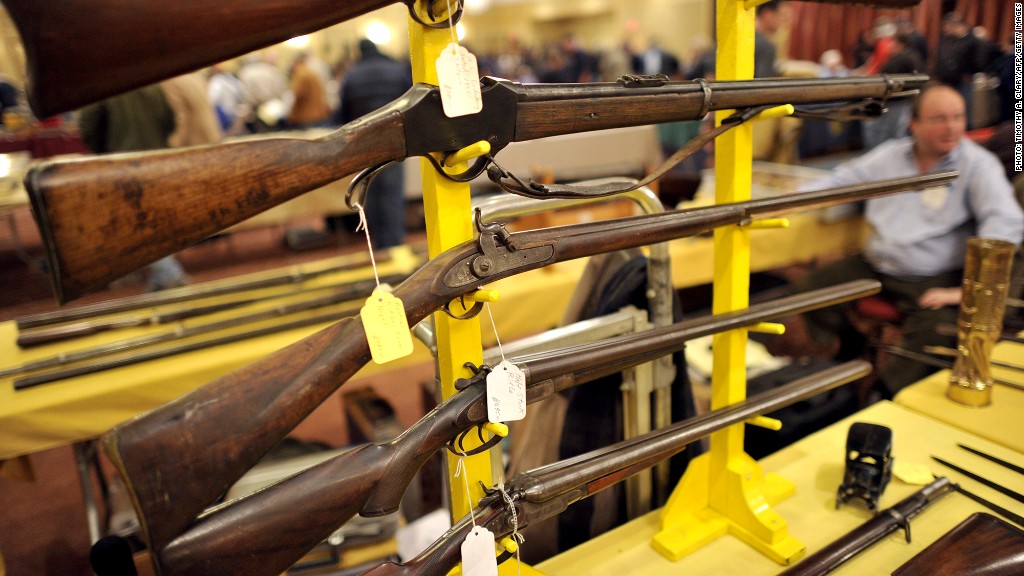 Several gun shows in Connecticut and New York have been canceled in the wake of the mass shooting last month in nearby Newtown, Conn.
The Great Firearm & Knife Show was originally scheduled for the weekend of Jan. 12 and 13 in Waterbury, Conn. But Waterbury Police Chief Michael J. Gugliotti decided not to issue the gun show permit after Adam Lanza gunned down 20 school children and six educators, and then killed himself on Dec. 14 in Newtown, less than 30 miles away.
"I was thinking of ways that I could make my own community feel safer after Newtown, which is only a 20-minute drive from here," Gugliotti told CNNMoney.
He said that he decided, on the day after the shooting, "to not issue that permit out of honor and respect for the lives that were lost."
Big Al's Gun and Premier Knife Shows, a gun show company based in Putnam Valley, N.Y., has canceled three of its shows, including one that was originally scheduled for Jan. 5-6 in Danbury, Conn., just a few miles from Newtown.
Related: Assault rifles are selling out
Big Al's also canceled a February gun show planned for Poughkeepsie, N.Y., about 50 miles from Newtown, and a March gun show planned for Suffern, N.Y., about 70 miles away.
A representative of Big Al's, who would not provide his name, said that all three shows were canceled by the venues where they were supposed to be held because of the Newtown shootings. The manager of Danbury Crowne Plaza, where last weekend's show was originally scheduled, did not immediately return a message from CNNMoney.
But not all shows in the region have been canceled. The annual East Coast Fine Arms Show proceeded as scheduled last weekend in Stamford, Conn., about 50 miles from Newtown.
Scores of weekend shows in other parts of the country are carrying on, including three dozen shows nationwide next weekend, according to the website www.gunshows-usa.com.
Related: Cheap ammo for sale online
Gun shows make up a relatively small portion of the multi-billion dollar firearms industry. Rommel Dionisio, a firearms industry analyst for Wedbush Securities, estimates that gun shows comprise about 10% of the U.S. gun industry, with industry-wide annual sales ranging from $3 billion to $3.5 billion.
The industry is dominated by manufacturers such as Sturm Ruger & Co. (RGR), Remington Arms Co.,Smith & Wesson Holding Corp. (SWHC) and Glock, Inc., and retailers such as Cabela's (CAB) and Dick's Sporting Goods (DKS).
Gun sales have been thriving amid a series of recent mass shootings, including the movie theater massacre that killed 12 in Aurora, Colo., last year. The suspect, James Holmes, was to appear in court Monday.
Background checks by the Federal Bureau of Investigation, which are considered the most accurate way of tracking gun sales, hit a record of nearly 2.8 million in December, the month of the Newtown shooting. That broke the previous record of about 2 million the previous month.
Semiautomatic rifles with high capacity magazines were used in the Newtown and Aurora shootings. Industry analysts and gun shop owners say that gun sales, particularly for those type of weapons, are being fueled by fears of tighter restrictions.
Related: Obama's reelection drives gun sales
President Obama has become increasingly vocal about restricting these weapons by reinstituting the so-called assault weapon ban that ended in 2004. Sen. Dianne Feinstein, a Democrat from California, plans to introduce legislation to stop the sale and manufacture of what she calls "military-style assault weapons and high-capacity ammunition feeding devices."
Such a bill would be difficult to get through a Republican-dominated Congress. The industry is backed by organizations such as the National Rifle Association and the National Association of Arms Shows, which did not return messages from CNNMoney.
Larry Ward, president of the conservative organization Political Media, is organizing an event on Jan. 19 called Gun Appreciation Day, when he is urging Americans to attend gun shows, ranges and shops.
"The people who believe in the Second Amendment ought to be proud that they believe in the Second Amendment," said Ward. "Buy a few bullets, shoot a few bullets at the gun ranges, stand up for your constitutional rights."