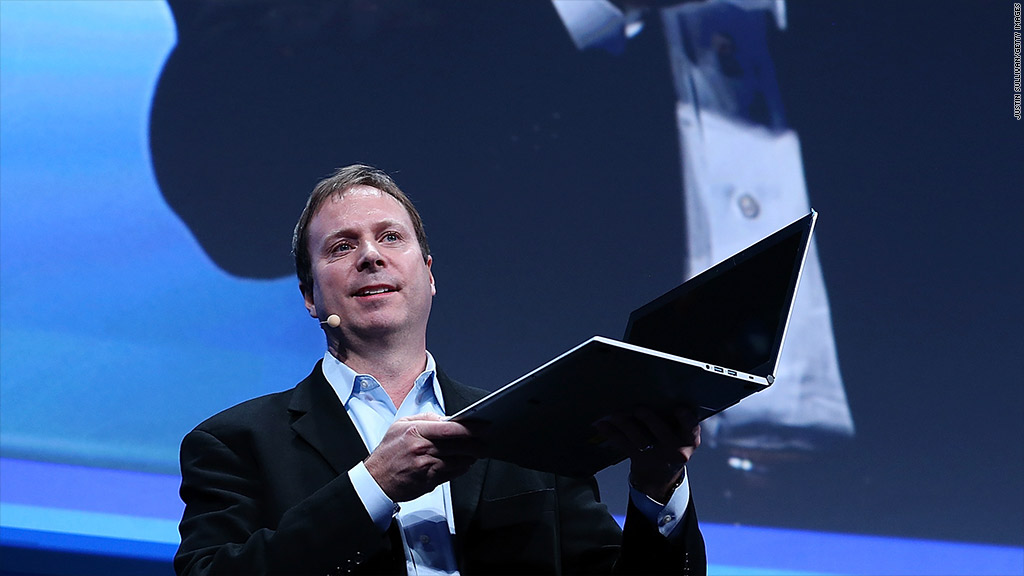 Get ready for a wave of touchscreen laptops.
Intel is adding a big new requirement for any computers that want to carry its "ultrabook" branding: They'll have to include a touchscreen. A prototype the company showed off Monday at a Consumer Electronics Show presentation featured a detachable display, a form factor that Intel hopes will become common.
That blurs the line even further between a notebook PC and a tablet. It's a move Microsoft (MSFT) is also backing: Its recently released Windows 8 operating system works on both desktop and mobile devices, but it operates much more smoothly with a touchscreen.
Intel (INTC), which makes the processors most laptop makers use to power their devices, has been trying to steer the industry toward lighter, sleeker, faster machines that take full advantage of its latest chip advances. It calls those machines "ultrabooks," a term it created and gets to write the rulebook for.
Intel boldly predicted at last year's CES that ultrabooks would dominate the industry and account for 40% of all consumer notebook sales by the end of 2012. The reality came up far short. Industry analysis firm IHS iSuppli chopped its ultrabook estimates for the year in half in October, citing the devices' "nebulous marketing and unappealing price."
Price has been a big sticking point: Ultrabooks typically go for more than $1,000. Intel claims that price tag will come down this year, even with the expensive addition of a touchscreen. The company predicted that entry-level ultrabooks will retail for $599 by end of the year -- just in time for the 2014 holiday season.
Kirk Skaugen, who heads Intel's PC client group, said the fourth-generation ultrabooks coming out this year "will be game-changers."
The new ultrabooks will run on Intel's upcoming Haswell chips, which are the first processors designed specifically for ultrabooks. The processors can provide "all-day battery life" and are designed to work "naturally" with voice and touch, Skaugen said.
The touch focus is part of Intel's push for "perceptual computing," the company's clunky term for a cool concept that wraps up recent advances in mouseless computing. The idea, Skaugen said, is that PCs will "have senses, like we do": touch, sight, hearing, and so on.
Intel demoed a few experiments along those lines from its developer partners, including a gesture-controlled version of the game "Portal 2" that lets users move items around the screen simply by grabbing at the air. A "Where's Waldo?" demo showed off eye-tracking, in which a user simply scanned the screen and blinked when he found the stripe-clad cartoon.
Intel also unveiled a new smartphone platform that's aimed at emerging markets, codenamed Lexington. Acer, Lava International, and Safaricom will offer devices that run on the low-power platform.
Jumping into this market was a no-brainer, Intel said: It cited forecasts that the so-called "value smartphone market" could reach as many as 500 million units by 2015.
On the tablet front, Intel announced a new quad-core Atom processor family called Bay Trail. The chip will deliver twice the computing power of current Intel-powered tablets, and it's slated to be available by the 2013 holiday season.