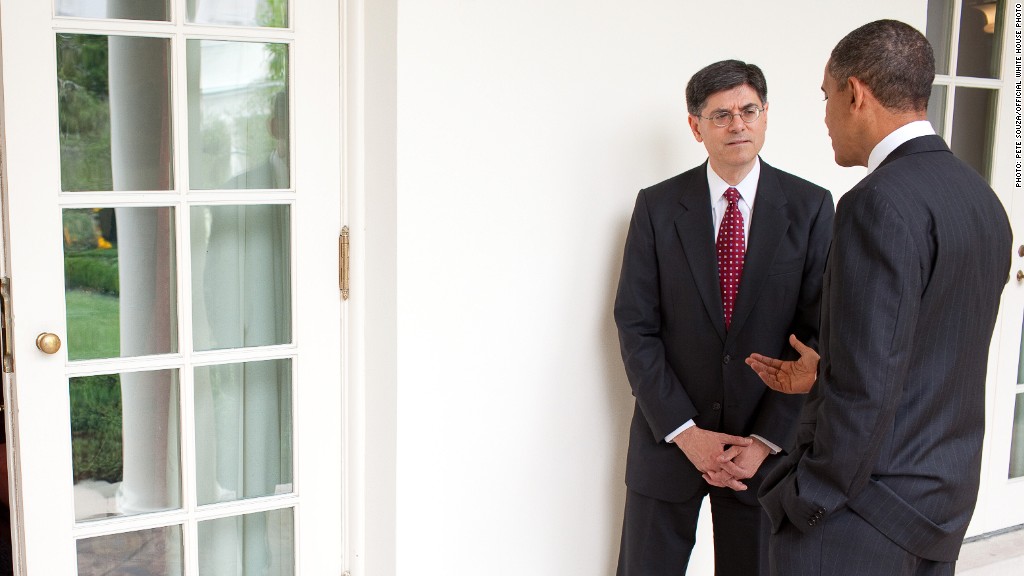 President Obama will nominate his White House chief of staff, Jacob "Jack" Lew, to be the next U.S. Treasury Secretary on Thursday, a source with knowledge of the nomination tells CNN.
Lew, 57, has been the leading candidate for months and would be the second Treasury Secretary during the Obama administration.
Lew has overseen budget talks in times of surplus and deficits as a former budget director for Presidents Obama and Bill Clinton.
He was also a key player in the 2011 debt ceiling talks, where he earned some criticism from Republicans for his uncompromising attention to detail. Some Republicans and people working on Wall Street have also been concerned about Lew's lack of business and financial markets experience.
Related: Jack Lew's first task could be changing his signature
It's not clear when the Senate will begin confirmation hearings. In 2009, the Senate took nearly a month to confirm Tim Geithner as Treasury Secretary. This could be just as contentious, coming right after a bruising fight over the fiscal cliff.
Geithner, the last holdover from President Obama's original economic team, is ready to move back to New York, where his family currently lives.
The secretary of the Treasury runs U.S. domestic financial policy and is charged with collecting federal taxes and managing public debt, among other duties.
Timing for the Treasury appointment is especially critical because Lew is expected to play an important role in upcoming debates.
Congress must increase the government's borrowing limit by late February or early March. Without that, the federal government would be unable to pay all its obligations on time.
The country hit its $16.394 trillion limit on Dec. 31, and Treasury is already moving money around to buy time. The last time a similar debate occurred, in the summer of 2011, it turned nasty: the United States lost its AAA credit rating and markets tumbled.
Another issue: looming budget cuts. As part of the fiscal cliff deal, Congress pushed back severe cuts to the federal budget by two months. They had been scheduled to kick in Jan. 2 and are expected to lead to job losses and furloughs for federal employees.
Lew's long career in Washington makes him perfect for the job, said Kenneth Baer, a former senior adviser to Lew at the White House budget office. Lew's experience in political horse trading goes back to the 1980s, when he was a senior adviser to legendary Democrat dealmaker House Speaker Thomas P. (Tip) O'Neill Jr.
"He's a phenomenal manager, a phenomenal colleague, a really great person who knows his material and cares deeply about public service," said Baer, who is now the managing director at the communications firm the Harbour Group.
But it has not necessarily been all smooth sailing for Lew. In the summer of 2011, Lew got on the wrong side of Republicans during tense closed-door negotiations over raising the federal debt ceiling.
Bob Woodward reported in his book "The Price of Politics" that, at one point, Speaker John Boehner asked the president to keep Lew from attending talks with House Republicans at the Capitol.
"Jack Lew said 'No' 999,000 times out of a million," Boehner told Woodward. "At one point I told the president, keep him out of here. I don't need somebody who just knows how to say 'No."
Lew is expected to face tough questions from some Republicans, including Alabama Sen. Jeff Sessions. Lew has clashed with Sessions publicly over the budget and other White House policies.
"Jack Lew must never be Secretary of Treasury. His testimony before the Senate Budget Committee less than two years ago was so outrageous and false that it alone disqualifies (him)," Sessions said in a statement on Wednesday. Sessions was referring to Lew's statement that Obama's budget would not add to the nation's debt.
Despite a long career in Washington, Lew did log in some private-sector experience. In 2006, he went to work for Citigroup (C) as the chief operating officer of wealth management. In 2008, he was promoted to COO at Citi Alternative Investments, an area of the bank that had made bets against the housing market.
During his 2010 confirmation hearing, Lew sought to distance himself from being seen as a bank executive with a role in the real estate bubble and bust. He pointed out that he had been a manager and not an investment adviser. In an internal memo announcing Lew's appointment, Citi said he would be responsible for operations, technology, human resources, legal, finance and regional coordination.
Despite his tenure at Citigroup, Wall Street is suspicious of Lew's lack of "significant experience in financial regulatory matters and the financial markets," said Washington analyst Brian Gardner with Keefe, Bruyette & Woods.
"While he can undoubtedly learn the material on the job, we question whether he has sufficient relationships with the banking industry in the U.S. and abroad, which can be critical during a financial crisis," Gardner said in research note.
Lew also worked as a financial administrator at New York University from 2001 to 2006.
Lew received an undergraduate degree at Harvard University and a law degree from Georgetown University.
Lew has developed a reputation as a details guy, who regularly logs in 16 hour days at the White House. He observes the Jewish Sabbath of leaving work before sundown on Friday and abstaining from work on Saturdays. However, he is known to have worked Saturdays in urgent situations.
The White House didn't respond to requests for comment.