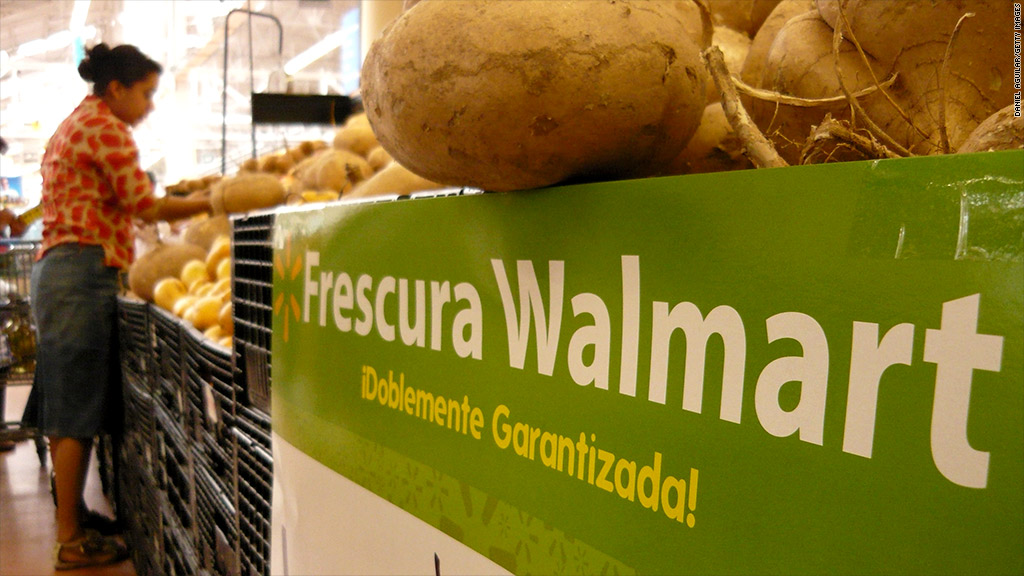 Reports that Wal-Mart de Mexico bribed foreign officials surfaced last spring, but now, U.S. lawmakers say top Wal-Mart executives have known about these allegations since 2005.
Congressmen Elijah E. Cummings, and Henry Waxman, Democrats from Maryland and California, respectively, announced Thursday that they had documents confirming that Wal-Mart (WMT) CEO Michael Duke and other high-ranking personnel were personally informed about the bribery allegations as early as October 2005.
The congressmen specifically cite a November 2005 email, from Maritza Munich, who was then the retailer's general council, informing executives about bribes paid to obtain permits for the Teotihuacan, Mexico, store.
The email allegedly states that Wal-Mart gave the Teotihuacan Municipal Council 1.2 million pesos and the National Institute of Anthropology and History and its director a total of 900,000 pesos, according to the lawmakers.
Brook Buchanan, a Wal-Mart spokeswoman, said this information has been part of the company's ongoing investigation for more than a year.
"We have provided extensive documentation to the Department of Justice and the Securities and Exchange Commission, including the documents released today, as part of our ongoing cooperation with the appropriate law enforcement agencies on this matter," she said.
Related: Wal-Mart's biggest blunder
The broader Wal-Mart investigation stems from allegations that Eduardo Castro-Wright, the former CEO of Wal-Mart de Mexico and former head of Wal-Mart U.S., orchestrated $24 million worth of bribes in Mexico to secure construction permits. The allegations were reported in a New York Times article in April.
Following the article's publication, Wal-Mart said it had been conducting an "extensive investigation" since 2011 into its compliance with the Foreign Corrupt Practices Act, which prohibits American companies from bribing foreign officials.
The world's largest retailer said in November that it was broadening its investigation into bribery allegations to include India, China and Brazil. The mega-retailer said later that month that it had suspended the chief financial officer of its expanding India unit while it investigates alleged corrupt business practices.
Wal-Mart spokesman David Tovar said in November that the company has spent more than $35 million in the last year and a half to ensure it complies with the U.S. law.
"We will not tolerate noncompliance anywhere or at any level of the company," Wal-Mart said in a statement issued in mid-November. "We are working diligently to strengthen our compliance programs and dedicating considerable resources to this effort."