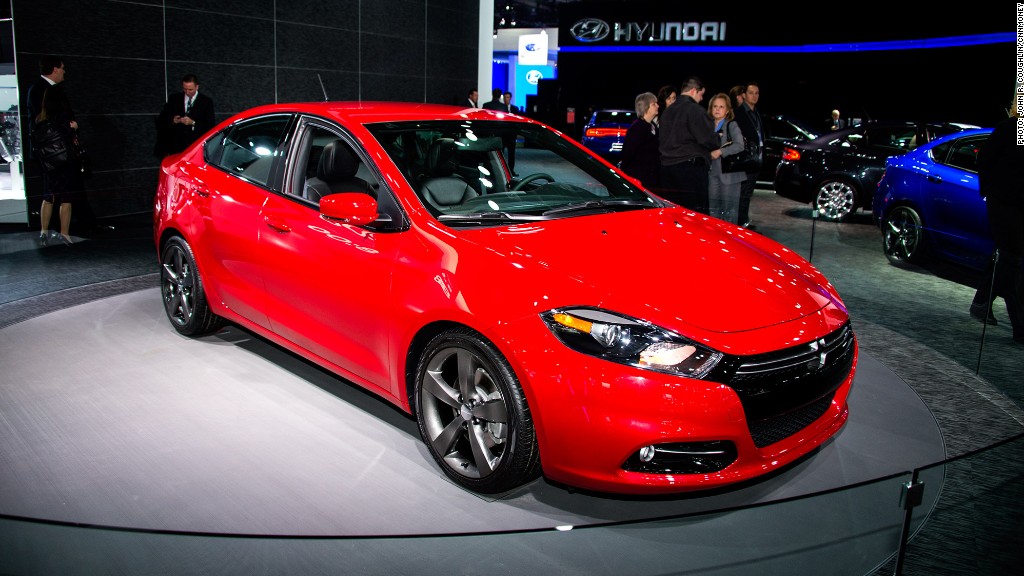 A year ago, Chrysler Group CEO Sergio Marchionne had nothing but praise for the Dodge Dart, which the company hoped would be a breakthrough small car for the automaker.
But Monday he had acknowledged that the car's introduction into the American market was less than stellar.
Speaking at the auto show Monday, Marchionne said he's satisfied with the small car's first year sales of 25,300. But he conceded, "We could have done more."
Machionne was candid about some of the missteps in the company's launch of this very important car.
"I take full ownership for the fact that it wasn't the launch that I wanted."
He went on to say that in a desire to optimize fuel economy the automaker didn't offer the transmission options that Americans might have preferred. "The powertrain is less than ideal," he said during a round-table discussion with reporters.
Dodge tried to address some of the Dart's shortcomings on Monday as it unveiled a higher performance version of the car, the Dart GT, which has a 184 horsepower 2.4-liter engine and sport-tuned suspension with hi-tech shock absorbers.
But it also has a $21,000, price tag, or about $6,000 more than the base model.
Related: Cool cars from Detroit auto show
At a February ceremony at the Illinois plant where the Dart is built, Marchionne called it a "groundbreaking" car that would "change consumer perceptions about what they can expect in a compact sedan."
But reviews of the car have been somewhat less effusive. Consumer Reports, one of the most influential magazines for the car-buying public, refused to recommend the car. CNNMoney's review said the car "misses the bullseye."
Marchionne hasn't been shy in the past of being critical of Chrysler products he wasn't happy with. At the auto show two years ago he called the Dodge Caliber, an earlier small car offering, an "abomination." And at last year's he admitted that the sales goal for the Fiat 500 was "incredibly naive."
CNNMoney's Peter Valdes-Dapena contributed to this report.