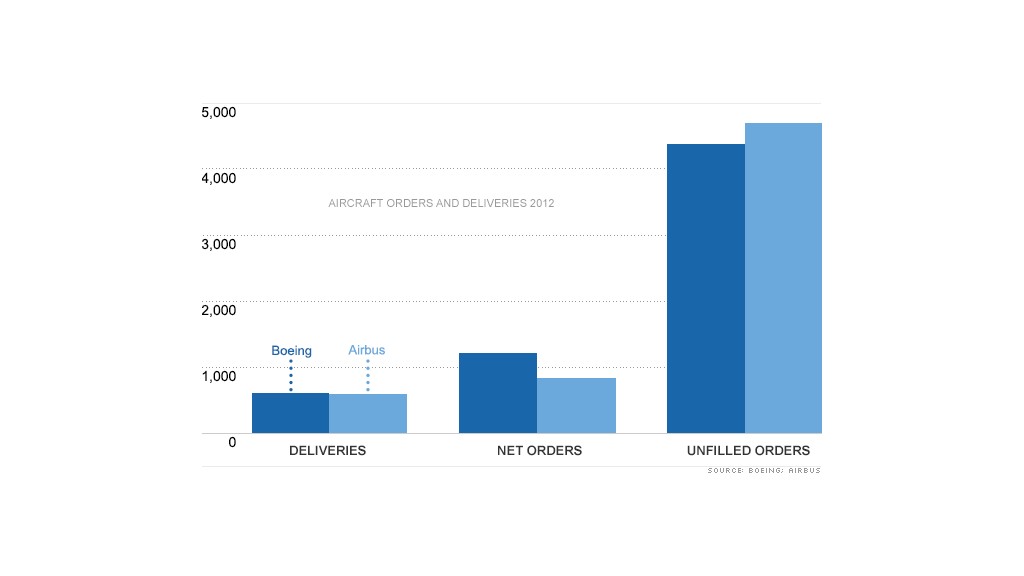 Boeing reclaimed the title of world's biggest aircraft maker Thursday, overtaking European arch rival Airbus, even as it grapples with its most serious crisis in years.
Airbus, part of European aerospace group EADS, said aircraft deliveries rose 10% to a record 588 in 2012, but it still fell short of Boeing for the first time in a decade. Boeing deliveries totaled 601, the most since 1999.
Boeing (BA) also claimed top spot in terms of net orders, winning 1,203 compared with 833 at its European competitor. Airbus, based in the southern French city of Toulouse, still has a bigger backlog of unfilled orders than Boeing.
But the grounding of 787 Dreamliners could deal a serious blow to Boeing's prospects, particularly if the U.S. investigation into a problem with its battery reveals flaws in the design of the lightweight, carbon-composite aircraft.
Aircraft manufacturers have been trying to find ways to make their planes lighter and more fuel efficient as margins are squeezed by high oil prices, the weak global economy and the rapid growth of low-cost carriers.
The Dreamliner's batteries, made by Japan's GS Yuasa, are the first to be used in this way in commercial jets. They are energy efficient, light and compact, but they generate a lot of heat. The company has sent a team to work with U.S. investigators in Washington.
Related: Boeing's clout in Washington may face test
Airbus will be watching the investigation carefully, and is unlikely to celebrate its rival's woes. Its answer to the 787 -- the A350 -- has a maiden flight scheduled for the end of June or early July, and deliveries to customers are due to begin in 2014. The A350 also makes use of lithium-ion batteries, from a different supplier.
Experts said Boeing would need to move quickly to contain any loss of confidence in its aircraft but that there could be broader anxiety among airlines about the shift to new and unproven technologies.
"I expect Airbus will also be getting lots of questions from its customers about what it's doing to make sure there isn't a repeat," said Bridgette Sullivan-Taylor, assistant professor of strategy and organization at Warwick Business School.
And any cost increase due to Boeing's problems with the Dreamliner would be painful. UBS already expects Airbus to lose between 500 million and 700 million euros on the A350 in 2014-2015 as production costs exceed launch prices.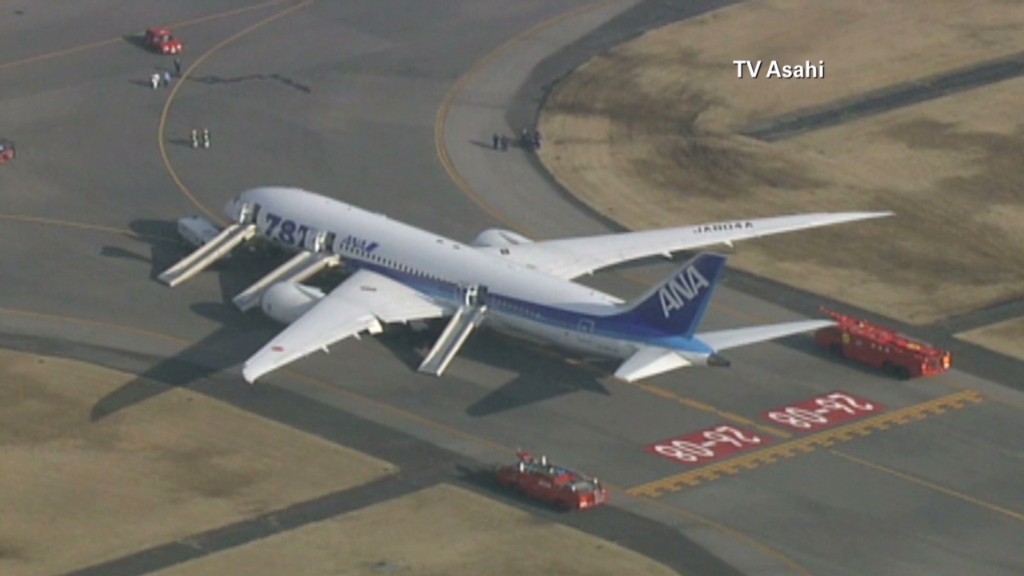 Airbus CEO Fabrice Bregier said Thursday that the European Aviation Safety Agency and the U.S. Federal Aviation Authority were satisfied with the A350's architecture.
"Regarding the 350 electrical architecture, we don't see any reason, at least until we get additional information, to change our design," Bregier said at a news conference.
"I don't know the design of the 787. I know the design of the 350 and we are confident the design is robust both regarding the batteries, its architecture, the safety means, and also more globally the electrical architecture of the 350, which has no reason to be the same as its competitor."
Airbus knows only too well how difficult it is to launch a new aircraft with complex technology. The A350 is already running a year behind schedule, and Airbus' own revolution -- the A380 superjumbo -- was beset by production problems.
The world's biggest commercial aircraft underperformed for Airbus again last year, booking only nine orders against a target of 30 as the discovery of tiny cracks in the wings deterred some potential customers. Production of the A380 is forecast to slow this year as Airbus introduces a permanent fix.
Bregier said Airbus had been badly hit by the A380 wing cracks but had closed the chapter successfully.
"We have found the root causes of the problems, we have developed the solutions, we have tested the solutions in flight, and we can say that this A380 wing-related issue is now behind us."
Germany and France founded Airbus in 1970, backed by leading European airlines, with the aim of creating an alternative to U.S. manufacturers that could meet the growing demand for short-haul travel between the region's capitals.
Its global success was based on the launch in 1988 of the A320 family of single-aisle aircraft, which also used fly-by-wire technology in a commercial aircraft for the first time.