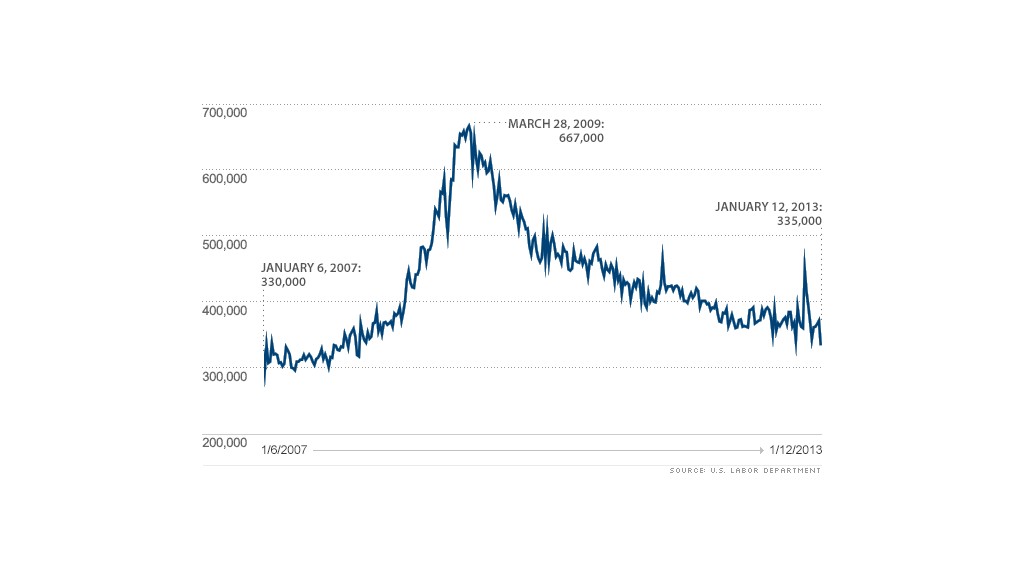 In a welcome sign of recovery for the job market, initial jobless claims blew past expectations and plunged to a nearly five-year low.
First-time claims for unemployment benefits plummeted by 37,000 in just one week, falling to 335,000 from 372,000 the previous week, the Labor Department said Thursday. That's the lowest since January 2008.
The weekly number is much lower than economists had expected. Forecasts had predicted a total of 370,000 in the week ended Jan. 12, according to a consensus compiled by Briefing.com.
Economists acknowledged the report as good news, but were hesitant to read too much into the one-week finding.
"It's clearly positive news," said BNP Paribas U.S. economist Yelena Shulyatyeva. "We have to take this with a grain of salt, because it's only one week of decline in the data. We'll have to see how this evolves going forward."
To smooth out some of the weekly volatility, economists often look to a four-week moving average. That number also fell, dropping by 6,750 to 359,250.
Continuing claims, a closely watched measure of those who remain on unemployment, were about 3.2 million in the week ended Jan. 5, the most recent data available. That was higher than the 3.1 million continuing claims that were expected.
Related: I'm unemployed and hopeless
The weekly tally of jobless claims has improved dramatically over the last four years. Initial claims surged above 600,000 during the height of the recession, but by the end of 2011, had fallen below 400,000.
Last year, initial claims tended to stay in the range of 350,000 to 400,000, aside from a temporary bump due to Superstorm Sandy.