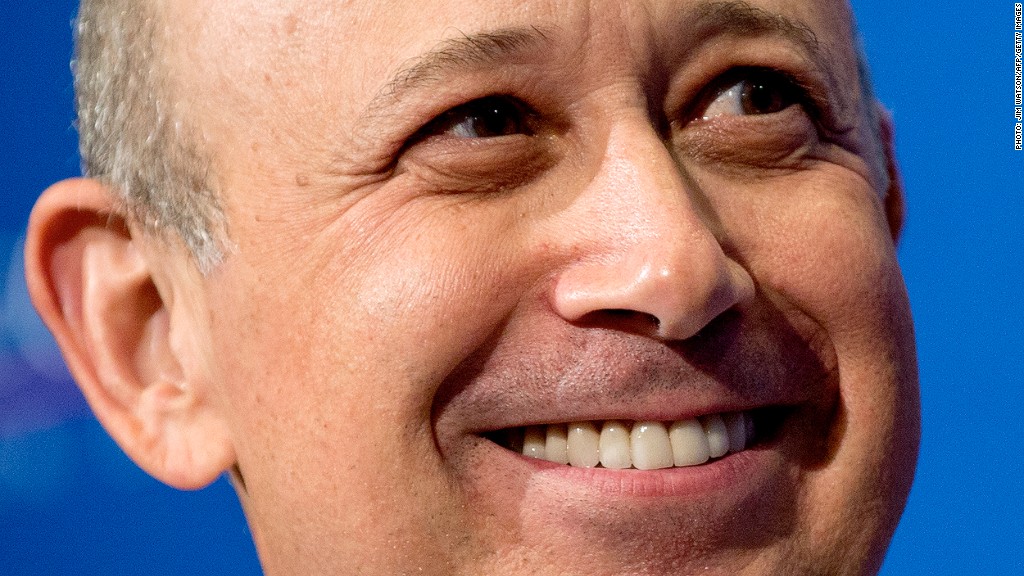 Lloyd Blankfein, the CEO of
Goldman Sachs

(GS), got a 75% raise in 2012, earning a pay package totaling $21 million, according to a source familiar with the bank's plans.

Four other executives at the helm of the investment bank were rewarded with similar spikes in their 2012 pay.

On top of his base salary of $2 million, Goldman Sachs' board granted Blankfein a nearly $19 million bonus: $13.3 million in stock and $5.6 million in cash.

Goldman Sachs reveals stock options awarded to its top five executives in regulatory filings, but does not disclose their cash bonuses. A spokesperson for Goldman Sachs declined to comment beyond what was outlined in the bank's Securities and Exchange Commission filings.

Related: The old Goldman Sachs is back

Goldman's other top four executives had salaries of $1.85 million. On top of that, both Goldman Sachs' President and COO Gary Cohn and its recently departed CFO Dave Viniar received $17 million bonuses last year, according to the source. Michael Evans and John Weinberg, both vice chairmen, received $15.1 million in 2012 bonuses.

With this spike in salary, Blankfein is likely to be one of the highest paid executives on Wall Street. JPMorgan's CEO Jamie Dimon won't be in the running for 2012. After topping the list in 2011 with a $23.1 pay package, JPMorgan's board cut Dimon's bonus by 53% to $10 million, citing the bank's trading losses from the so-called London Whale.

Shares of Goldman Sachs rose 49% in 2012, after dropping 46% the prior year. So far in 2013, Goldman's stock is still running higher. It's up more than 13%.