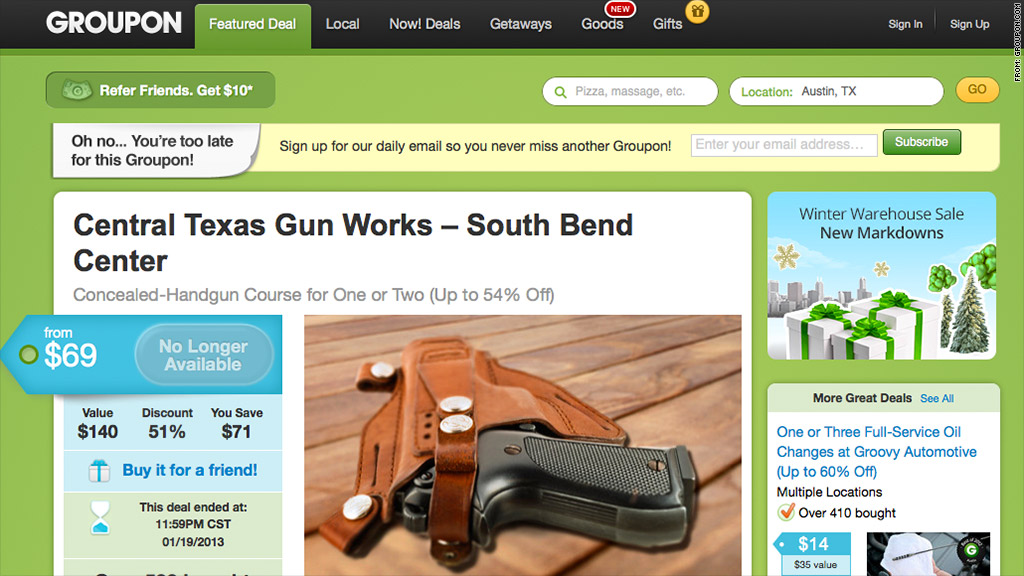 Groupon has suspended all gun-related daily deals. The move will please those calling on Groupon to change its policies, but at least one gun shop owner is livid about his deal being canceled midway through.
Julie Mossler, a representative for Groupon, said the company "has been testing firearm-related deals including shooting ranges and concealed weapons courses for the last eight months. Based on performance and customer and merchant feedback, it's clear they're not a fit right now."
Mossler would not comment on whether Groupon (GRPN) plans to reinstate gun-related deals in the future.
Groupon's public acknowledgment of its policy change, which took effect on Friday, came after Central Texas Gun Shop owner Michael Cargill complained to AOL's Daily Finance that his deal was canceled with no warning.
Cargill's Groupon campaign, which went live last Tuesday, offered a 50% discount on concealed handgun license classes for beginners. Cargill says he successfully ran two previous deals on Groupon for training classes, plus others on rival sites such as LivingSocial.
A Groupon sales rep called Wednesday to say the 600-coupon deal was on track to sell out, Cargill says, so he upped the offer to 1,500 Groupons. Two days later, the rep called back to cancel the deal, saying the company had decided to suspend all gun-related offers immediately.
"I said, 'I don't understand; we're in a contract,'" Cargill told CNNMoney. "He said, 'Well, we can suspend it.' I said, 'I'm going to talk to my lawyer about that.'"
Cargill says he's looking into his legal options and calling on supporters of gun rights to boycott Groupon. He says the company hasn't yet paid him for his share of the vouchers sold before the deal was canceled, and that he didn't know if he would receive any funds.
Groupon typically pays merchants in stages, with the first payment coming 7 to 10 days after a campaign ends. Mossler, the Groupon rep, said the company is "not canceling Groupons that were already sold. We expect each merchant to honor them, and as long as they do, they'll be paid."
Groupon isn't the only tech company to rethink its gun policies after the recent U.S. shootings. Last month, 3-D printer company MakerBot ramped up its enforcement of an existing policy banning downloadable designs for printable gun parts.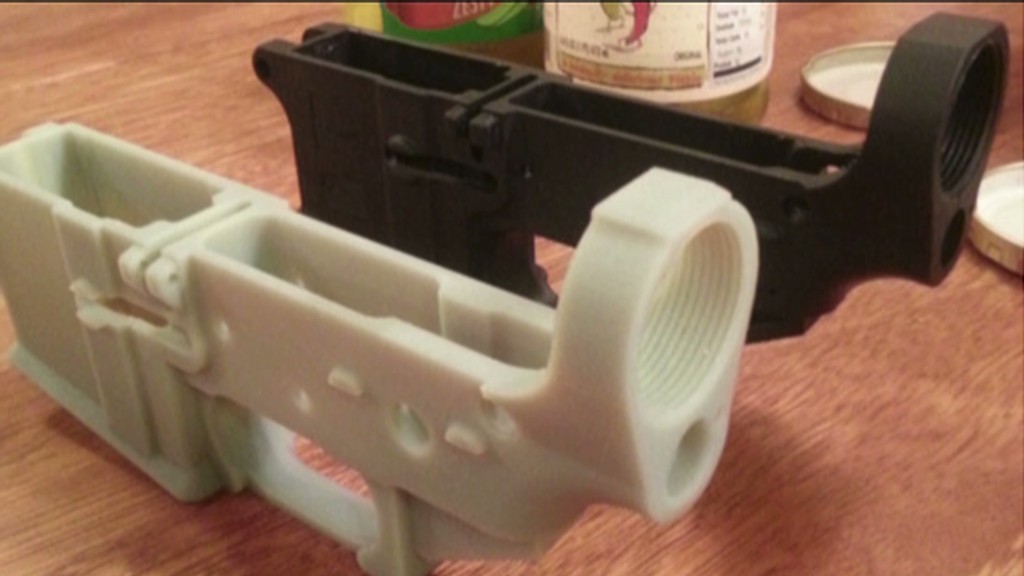 Groupon's move is an about-face, which is what bothers Cargill.
"They never should have begun [gun deals] in the first place," he said. "If you're not going to go through with it, don't even start it."
Also, he wonders why Groupon is banning firearm-related offers while continuing to hawk what he considers more scandalous wares.
"Executives at Groupon are not concerned about selling a tour of a porn studio," Cargill says, referring to the kerfuffle over a Kink.com deal last April, "but they want to shut down [deals related to] gun safety and proficiency testing."