Europe must press ahead with economic reform, and become more competitive to restore stability and achieve sustainable growth, German chancellor Angela Merkel said Thursday.
"Experience has shown you need pressure to pursue structural reforms," she said at the World Economic Forum in Davos, Switzerland. "Unemployment had to hit five million in Germany before there was a readiness to pursue structural reforms."
Progress was being made to bring down budget deficits and structural reforms had begun, but the benefits may only be felt in two or three years' time, she said. "Fiscal consolidation and growth are two sides of the same coin."
The eurozone economy is expected to contract in 2013 for the second year in a row. Unemployment has reached record levels, leaving millions of young people out of work.
Related: Merkel warns Europe crisis far from over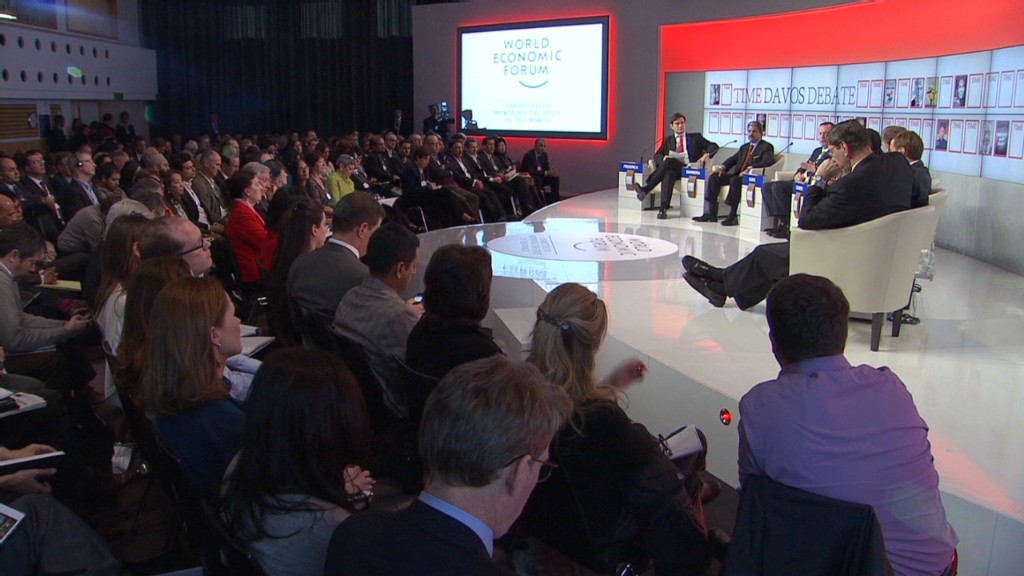 Much more effort was needed to make European economies more competitive, when measured against the best performing countries in the world, Merkel said.
"We are talking about a (European) pact for competitiveness, where governments enter into binding commitments to improve elements of competitiveness that are not up to par," she said. "We want to be as competitive as possible to ensure the prosperity of our people. We are not where we want to be, we are not yet out of the woods."
Germany introduced a radical overhaul of its labor market 10 years ago, increasing flexibility for employers and moderating wage growth. Unemployment has fallen since then and stayed relatively low throughout the credit crisis despite faltering growth in Europe's biggest economy.
In a report published Thursday, the World Economic Forum said the EU's inability to compete with other major economies and a growing gap between southern and northern European states was the root cause of stagnant growth and rising unemployment.
Since the mid-1990s, EU per-capita GDP has grown at a slower rate than the U.S., and GDP per-hour worked has held steady at about 60% of the U.S. average. South Korea has also overtaken the EU in the last year or two.
Europe's credit crisis has opened up wider divisions between EU member states, with prosperity in southern Europe -- Greece, Italy, Portugal and Spain -- stagnating or declining slightly since 2008, while northern Europe has resumed steady growth after dipping in the immediate aftermath of the financial crisis.