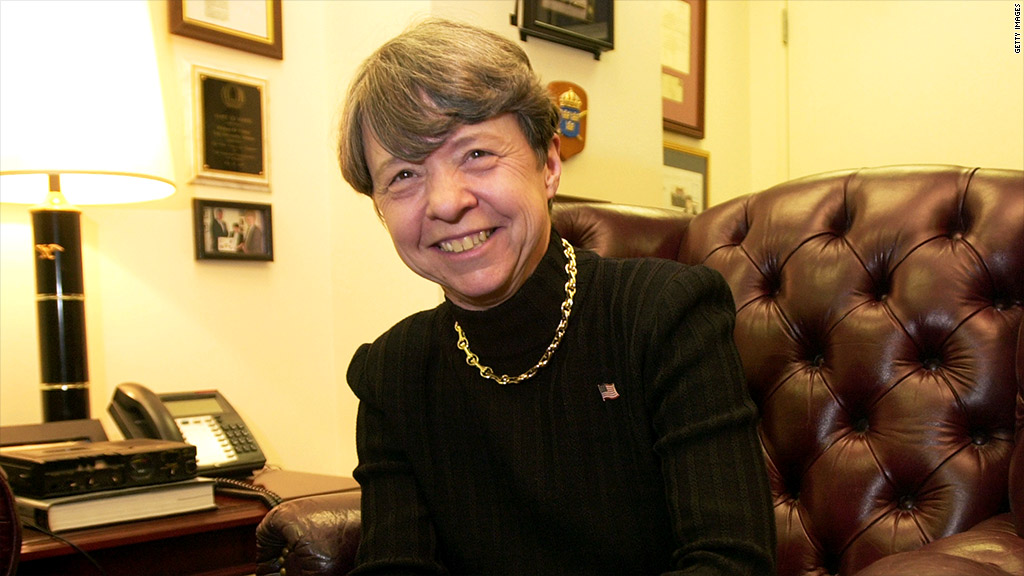 President Obama on Thursday nominated Mary Jo White, a former federal prosecutor in New York, to head the Securities and Exchange Commission, the watchdog agency that monitors Wall Street and corporate financial disclosures.
"You don't want to mess with Mary Jo," Obama said in a press conference. "As one former SEC chairman said 'Mary Jo doesn't intimidate easily.' And that's important, because she's got a big job ahead of her."
In addition, Obama nominated Richard Cordray to a full term as director of the Consumer Financial Protection Bureau. Cordray has already been heading the agency, but has been serving on a recess appointment due to Republican opposition to the agency itself, which has blocked a Senate vote on his confirmation.
White is best known for her nine years as the the chief federal prosecutor for the Southern District of New York, a territory that includes Wall Street. She built a reputation as a tough prosecutor, taking on complicated financial fraud, terrorism and organized crime.
White said, if confirmed, she looks forward to working with her fellow commissioners and staff to "to protect investors and ensure the strength, efficiency and transparency of capital markets."
"The SEC has a lot of hard and important work ahead of it, and I would welcome the opportunity to lead those efforts," she said.
Under her watch, Ramzi Ahmed Youself was convicted of bombing the World Trade Center, Omar Abdel Rahman, "the blind sheik," was convicted of planning that bombing, and Mafia don John Gotti was convicted of murder and racketeering.
Her office also officially indicted Osama bin Laden for attacks on U.S. embassies in Africa.
She left the post in 2002 and has been in private practice since, serving as a partner at Debevoise and Plimpton, the firm at which she had previously worked.
She's since spent the last decade as a go-to corporate defender, representing high profile firms that were themselves under SEC investigation.
She could face criticism in Senate confirmation hearings for defending former Bank of America (BAC) CEO Ken Lewis, when New York Attorney General Andrew Cuomo charged the bank with fraud for failing to disclose billions of dollars worth of bonuses paid to Merrill Lynch chiefs as it was failing. The SEC also investigated that case and struck a $150 million settlement agreement with BofA.
White also defended Time Warner (TWC), when Donald Trump sued its books division for defamation for publishing "TrumpNation: The Art of Being the Donald." A judge dismissed that case against Time Warner, which owns CNNMoney.
President Bill Clinton first appointed White to be U.S. attorney for the Southern District in 1993. She was also on the board of Nasdaq Stock Market. She's also on the board of the American Society for the Prevention of Cruelty to Animals and served as chairwoman of that group last year.
White would take over the top job running the SEC from Elisse B. Walter, who stepped up to the position last November when Mary Schapiro stepped down. Walter had made it clear she would only serve a brief time.
Watchdog and advocacy groups applauded White's expected nomination.
"She knew who the bad guys were, went after them and put them in prison when they broke the law," said Dennis Kelleher, president of Better Markets, an advocacy group for financial markets accountability. "That's what must happen if integrity and investor confidence is to be restored in our securities markets."
Cordray had previously served as Ohio Attorney General before joining the CFPB. The agency was created under the Dodd-Frank legislation that was passed during Obama's first term.
Cordray's nomination was cheered by Sen. Elizabeth Warren of Massachusetts, who hired Cordray to run enforcement at the consumer bureau in December 2010.
"I worked with Rich to set up the agency and believe he is a strong leader with a proven track record of fighting for consumers and pushing for a level playing field between big banks and smaller financial institutions like community banks and credit unions," Warren said in a statement.
-- CNN's Jessica Yellin contributed to this report.