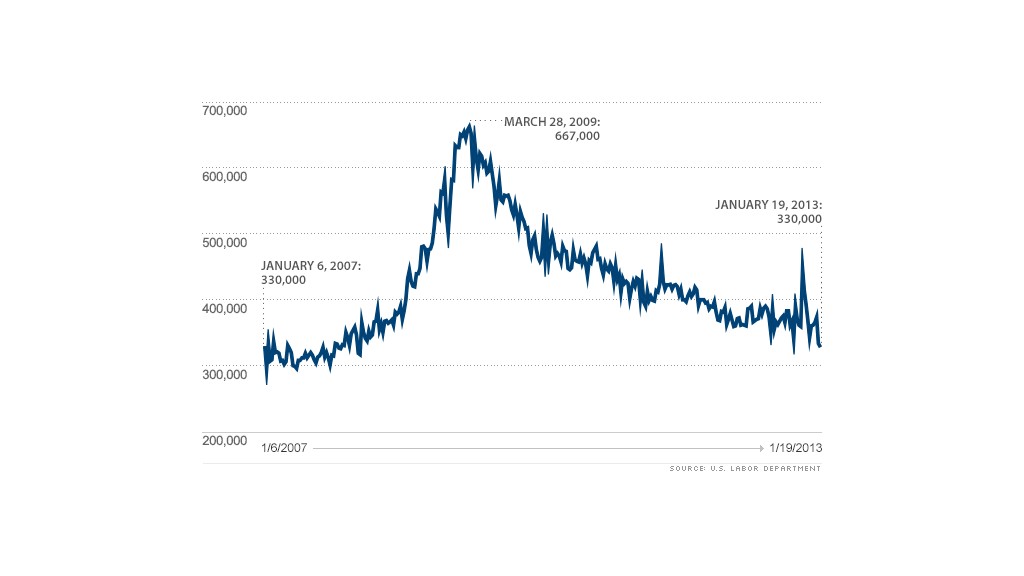 The number of Americans filing initial claims for unemployment benefits is hovering at its lowest level in five years, after falling for a second week in a row.
First-time claims for unemployment benefits fell by 5,000 last week to 330,000, down from 335,000 the previous week. That's the lowest level since January 2008.
It's unclear why claims have fallen so dramatically recently, but economists point to seasonal distortions in the data, which seem to happen every January. Over the last two weeks, initial claims have plummeted by 45,000.
"Weekly data are noisy, particularly at this time of year, so keep that in mind," said Jennifer Lee, senior economist at BMO Capital Markets. She pointed to a decline in the four-week moving average, which smooths out some of the choppiness, as an encouraging sign though.
Amid the recession, weekly claims had surged above 600,000. It took until the end of 2011, for them to fall below 400,000. Since then though, they've largely been stuck in the 350,000 to 400,000 range.
Related: A $5 million scheme to steal unemployment benefits
Meanwhile, continuing claims, a closely watched measure of those who remain on unemployment benefits for a second week or more, totaled about 3.16 million in the week ended Jan. 12, the most recent data available, a 71,000 drop from the week before.