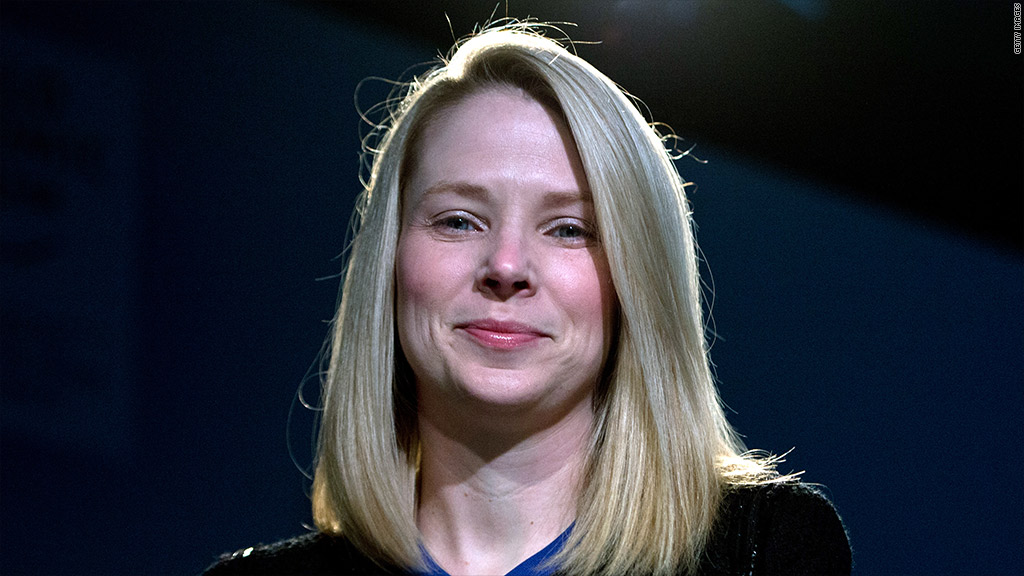 Yahoo's fourth-quarter results weren't a blowout, but they're still a win for the nascent Marissa Mayer Era.
Shares jumped 4% in after-hours trading Monday, but later cut those gains to about 1%. Yahoo reported earnings of 32 cents per share. That handily beat estimates from analysts polled by Thomson Reuters, who expected earnings of 28 cents per share.
Excluding traffic acquisition costs -- the portion of its revenue that Yahoo shares with partners -- revenue came in at $1.22 billion, right around what analysts were expecting. That's a 4% jump over the fourth quarter of 2011.
Yahoo's revenue for the full year was $4.5 billion, up just 2% from a year earlier.
That stat shows just how much Mayer, who is six months into her role as CEO, needs to change at a stagnant Yahoo. She immediately set out to revamp Yahoo's (YHOO) business strategy, saying that she wants the company to refocus on personalizing the Web for its users.
On a post-earnings conference call with analysts, Mayer struck an upbeat but cautious tone.
"While the road to growth is certain, it will not be immediate," she said at one point.
Later, she categorized the Yahoo turnaround as a "multi-year march toward growth."
Yahoo expects its revenue, excluding partner costs, to be between $1.07 billion to $1.1 billion for the first quarter of 2013. That's essentially flat with the$1.08 billion it generated in the same quarter last year.
While the turnaround will take years, Mayer insisted that Yahoo is moving fast day-to-day: "There's basically been a new major initiative every other week."
At least for now, industry watchers and investors believe in Mayer. Shares closed Thursday at their highest level since September 18, 2008.
But Yahoo's core problems are longstanding, and analysts are especially focused on those involving Yahoo's two main sources of advertising revenue: search and display.
Yahoo gave up on search years ago, partnering instead with Microsoft's (MSFT) Bing. Mayer called Yahoo's search revenue "disappointing" last quarter, but the fourth-quarter numbers were much better: Search revenue rose 14%, to $427 million.
The bigger concern is Yahoo's display revenue: its sales from banners, videos and other graphic ads. Display sales fell 5% over the year to $520 million for the fourth quarter, though that's something of an improvement over the even sharper drops in some previous quarters.
On the Monday conference call, Mayer cited search and display as two of her "big four" focus areas, along with mobile and video.
Related story: Yahoo CEO Mayer's "God" and "baby is easy" quotes go viral
Meanwhile, Mayer is trying to shake up the Yahoo culture at large, urging Yahoo staffers to move more quickly and interact with the Web the way the company's users do. She recently eliminated company-issued BlackBerrys in favor of new Apple (AAPL), Google (GOOG) and Microsoft (MSFT) phones.
Last week at the World Economic Forum in Davos, Mayer said her overall plan is for Yahoo to "get back to its roots."
Mayer expanded on that point during Monday's call, saying she wants Yahoo to "redouble its efforts" on its original mission: "to make the world's daily habits inspiring and entertaining."