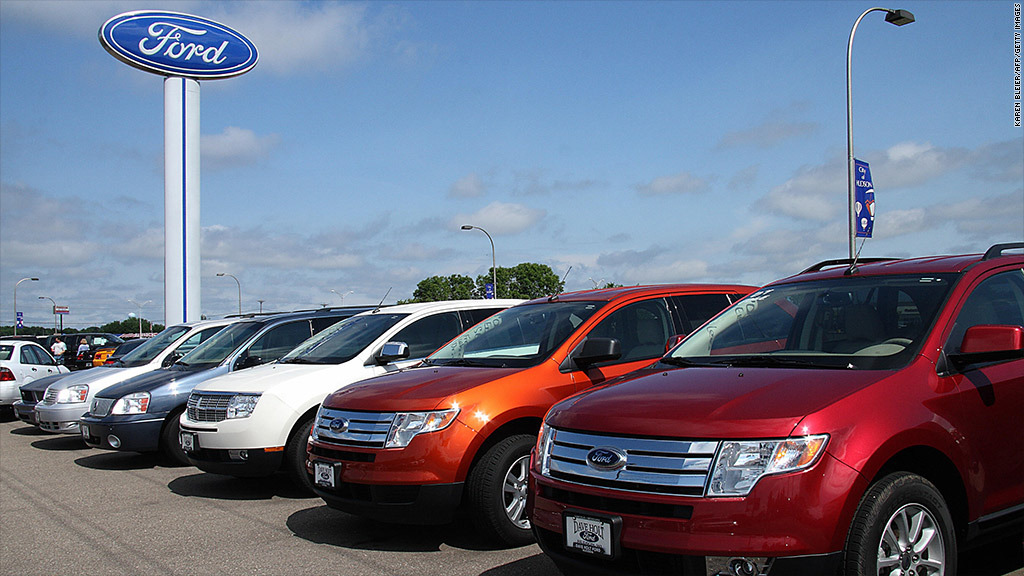 Ford Motor's strong performance in North America led to improved fourth-quarter earnings and sales, the No. 2 U.S. automaker reported Tuesday.
But the company's European problems continued, with a bigger-than-expected loss in the three months and the warning of a wider shortfall in 2013. The problems outweighed the good news at home in the eyes of investors, who drove shares of Ford (F) down 4% in morning trading.
Ford reported operating income rose 54% in the fourth quarter. Overall revenue rose 5.5% to $36.5 billion, as the number of vehicles sold worldwide jumped 7%.
Despite the quarterly improvement, full-year operating earnings of $5.7 billion were down 5% from 2011.
In North America, pretax automotive earnings more than doubled to $1.87 billion in the quarter. Full-year earnings in the region reached $8.3 billion, up more than a third over 2011 results.
The strong results will also benefit the 45,800 U.S. hourly workers at Ford, who will get profit-sharing checks of about $8,300 in March, up from the $6,200 they received a year ago. Ford has added about 4,000 hourly workers over the last year.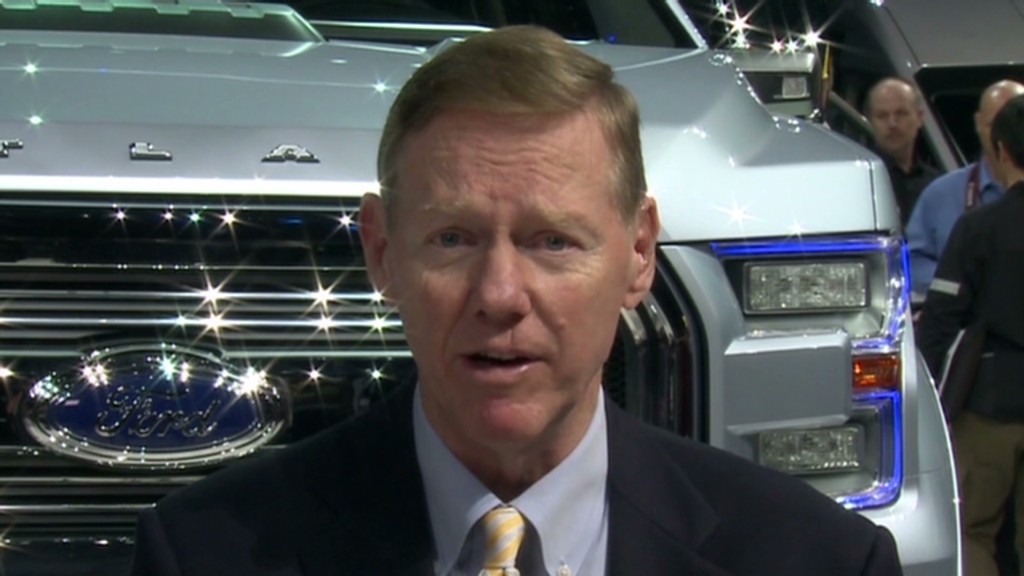 The strong performance on its home turf countered worse-than-expected weakness in Europe. Ford's operations on the continent lost $732 million in the quarter, bringing full-year losses to $1.75 billion. The figure was wider than the $1.5 billion the company warned about in October.
Ford said Tuesday it expects to lose another $2 billion in Europe this year, a wider loss than previous guidance. The company has announced plant closings and other measures to try to stem its problems.
Related: Tiny cars worth big bucks
Europe is also dogging other automakers as well. The European sovereign debt crisis, which has caused record high unemployment and has plunged the continent into a recession, have cut European car sales to a 20-year low.
Christian Mayes, auto analyst for Edward Jones, said the mounting problems in Europe were the reason for drop in stock price, despite the strong North American results.
"Investors were hoping for a little faster improvement in Europe," he said. "They might have thought Ford was making more progress there than some of its competitors."
Mayes said he's concerned that Ford is counting on North America to be the only profit engine in all of its global operations, especially since he's forecasting even tougher competition in the U.S. market in the year ahead. He has a "hold" recommendation on the stock.
But Adam Jonas, auto analyst with Morgan Stanley, continues with his "overweight" or buy recommendation on Ford, saying the strong North American results should be overshadowed by problems in Europe and elsewhere in the world.
"Ford continues to take its medicine in Europe," he said in a note to clients Tuesday. "We see nothing in these results that make us waiver from Ford as our top pick in U.S. autos."
Ford, behind only General Motors (GM) in U.S. sales, had a more modest sales gain in its home market than it did globally. Ford's 4.7% increase in U.S. vehicle sales was by far the smallest of any major automaker last year, when overall U.S. car sales rebounded 14.5% for the best annual result since 2007.
Related: 10 surprises from Detroit auto show
Despite losing market share, the outlook for earnings at Ford is strong due to the rising demand for cars in North America. There's also optimism about some new models set for release -- notably, a new version of its F-150 pickup truck, the nation's best-selling vehicle, and the Fusion, its midsize sedan.
Ford said Tuesday it forecasts improved market share in the United States and China, with industry-wide sales rising in both countries, the two largest markets for car sales globally. However, it projects continued weakness in European sales.
The company was confident enough in results to double its dividend earlier this month, and announce its biggest hiring plans for white-collar jobs, including engineering positions, in more than a decade. It forecast pretax profit of $8 billion in 2013, about the same as 2012 results.