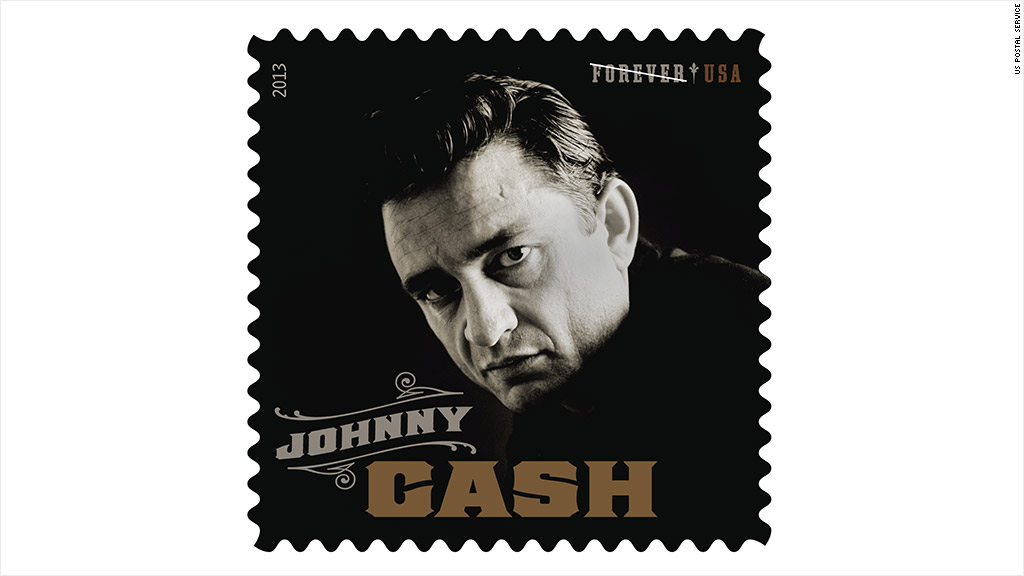 Thanks to the U.S. Postal Service, your stamps just got a little more rock 'n' roll.
The agency announced that legendary crooner Johnny Cash will grace a special stamp issued this year as part of its new music icons series. The collection will feature two other musicians in 2013, who have yet to be revealed.
According to Mark Saunders, a Postal Service spokesman, the honor is not one that the agency takes lightly.
Every year, about 40,000 suggestions for what should grace the stamps are submitted to the Postmaster General's Citizens' Stamp Advisory Committee. The committee selects 20 topics to appear on stamps in a given year. This year, the musicians made the cut.
"The committee selects individuals to be on stamps based on accomplishments in their fields, and Cash was a natural fit," Saunders said. "He has a huge following, and extends from country to rock 'n' roll to rhythm and blues."
Related: Stamps rise to 46 cents
The forever stamp, which will be square to resemble a 45 rpm record sleeve, is based off a photograph of the "Walk the Line" singer in 1963, as he recorded "Ring of Fire: The Best of Johnny Cash." The stamp will be released later this year and will cost the same as any other stamp -- a newly raised 46 cents.
Saunders expects them to be big sellers, as most commemorative stamps are, since people who wouldn't normally buy stamps look out for them.
"A lot of people gravitate toward topical stamps, and we find that people who buy them, save them and collect them," he said.
Related: Postal Service's fiscal cliff coming this spring
The Postal Service has grappled with deep financial problems and struggled to come up with viable revenue streams over the last year. But the agency is hopeful that excitement over the music-themed stamps might get people sending mail again, as it has seen the volume of first-class mail fall by 33% over the last decade.
"We hope that people will buy these stamps and use them," Saunders said. "Hopefully they will promote letter writing and stamp collecting."