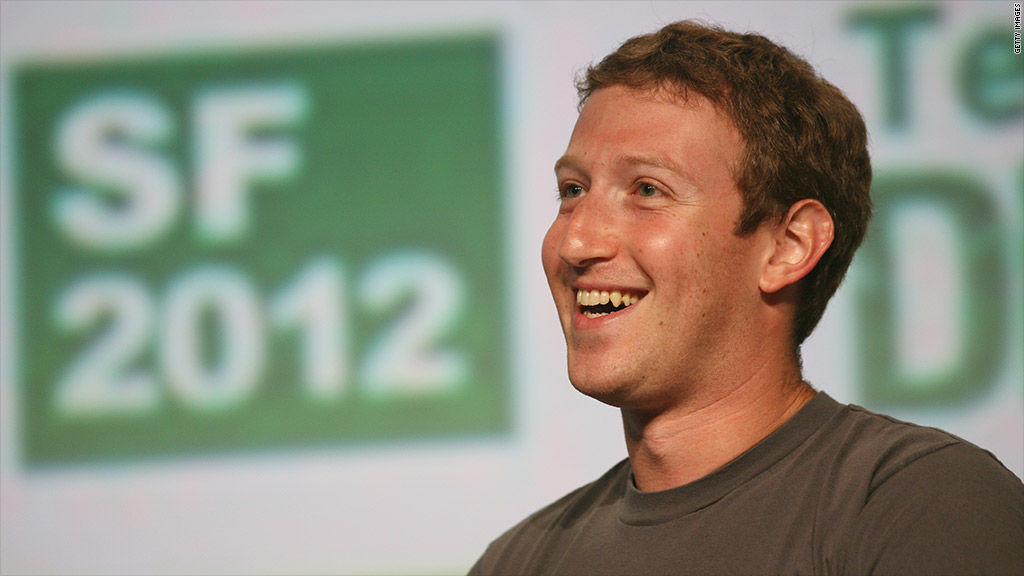 Facebook's fourth-quarter earnings and sales beat Wall Street estimates, but mobile remains Wall Street's top focus -- and investors briefly freaked out when mobile user growth wasn't as robust as last quarter.
Shares of Facebook (FB) fell 4% in early Thursday trading -- a bit off the 10% drop in Wednesday after-hours trading when the quarterly results were announced.
The number of monthly active users on Facebook's mobile site and apps grew 57% over the year to 680 million. Still, that wasn't as strong as the 61% over-the-year jump Facebook had in the third quarter.
Mobile has long been a concern for Facebook. In the months right after its May IPO, the company said it wasn't making "any meaningful revenue" from mobile. That changed in August, when Facebook launched a new Apple (AAPL) iOS app and began showing ads to mobile users, including Sponsored Stories and other nudges to "like" company pages.
Investors expect Facebook to continue expanding its mobile audience at a rapid clip, and CEO Mark Zuckerberg knows it. His kickoff statement on a post-earnings conference call with analysts focused on mobile.
"Today there's no argument," he said. "Facebook is a mobile company."
He later added: "A lot of what we had to do last year was simply to improve our mobile development process. Now we're there."
Related story: Facebook investors react ... on Twitter
Zuckerberg crowed about Facebook's fourth-quarter mobile ad sales: They accounted for 23% of Facebook's advertising revenue, or about $306 million. That's up from 14% last quarter.
Mobile "daily active users" -- a key metric for Facebook -- exceeded the site's desktop active users for the first time.
Overall, Facebook earned 17 cents per share (excluding some compensation and tax expenses) on sales of $1.6 billion for the fourth quarter, up 40% from Facebook's sales of $1.1 billion a year ago. Both figures beat analysts' estimates.
But on the revenue front, Zuckerberg said he wants to "temper expectations" for two new initiatives: Gifts and Graph Search. The Gifts service lets users send their virtual friends real-world items on special occasions. Graph Search is a tool that lets users search their social connections for information that their friends have shared: "music my friends like," "people who like soccer and live near me," or "photos of my friends before 2004."
COO Sheryl Sandberg talked up Facebook's Ad Exchange system (FBX), which lets advertisers bid on the social network's display ad space. It also lets them put cookies on users' computers to track people as they crawl the Web, and "retarget" those users with related ads when they log back on to Facebook. The service launched in September, and by December it was serving 1 billion ad impressions per day.
After running through the company's financials, CFO David Ebersman warned that Facebook's expenses will jump 50% in 2013. The company also expects to ramp up hiring.
During the question-and-answer session, Zuckerberg fielded a question about the long-rumored Facebook smartphone.
He shot it down quickly, in his strongest denial to date: "Everybody asks if we're going to build a phone. We're not going to build a phone."